Hanoverian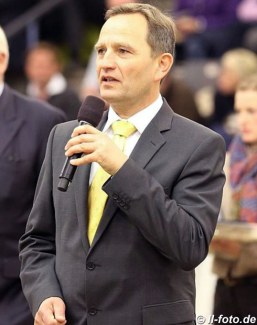 The Hanoverian Society announce on Friday 26 April 2019 that Dr. Werner Schade, the breeding director and general manager of the society, has been relieved from both his positions effective immediately. 
The society published a short statement on the German version of its website with two sentences: "The breeding manager and Managing Director, Dr. Ing. Werner Schade, has been exempted from office by the Executive Board until further notice. The tasks are initially taken over by the respective deputies."
Schade's tasks will temporarily be carried out by Henrik von der Ahe (managing director) and Ulrich Hahne (breeding director).
The Hanoverian society has been in a crisis the past few months as Hanoverian society members complained that the board and its structure have become out of touch with modern day management and the breeders' requests and desires. Initially it was announced that Schade would lose one of his positions.
At the important Delegates Meeting at the beginning of April 2010, the planned structural reform met with great approval. It focused on reducing the size of the Board and on assigning responsibilities and creating a Supervisory Board. The question of the separation of breeding management and management was discussed in detail, but the opinion was divided among the participants. At the time the Board could not reach an agreement on the question of outsourcing the marketing into a separate company.
Photo © LL-foto
Related Links
Kerstin Cyrus: "Because They Don't Know What They Are Doing" - German Breeding in a Crisis
Strong Support for Structural Reform at 2019 Hanoverian Delegates Assembly
Dr. Werner Schade To Lose Double Director's Function at Hanoverian Society
Werner Schade Succeeds Jochen Wilkens as Hanoverian Breeding Manager