Great Britain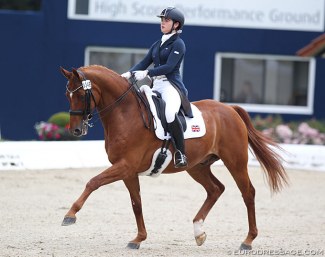 The British Dressage Junior and Young Rider Selectors Nikki Herbert and Leanne Wall released their long lists of riders in contention for a place on the British Junior and Young Rider teams for the 2019 European Championships in San Giovanni in Marignano, Italy on 24 – 28 July 2019.
Junior and Young Rider combinations listed are those from which the Team/or Individuals and Reserves are likely to be selected, but others may be considered for selection if they reach the requirements set out in the Selection Policy.
The British Junior and Young Rider shortlists will be announced following Hagen CDIO/CDI during the week commencing 17 June. The actual teams and reserves will be announced during the w/c Monday 24 June.
British Junior Rider Long List:
Caitlin Burgess (18) - Chocotof (12yrs, by Lord Leatherdale)
Clare Hole with (17) - Pro-Motion (16yrs, by  Pro-Set) and  Winnetou GEP (12yrs, by  Gribaldi x Donnerhall)
Jessie Kirby (16) - Belle Amie I (13yrs, by  Ronaldo)
Jessica McConkey (17) -  Lady Gaga II (10yrs, by  Quaterback x Solos Landwind)
Charlotte McDowall (17) - Alivia (14yrs, by Olivi x  Roemer)
Chloe Naylor (15) f-  Karisma (12yrs, by  Holme Grove Prokofiev)
Olivia Wrennall (16) - Disneyland (10yrs, by Diamond Hit)
British Young Rider Long List
Rebecca Bell (19) - Nibeley Union Hit (12yrs, by  Nibeley Union Jack x  Sandro Hit)
Isobel Berrington (19) -  Bing (13yrs, by  Trento B x Hucarlos)
Angus Corrie-Deane (19) - Tiny Tempur (14yrs, by  Raikano)
Charlotte Dicker (20) - Sabatini (14yrs, by Stedinger x . Sherlock Holmes)
Alexandra Hellings (19) -  Uvender V (18yrs, by  Krack C x Juventus)
Megan Ingham (20) - Wanadoo (18yrs, by  Wolkenstein II x  Cavalier)
Lara Kuropatwa (18) - For Season (9yrs, by Fifty Cent x Voltaire)
Rebecca Swain (18) - Bon Jovi (3yrs, by UB40 x Ramdra)
Photo © Astrid Appels
Related Links
British Teams Selected for 2018 European Children, Junior, Young Riders Championships
British Team Short List for 2018 European Junior/Young Riders Championships