U.S.A.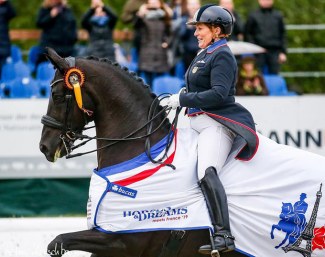 The US Equestrian Federation has updated U.S. Dressage Elite and Pre-Elite Lists with Grand Prix riders for 2019.
The Elite Program was established to provide support and resources to athlete/horse combinations that have proven they are internationally competitive. Combinations qualify for the program based on scores received at CDI3*/CDIO3* or above competitions in the last 12 months.
Membership is reviewed twice annually and new members may be added on a rolling basis.
The Elite Program includes:
Shelly Francis (Loxahatchee, Fla.) and Danilo, Patricia Stempel's Hanoverian gelding
Laura Graves (Geneva, Fla.) and Verdades, her and Curt Maes's KWPN gelding
Olivia LaGoy-Weltz (Haymarket, Va.) and Lonoir, her Danish Warmblood gelding
Adrienne Lyle (Wellington, Fla.) and Salvino, Betsy Juliano LLC's Hanoverian stallion, and Harmony's Duval, Duval Partners LLC's Dutch Warmblood gelding
Kasey Perry-Glass (Wellington, Fla.) and Goerklintgaards Dublet, Diane Perry's Danish Warmblood gelding
Steffen Peters (San Diego, Calif.) and Suppenkasper, Four Winds Farm and Akiko Yamazaki's KWPN gelding
The Dressage Pre-Elite List underpins the Elite Program and seeks to provide support and guidance to those combinations in the 69-73% Grand Prix score range so they are able to succeed in reaching Elite Member status (consistent 73%+ score range). View the complete criteria.
The Pre-Elite Program now includes:
Katherine Bateson-Chandler (Wellington, Fla.) and Alcazar, Jane Clark's Dutch Warmblood gelding
Ashley Holzer (Wellington, Fla.) and Havanna 145, Diane Fellows's Hanoverian mare
Charlotte Jorst (Reno, Nev.) and Kastel's Nintendo, Kastel Denmark's Dutch Warmblood stallion
Nick Wagman (San Diego, Calif.) and Don John, Beverly Gepfer's Dutch Warmblood gelding
Photo © Petra Kerschbaum
Related Links
American Dressage Squads for 2019 Named
USEF Updates 2018 Elite Program and Pre-Elite Program Lists