Germany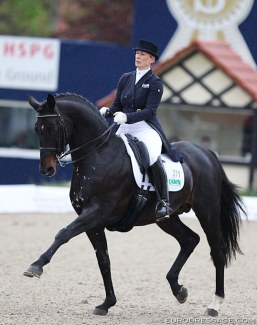 Anabel Balkenhol no longer makes a combination with her number one Grand Prix horse Heuberger. The stallion's owner, the Erdsiek family of Gestut Webelsgrund, has decided to end the collaboration.
Heuberger is a 12-year old licensed Trakehner stallion by Imperio out of Heubluemchen (by Michelangelo). 
He was approved at the 2009 Trakehner Stallion Licensing and did his 30-day performance test in Marbach in 2010, scoring 8.34 for dressage and 7.40 for show jumping (average 8.04 points). A year later he did the 70-day testing in Marbach and earned 8.56 for dressage 7.43 for show jumping, averging 8.08 points. 
He was first competed by Maxi Kira von Platen as a 4-year old in 2011. In 2012 Sarah-Maria Schöttke took on the ride and in 2013 it was Iris Werner's turn on board the stallion.  In 2014, five and a half years ago, the black stallion came into training with Anabel Balkenhol in Rosendahl, Germany.
Balkenhol and Heuberger competed in the 2015 Nurnberger Burgpokal finals for developing Prix St Georges horses. In 2016 they made the transition to national and international Grand Prix. They were sixth in the 2016 Louisdor Cup Finals for developing Grand Prix horses and became recipients of the 2016 Otto Lörke prize.
Between 2016 and 2019, the pair competed at CDI's in Hamburg, Munich, Hagen, Aachen, Stuttgart, Dortmund, Oldenburg, and Rotterdam. Their last start was a month ago at the 2019 CDI Hagen "Horses  & Dreams" where they were 12th in the Grand Prix (70.783%) and 8th in the Special (72.511%).
The past few years Heuberger had been on the market, but a sale did not materialize. The owner picked up Heuberger in Rosendahl on Thursday 23 May 2019.
Team Balkenhol took to Facebook today about Heuberger's departure: "Thanks for the last five and a half years with lots of ups and a couple of downs. We're going to miss you a lot, in the morning at 6 there is no one who screams because he wants his food first. We don't get any bruises because we are not quick enough to give you oranges, at 2.30 pm no one persists more to be the first in the field than you, and we don't have to run behind you in the field because you think it's too early to go back in the stable. We hope you bring your new rider/owner the same fun you brought us."
Anabel will continue her career with FEI horses Davinia la Douce, Crystal Friendship and High Five. One day after the announcement of the relocation of Heuberger, Balkenhol found out the horse was shipped to Helgstrand to be sold.
Photo © Astrid Appels
Related Links
Eurodressage Photo Database: Heuberger
Balkenhol to Focus on Heuberger, Dablino Has Proven it All
Fabregaz and Heuberger TSF Win 2016 Otto Lorke Prize
Balkenhol and Heuberger Win Louisdor Cup Warm-Up Round at 2016 CDI Hagen
Balkenhol and Heuberger Win Opening Class at 2015 CDI Wiesbaden
Pequignet and Heuberger Stand Out at 2015 Trakehner Championships
Balkenhol and Heuberger Win the 2015 CDN Munster Prix St Georges