2019 Dutch Dressage Championships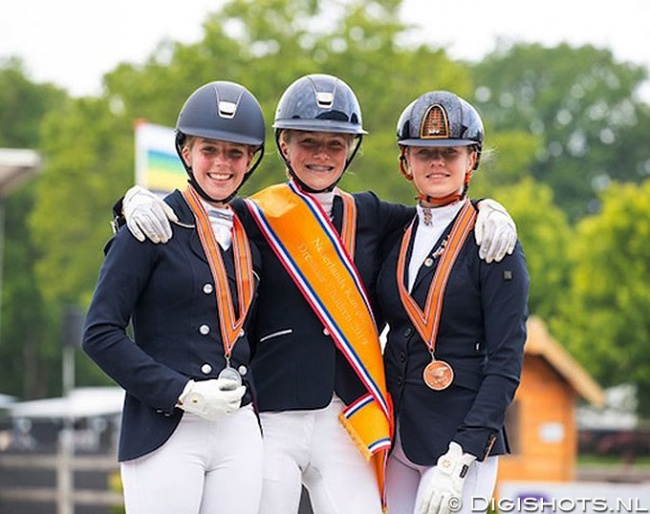 Children rider Lara van Nek, junior rider Marten Luiten, young rider Thalia Rockx, small tour rider Diederik van Silfhout, Under 25 rider Jeanine Nieuwenhuis, and senior Grand Prix rider Edward Gal became the winners and gold medalists at the 2019 Dutch Dressage Championships in Ermelo, The Netherlands, on 24 - 26 May 2019.
Lara van Nek, who does double duty this year on ponies as well as competing the 14-year old Dutch mare Amazing Comeback (by Negro x Krack C - horse is also known as Atilinda) in the children's division, finally took highest honour in the age category she has focused the most on. Her work has paid off as she landed herself the national title after winning the team test with 76.282% and placing second in the individual test with 72.036%. The silver went to Anniek van Dulst aboard the leopard coloured Isala's Arielle (by Kosmo van Orchid's x Krimm), while pony rider Senna Evers captured bronze on routinier Happy Feet (by Tuschinski x Animo).  
"This is a nice reward after three years in Children," said Van Nek. "Last year I was second behind Sanne Buijs and now I have the title. My trusted horse Fariska had a small injury and I can start riding her again soon. I'll take her to Exloo. Amazing Comeback was first ridden by Peter de Boer and my trainer Yessin (Rahmouni). I have been riding her for a month. Amazing has more movement than Fariska, who is more elegant. Amazing is not easy to ride. She can be pushy. With Fariska I can jump on and go."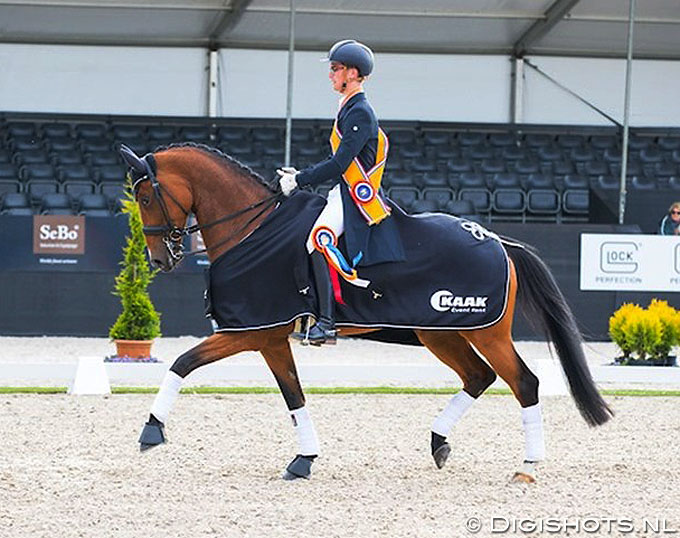 In the junior division Marten Luiten wielded the axe of power and scored a clear double victory aboard the 9-year old mare Fynona (by Ampere x Gribaldi). He posted 74.848% in the team test and 77.800% in the Kur to Music, landing at the top of podium a full five percent ahead of Sanne van der Pols on the 10-year old Dutch Excellentie (by Don Schufro x Riverman). Van der Pols has been campaigning her tall black gelding in the Children's division the past two years, but this year has moved to junior level. The bronze went to pony rider Micky Schelstraete, who is also standing her ground on horses. With her mom's Grand-Charmeur (by Apache x Cocktail) she got bronze. 
"This is super," said Luiten. "I didn't expect it at all, but of course you hope for it. I just did my last VWO-exam in school and I also have a good feeling about that. I want to study Business Management in Groningen, so I can continue to live at home and ride."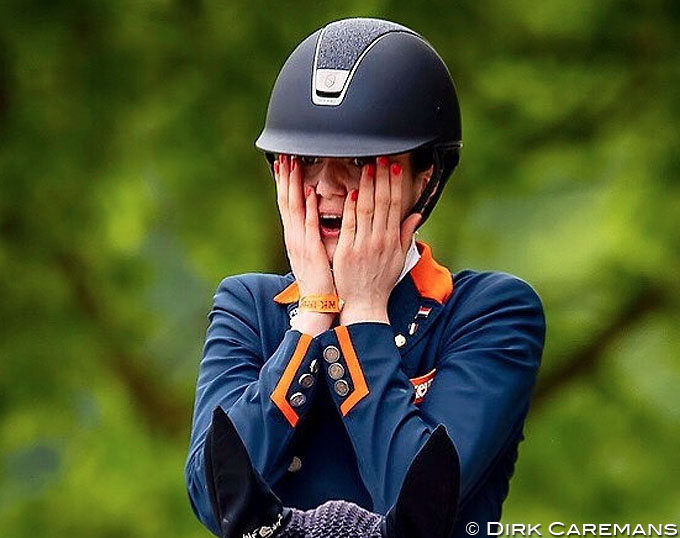 In the young riders classes the surprise winner was reigning Dutch YR Champion Thalia Rockx, who now also beat the title favourite Daphne van Peperstraten with an almost one percent difference overall. Rockx and her father Johan's Grand prix schoolmaster Verdi de la Fazenda (by Floret As) were second in the team test with 72.882% but won the freestyle with 76.075% and their overall total of 148.957 points gave them the gold.  2018 European Junior Rider Champion Daphne van Peperstraten is in her first year at young riders' level on the 12-year old Cupido (by Johnson x Duco) and they won the first round of the Nationals with 75.206%. Some issues in the freestyle made them drop to fifth place on 72.350% and brought their total to 147.556 points for silver. Febe van Zwambagt also proves her worth on her new horse, Fyeo, after the sale of her long-time partner FS Las Vegas to Germany. Febe and the 9-year old Fyeo (by United), finished with bronze on 146.862 points. 
"I'm so happy," said Rockx. "I didn't expect this. I just did my thing and that it turned out so well is nice. My next goal is the KNHS Young Rider Cup and then the last observation trial in Exloo. I just go on training. I'll do my best and we'll see how it goes at the European Championships."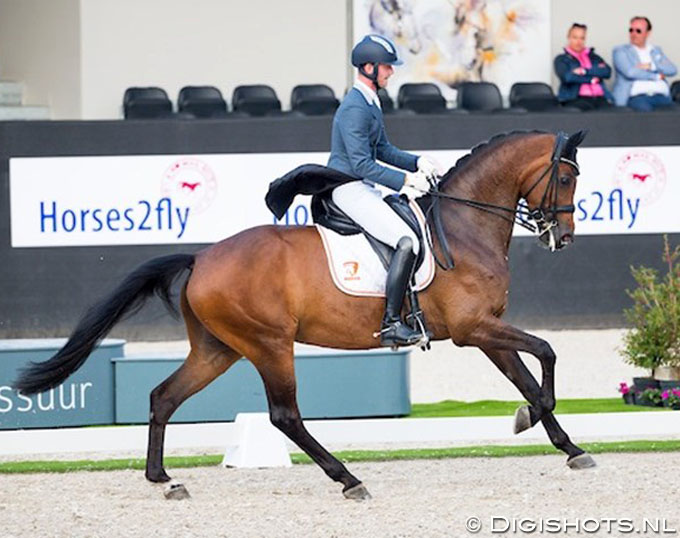 At small tour level Dutch GP team rider Diederik van Silfhout made a push for power on his new ride, the 10-year old German bred Fine Surprice (by Fiorano x Lemon Park). After a third place in the Prix St Georges with 75.539%, they won the Kur with 79.700% for the gold on 155.239 points. Dinja van Liere and the 8-year old Dutch stallion Geniaal (by Vivaldi x Biotop) were breathing down Van Silfhout's neck and ended up with silver (155.147 points) after scoring 76.422% and 78.725%. Joyce Heuitink and abd ger 8-year old Dutch gelding Gaudi Vita (by Apache x Welt Hit II) earned bronze with 154.425 points. 
"We just keep stacking the titles," Van Silfhout smiled. "I'm super happy. I've been riding Fine Surprice for five months, he's German owned. At the beginning he looked very promising but he was very hectic and hot and not so easy in the contact. We worked on that and he has developed beyond the expectations. This is special, a fine surprice. It's in the name."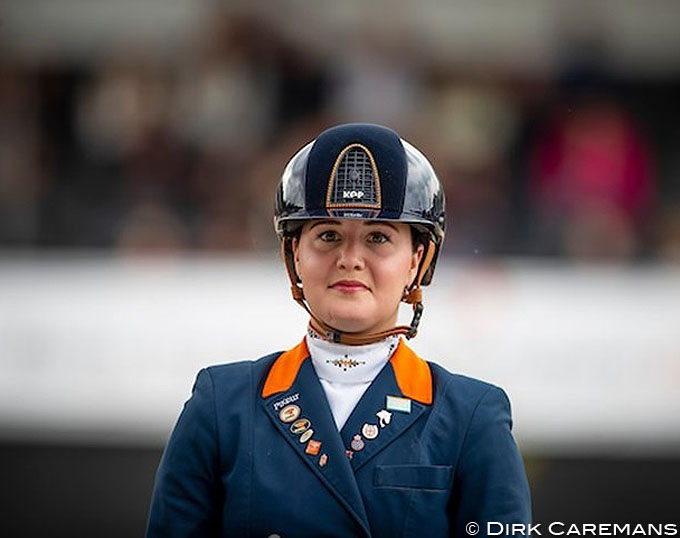 With very few new combinations spicing the Under 25 division in Holland, the same old rivals competed for a spot on the podium. Routinier Jeanine Nieuwenhuis and Tim Coomans' 14-year old gelding TC Athene (by United x Jazz) made the difference in the freestyle to renew their national title. Jasmien de Koeyer and her 10-year old Esperanza (by Desperados x Krack C) won the short Grand Prix with 73.410% but it was Nieuwenhuis' winning kur score of 79.250% that brought her gold and Jasmien silver. Carlijn Huberts and the 16-year old Dutch bred Watoeshi (by Rousseau x Lancet) scored bronze. 
"I really had to ride for it," said Jeanine after winning. "I was super happy on Friday and I just wanted to keep that feeling. Athene feels so good at this moment. He keeps getting better and that makes me super happy. Now I have to keep that confidence. Athene is very work willing. He grows and gives this strong feeling when I ride him."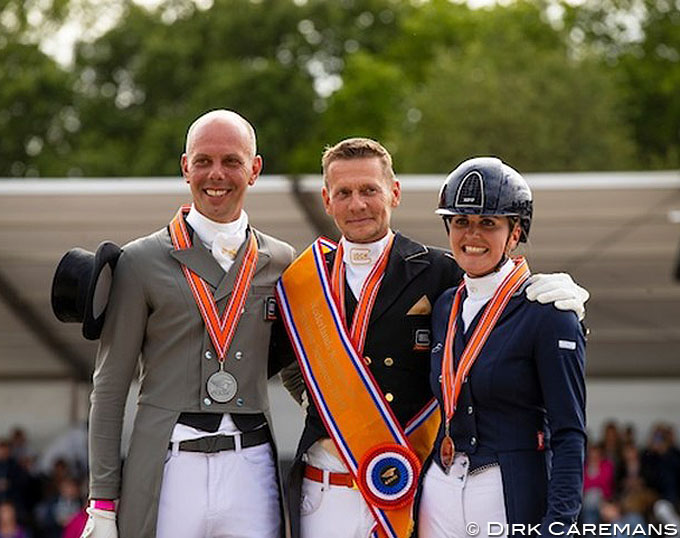 Also at senior Grand Prix level in Holland there is little variation at the top. Edward Gal grabbed his 10th national title in his career, like last year aboard Gaston Glock's 11-year old Danish stallion Zonik (by Zack x Romanov) who just returned to the arena after a period of injury. The Dutch judges loved what they saw Gal and Zonik produce in the main stadium and rewarded the pair with winning scores of 76.630% in the Grand Prix and 83.925% in the Kur to Music. Partner Hans Peter Minderhoud and the 11-year old KWPN stallion Dream Boy (by Vivaldi x Ferro) earned silver with 75,652  and 81,300% while their WEG team mate Emmelie Scholtens and Ad Valk's 14-year old stallion Apache (by UB40 x Krack C) landed bronze with 74,870 and 80,250%.
"It might be the tenth time, but each time is special," said Edward Gal. "The last few months the training went really well. He wasn't totally fit in winter, which is why I hardly rode any shows. In January he started to feel better. Now he feels fine again. I never had him in this shape before."
Related Links
Scores: 2019 Dutch Dressage Championships
Buijs, Van Peperstraten, Rockx, Nieuwenhuis, Gal Win 2018 Dutch Dressage Championships
Van Peperstraten, Donkers, Maas, Meulendijks, Gal Win 2017 Dutch Dressage Championships
Oudhof, Nieuwenhuis, Gal, Meulendijks, Van Silfhout Crowned 2016 Dutch Champions 
Scores: 2015 Dutch Dressage Championships
Scores: 2014 Dutch Dressage Championships
Scores: 2013 Dutch Dressage Championships
Edward Gal and Undercover Win 2012 Dutch Dressage Championships
Minderhoud, Witte-Vrees, Krooswijk and Te Riele Proclaimed 2011 Dutch Dressage Champions
Gal Prolongs Grand Prix Champion's Title at 2010 Dutch Championships
Edward Gal and Totilas Conquer 2009 Dutch Championships
Adelinde Cornelissen, 2008 Dutch Dressage Champion
2005 Dutch Championships: Van Grunsven Star of Holland for 12th Time