2019 Danish Dressage Championships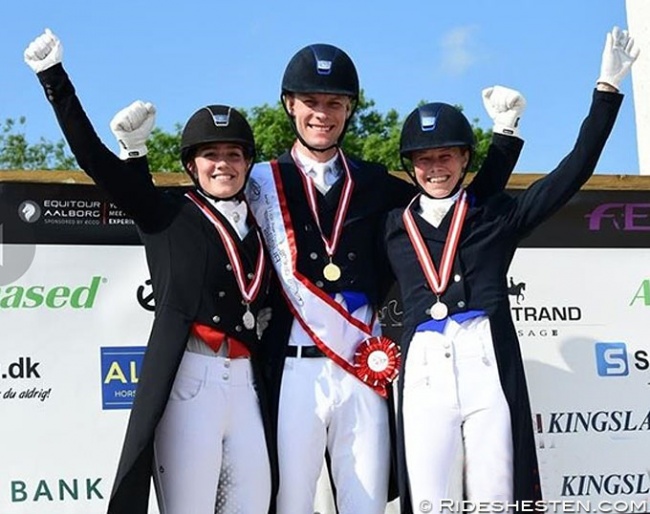 Under 25 Grand Prix rider Victori Vallentin and senior Grand Prix rider Daniel Bachmann Andersen became the winners of the 2019 Danish Dressage Championships in Uggerhalne, Denmark, on 8 - 10 June 2019. 
After a year long tradition of being hosted at the beautiful Broholm castle on Funen Island in Denmark, the Danish nationals relocated to Andreas Helgstrand's riding club in Uggerhalne, where two weeks ago the CDIO Nations Cup was being held. 
With two horses ranked in the FEI World Dressage ranking top 10, Daniel Bachmann Andersen was the hot favourite for the senior Grand Prix title. Especially in the absence of Cathrine Dufour's number one ride Atterupgaards Cassidy (ranked 26th on the FEI World Ranking), Bachmann freewheeled to the overall title and kept Dufour on her rising Grand Prix horse Bohemian and stable mate Agnete Kirk Thinggaard on Jojo AZ in his wake. 
Bachmann brought both Blue Hors Zack (by Rousseau x Jazz) and Don Olymbrio (by Jazz x Ferro) to Uggerhalne but was only allowed to ride the freestyle with one horse and opted for the 15-year old Zack. The pair was on high form in all three rounds, placing second behind Don Olymbrio with 76.580% in the Grand Prix and with 79.490% in the pouring rain in the Grand Prix Special. With Don Olymbrio no longer in play for the Kur, Zack posted a winning 85.200% for the Kur to Music on the final day of competition. With 241.270 points in total, the national title and gold medal were theirs. 
"It feels fantastic," Daniel said about his first senior Grand Prix title. "I have dreamt of this since I was a little kid and now being able to realize it is just fantastic. Zack has been super all days, just some tension in the Grand Prix, which he always has at his first outdoor show. In the GP Special he was performing a lot better. Even though it was pouring down he just kept going, so that's an amazing feeling that he keeps fighting for me even in very special weather conditions. In the freestyle, he was just super. I could ride with maximum risk and power and we could enjoy every movement together."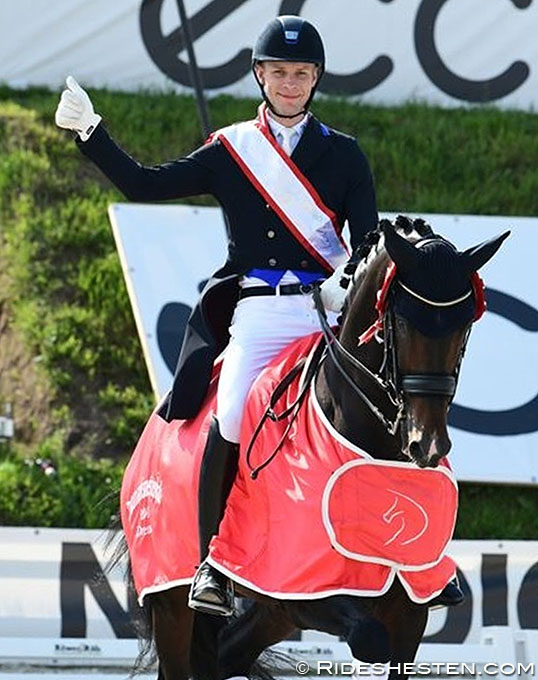 Daniel said he opted for Zack in the Kur as he's the older Grand Prix horse and got "first born" right.
"We decided for Zack for the freestyle with our brain and heart as he deserved to be the Danish Champion," Daniel explained. "He has much more freestyle experience than Don O, plus he is 15 years old and Don O is 11, so there will be many more chances for Don O to be in a final."
Dufour and the Zinglersen family's 9-year old Bohemian (by Bordeaux x Samarant) were very consistent throughout the weekend and placed third in the Grand Prix and Special with 73.760% and 78.039% and second in the freestyle with 82.450%. Their overall total of 224.819 points earned them silver. 
Agnete Kirk Thinggaard and her 16-year old Hungarian bred Jojo AZ (by Ginus x Justboy) finished in bronze medal position after scoring 73.400% in the Grand Prix, 73.569% in the Special and 77.850% in the freestyle. They totaled 224.819 points.
Interesting to note for future team selection for the 2019 European Championships in Rotterdam is that British based Anders Dahl landed fourth place at the nationals aboard his wife Fiona Bigwood's 10-year old Belgian bred Fidelio van het Bloemenhof (by Fidertanz x Jazz). 
Victoria Vallentin Takes Under 25 Title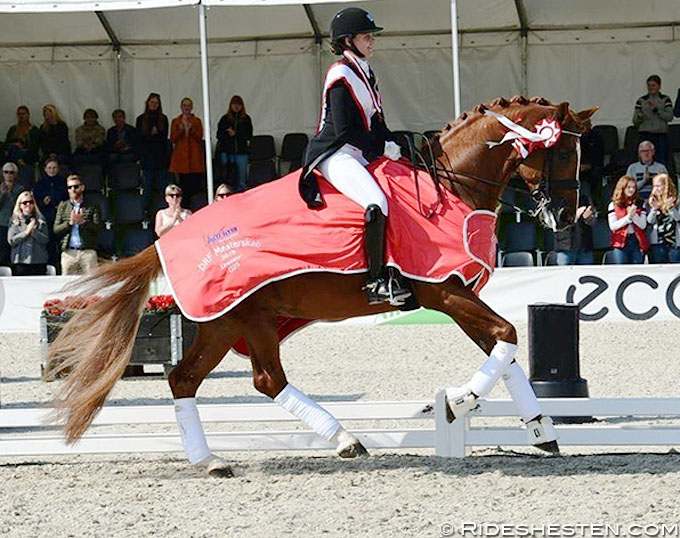 Young professional Victoria Vallentin bagged the title in the Under 25 Grand Prix division aboard Sam Duckworth's 13-year old German bred stallion Ludwig der Sonnenkonig (by London Swing x Liberator). The duo dominated all three rounds with a clear point advantage. They posted 75.263% in the Inter II, 73.326% in the Short Grand Prix and 79.375% in the Kur to Music. 
Anna Kaspzak's assistant trainer Josefine Hoffmann landed the silver medal aboard Anna's 15-year old Danish warmblood Honnerups Driver (by Romanov x Don Schufro). The pair posted three consistent rounds with 71.158%; 70.676% and 73.050% and referred Andreas Helgstrand's assistant rider Soren Wind to the bronze medal position. Wind and the 11-year old Diego (by Valeron x May Sherif) scored 71.342% and placed second in the Inter II, but dropped to 67.163% in the Short Grand Prix. They climbed back up in the freestyle with 72.725% to finish third overall.
Photos © Ridehesten
Results - 2019 Danish Dressage Championships - Uggerhalne
Under 25
1. Victoria Vallentin - Ludwig der Sonnenkonig - 75.263 - 73.326 - 79.375 --- 227.964
2. Josefine Hoffmann  - Honnerups Driver - 71.158 - 70.767 - 73.050 --- 214.975
3. Søren Wind  - Diego -  71.342-  67.163 - 72.725 --- 211.230
4. Laura Hviid - Darius -  67.632 - 65.233 - 69.875 --- 202.740
5. Emma Skov - Cracker Jack - 66.579 - 65.372 - 67.225 --- 199.176
6. Line Miller Danielsen - Dakapo - 63.579 - 64.116 - 69.450 --- 197.145
7. Mie Gjesten - Kokkedals Heros - 64.763 - 63.372 - 66.600 --- 194.735
8. Annika Hansson - Fairy Dancer - 64.605 - 63.395 - 66.275 --- 194.275
9. Caroline Hartmann - Broholms Don Sure - 62.947 - 64.442 - 66.175 --- 193.564
10. Line Dahl Padetzski - Jakas Loop Up - 65.868-  62.047-  64.775 --- 192.690
11. Karoline Rohmann - Barbados Melody - 61.868 - 63.651 - 66.100 --- 191.619
12. Trine Lind  - Juby's Tenacity - 61.342 - 60.302-  67.350 --- 188.994
13. Michaela Tækker - Landlyst Landia - 63.026 - 61.000 - 61.250 --- 185.276
Seniors
1. Daniel Bachmann Andersen  - Blue Hors Zack - 76.580 79.490 85.200 --- 241.270
2. Cathrine Dufour - Bohemian -  73.760 78.039 82.450 --- 234.249
3. Agnete Kirk Thinggaard - Jojo AZ -  73.400 73.569 77.850 --- 224.819
4. Anders Dahl - Fidelio van het Bloemenhof - 69.580 72.020 76.375 --- 217.975
5. Lone Bang Larsen - Bakkely's Onandt - 71.920 68.941 77.075 --- 217.936
6. Nanna Skodborg Merrald - Wasabi OLD - 71.440 72.020 72.550 --- 216.010
7. Helene Melsen - Aston Martin - 70.020 70.039 74.350 --- 214.409
8. Marianne Helgstrand   - Lollipop - 71.440 70.961 71.700 --- 214.101
9. Betina Jæger Jensen - Heartbreaker - 69.580 70.314 70.925 --- 210.819
10 Carina Cassøe Krüth  - May Day Graftebjerg - 69.600 69.882 70.875 --- 210.357
11. Signe Kirk Kristiansen - Her Highness O - 68.400 68.235 72.600 --- 209.235
12. Sanne Svendsen  - Hannah Montana W - 69.160 68.471 71.150 --- 208.781
13. Ditte Mikkelsen - Don Rohdian - 67.420 67.706 70.750 --- 205.876
14. Trine Mittag Jensen  - Gammelenggards Easy - 67.880 66.824 68.250 --- 202.954
15. Dorthe Sjøbeck Hoeck - Stenkjers Naromi -  66.640 67.118 65.950 --- 199.708
Related Links
Engermann and Dufour Win 2018 Danish Dressage Championships
Engermann and Dufour Go for Gold at 2017 Danish Dressage Championships
Kasprzak Withdraws Donnperignon from 2017 Danish Championships
Cathrine Dufour Wins 2016 Danish Dressage Championships
Anna Kasprzak Wins 2015 Danish Grand Prix Championships
Lone Bang Larsen Wins 2014 Danish Dressage Championships
Anna Kasprzak Toasts Triple Victory and Wins 2013 Danish Dressage Championships
Scores: 2012 Danish Dressage Championships 
Scores: 2011 Danish Dressage Championships
Scores: 2010 Danish Dressage Championships
Scores: 2008 Danish Dressage Championships
Andreas Helgstrand, 2007 Danish Dressage Champion
Andreas Helgstrand and Matine, 2006 Danish Dressage Champions
Scores: 2004 Danish Dressage Championships