2019 CDIO-PJYR Hagen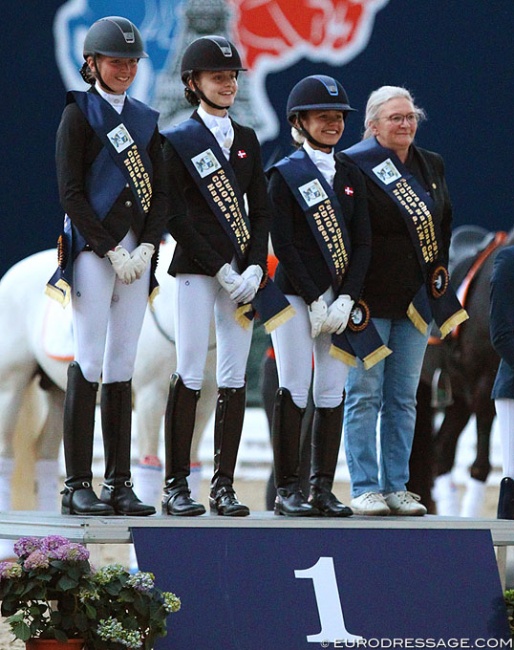 The Danish pony team beat the German evergolds on home turf in the international Nations Cup competition held at the 2019 CDIO-P Hagen "Future Champions" at Hof Kasselmann in Hagen, Germany, on 11 - 16 June 2019.
Germany has held a firm grasp on the number one position in Europe (and the world) as the strongest dressage pony riders because of their deeply structured system of training young children on ponies and their quality pony sport breeding. Only in 2015 Great Britain was able to break their yearlong subscription to gold at the European Championships thanks to world record scoring rider Phoebe Peters. However in 2016 they were back on top. D
Denmark has been knocking at the door though for several years and in Hagen they delivered a first big punch by winning the Nations Cup there in the lead up to the 2019 European Pony Championships in Strzegom, Poland, on 12 - 18 August 2019.
Aboard top quality ponies and presented in a light, friendly fashion, the Danish girls were able to put big scores on the board. The Nations Cup format at the CDIO-P Hagen was based on the two highest scores of a team of three in the Team Championship Test. Denmark secured the victory with Nathalie Thomassen on Lykkehoejs Dream of Dornik (by Melli's Dornik x Cupkehof's Winobert) topping the ranking on 74.714%, directly followed by Liva Addy Guldager Nielsen on D'Artagnan (by Don't Worry x Colano) in second place with 74.476%. The third Danish score which became the scratch mark was Mathilde Sofie Jepsen's 71.714% which still landed her fifth in the ranking.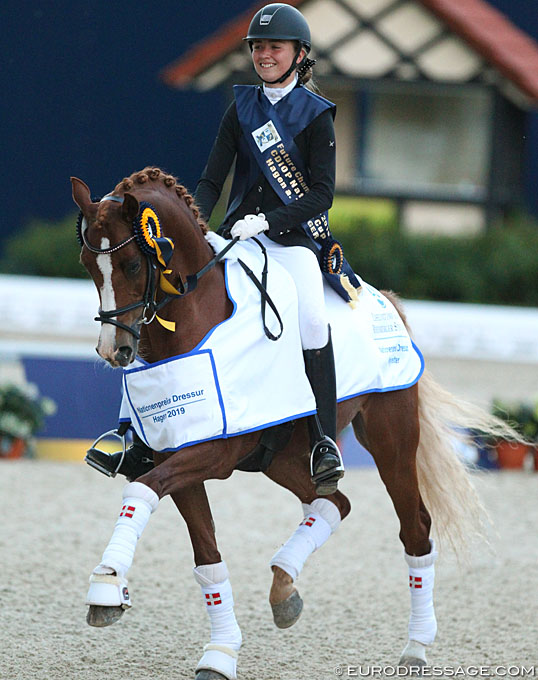 Germany finished in silver position with team newcomer Antonia Busch-Kuffner spearheading the group with Daily Pleasure (by HB Daylight x Dressman) on 74.143% (3rd) and the more experienced Johanna Kullmann on routinier Champ of Class (by Champion de Luxe x Dornik B) in fourth place with 72.429%. The benjamin of the German team, 11-year old (!!) Rose Oatley struggled a bit with nerves and rode Daddy Moon (by Daddy Cool x Capri Moon) to 71.286% for an 8th place. 
The Dutch team finished in the bronze medal position with the experienced Micky Schelstraete on everygreen Elin's Noncisdador (by Nostradamus x LP Nixen) high scoring on 71.429% for 7th place. Newcomer Floor van der Kuijl and Castenrayseweg's Dreamboy (by Molenhorn's Lucky Boy x Leuns Veld's Lord) were 9th with 71.095%, while Lara van Nek and Brouwershaven's Nairobi (by Woldhoeve's Silco x Naivnyi) had the scratch result of 69.714%.
Text and Photos © Astrid Appels - NO REPRODUCTION ALLOWED
Eurodressage was on the scene photographing all rider in Hagen that competed there on Thursday. If you are interested in photos for print or social media, send us an email.
Related Links
Scores: 2019 CDIO-PJYR Hagen
Freestyle Day Concludes 2019 CDIO-PYR Hagen's Future Champions
Children Give It Their All at 2019 CDIO-PJYR Hagen - Future Champions
Photo Report: Shona Benner on Strong Form at 2019 CDIO-PJYR Hagen
Olympic Flair at Future Champions 2019 CDIO-PJYR Hagen
Future Champions / 2019 CDIO-PJYR Hagen Attracts Talent from All over the World
Espe and Nuit d'Or Win 2019 Hagen Bundeschampionate Qualifier