Borculo Foal Auction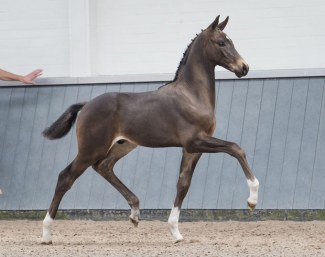 With a considerable forty-year history dating back to the first ever Dutch foal auction, Borculo Foal Auction has since become a household name in the horse world, also owing to many former Borculo foal's success for years in a row.
Recent examples are Zuidenwind (2017 EC team bronze), Imposantos (winner of the 2018 Pavo Cup and the 2018 and 2019 KWPN Stallion Competition), Kremlin MD (champion of the 2018 KWPN Stallion Show as well as the 2019 DWB Stallion Show) and High Five U.S. (superb first batch at the 2019 KWPN Stallion Show).
This success story takes us to the exceptional collection of dressage foals gathered for the first ever edition of the Borculo CDI Foal Auction. This auction takes places during the popular Outdoor Gelderland Dressage Gala on Saturday evening 6 July 2019. Apart from the presentation and auction of six genetically exclusive foals with extraordinary movements, an unprecedented auction-related programme is launched with yet another premiere. But first, let us introduce the six CDI Foal Auction's leading characters.
Brothers Ego Tripper Texel and Flabbergasted OSN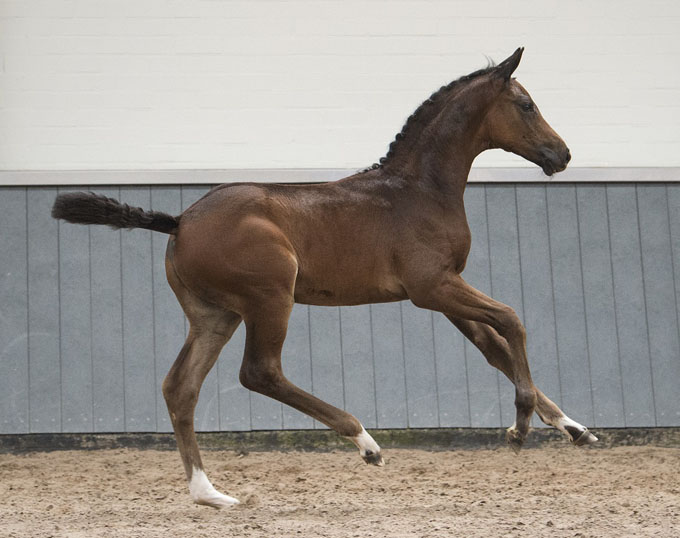 With the exception of one, the foals' sires are all young stallions already making a name for themselves under the saddle. The genetic material is solidly anchored in extremely interesting dam lines.
In O.Neill Texel, this becomes apparent immediately. The son of former KWPN Performance Test champion Daily Diamond is a strongly moving colt who stems from renowned breeding. Dam V'Alcatrasse Texel, daughter of the illustrious Ferro, produced a number of exceptional offspring, with Inter II stallion Ego Tripper Texel (Marjan Hooge) as their best-known representative.
A special appearance, not just because of his markings, is Opicasso. The son of the much-talked about Small Tour stallion is out of stallion dam Zozelma (s. San Remo). She also produced Inter I KWPN stallion Fashion Hill, known in the sport as Flabbergasted OSN (Grieteke Oldenburger). Zozelma is also a sister to Grand Prix horse Thialf (Karin Ammeling).
Zamora, Bon Jovi and El Capone performance line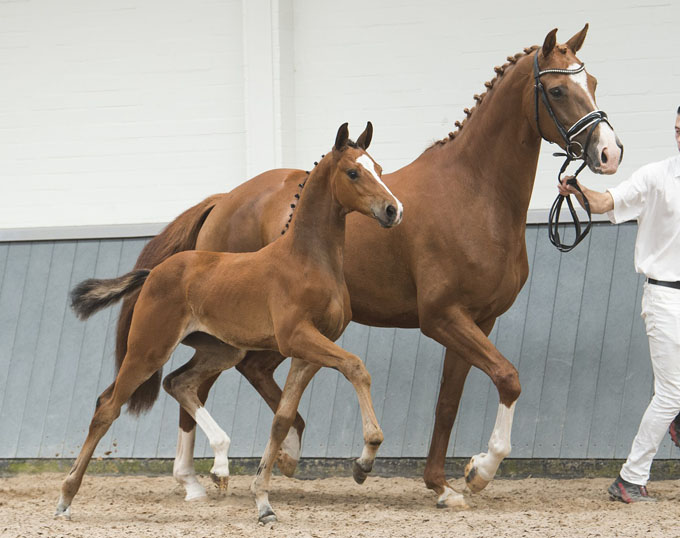 The only filly joining the collection is Odamora L, an expressive daughter by the noteworthy Small Tour stallion Ghandi. Her young dam Idamora L is by Grand Prix stallion Apache and stems from an amazing performance line she shares with high-fliers such as Rambo (Daniëlle Houtvast), Zamora (Lynne Maas), Bon Jovi (Diederik van Silfhout) and KWPN stallions Jayson, El Capone and Feel Good. It is safe to say Oirendo is an eye-catcher from the strong offspring by Glock's Toto Jr., himself a Grand Prix horse in the making and Totilas's first approved son. Oirendo's strongly bred dam Firenda (s. Tuschinski) is a full sister to KWPN appointed stallion Empire.
From Don Schufro's dam line
Just like mentioned Firenda, Imposantos was once sold at the Borculo Foal Auction. From his first batch of foals we offer Ovation. This expressive colt has the fine-looking Hanoverian mare Querida von Kukenmoor (Quantensprung x Lauries Crusador xx) for a dam. Onyx Dór is the only foal with an older Grand Prix stallion for a sire, the preferent Painted Black. He has been combined with top mare Hortensia V (Negro x Lord Leatherdale), who comes from Don Schufro's dam line. Grand Prix horses Cappucino (Karin Rehbein) and Café au Lait (Maree Tomkinson) are also from this direct line.
Please find more information on the collection accompanied by (moving) images through this link.
Sires in action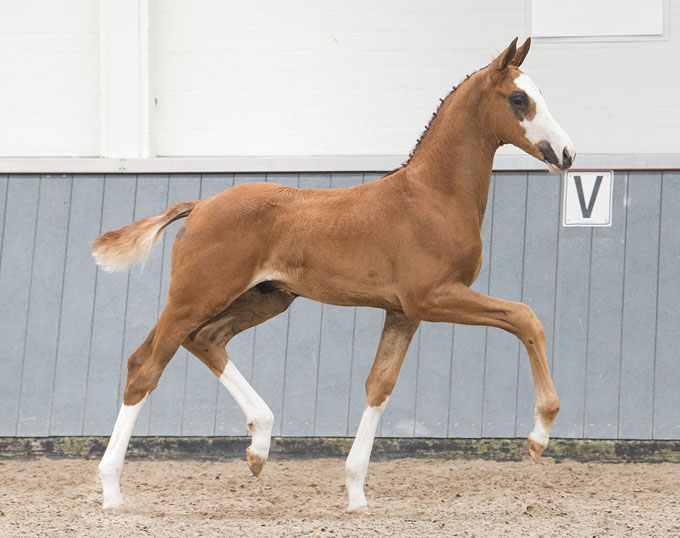 The auction night on 6 July offers a unique spectacle. Apart of course from the possibility to witness the dams, most sires will also be present! As part of the Dressage Gala's special theme "Like father, like son, like mother, like daughter" several sires are to enter the arena. Imposantos, Ferguson and Painted Black have already been confirmed and Anky van Grunsven's clinic will be a homage to the latter one.
New: online bidding
Apart from the CDI Foal Auction launch adorning the Borculo Foal Auction's forty-year anniversary, Saturday 6 July holds yet another premiere. As of now, potential buyers can make a live online bid on a foal. This new feature goes for all the Borculo foal auctions. Bidding is possible after registration on our website. 
Following registration users receive an email for account activation. The username and password may be used to make a live bid during any auction. It is advisable to log in approximately fifteen minutes prior to the auction. The moment a foal comes under the hammer, online bidding of the foal is also activated. The order in which the foals are auctioned is announced on the auction day and differs from the catalogue list.