What's Happening?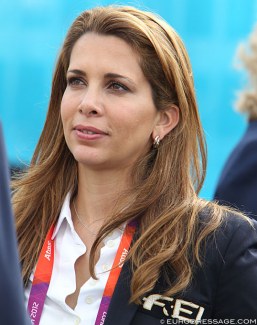 Sheikh Mohammed bin Rashid Al Maktoum has started a legal battled against his estranged wife, former FEI President HRH Princess Haya, who has gone into hiding in the U.K.
Sheikh Mohammed al Maktoum is the Vice President and Prime Minister of the UAE, and ruler of Dubai.
His sixth wife, HRH Princess Haya Bint al Hussein, has secretly fled Dubai with son Zayed (7) and daughter Al Jalila (11) in May with the help of a German diplomat.
It was initially reported that she sought asylum in Germany, but numerous British media have now posted that she has gone into hiding in her £85million home in Kensington Gardens, West London, which she apparently bought without her husband, two years ago.
Sheikh Mohammed has initiated legal action against Haya in the Family Division of the High Court, and a hearing has been scheduled for 30 July 2019. Some sources state that he has initiated a divorce, others report that it will be a custody battle over the children.
Both have hired renowned lawyer sharks that will drain them from their money for the legal fight. Haya is represented by Fiona Schackleton (Prince Charles, Prince Edward) and Sheikh Mohammed is represented by Helen Ward (Guy Ricthie, Bernie Ecclestone).
Princess Haya has strong connections with the U.K. She was educated at two private schools, Badminton School in Bristol and Bryanston School in Dorset, before studying Politics, Philosophy and Economics (PPE) at Oxford University. 
Haya was president of the International Equestrian Federation for two terms and served on the International Olympic Committee. She has also been a goodwill ambassador for the United Nations world food programme.
A keen show jumper, Haya competed for Jordan at the 2000 Sydney Olympics and 2002 World Equestrian Games in Jerez de la Frontera. 
Photo © Astrid Appels
Related Links
Former FEI President HRH Princess Haya Seeks Asylum in Germany
Princess Haya Recuses Herself in Sheik Al Maktoum's Positive Doping Case
Landslide Victory as HRH Princess Haya Re-elected to FEI Presidency
HRH Princess Haya Bint Al Hussein Elected Thirteenth FEI President