2019 French Dressage Championships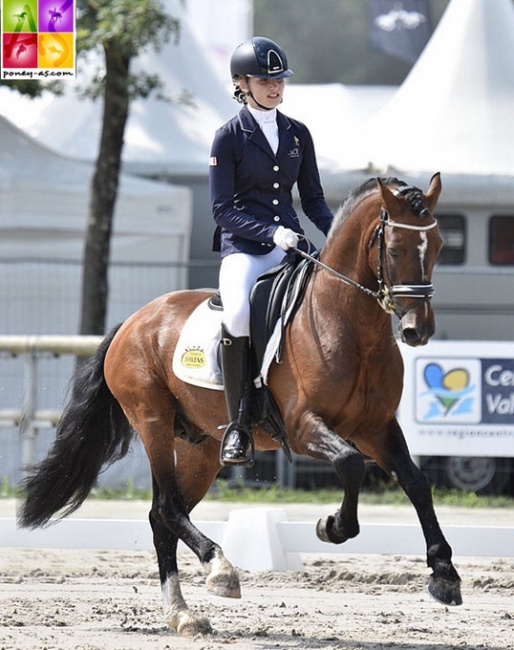 Enora de Vienne became the winner of the FEI Pony division held at the 2019 French Dressage Championships in Lamotte-Beuvron, France, on 5 - 7 July 2019.
The French Pony Championships are contested over two rounds: the team championship and the individual test. Ten combinations competed in the 2019 edition.
De Vienne and Rose-May Harang's seasoned Welsh pony stallion Swyn Barrade (by Ceulan Nathan x Hwylog Sensation) were unbeatable and won both rounds of the Pony Championships. In the first round they posted a winning 71.20% and upped the ante in the second round with 73.82%. They averaged 72.51% for the gold medal and national title. 
"I didn't expect to win," De Vienne Told Poney As. "I have only been riding Swyn for six months and have only recently started to find the buttons. We have well progressed together and I had hoped to do well at the Championship. Of course there were still little things to improve like keeping him more round consistently, but I'm very happy with how Swyn carried himself."
Swyn Barrade was previously competed by Lou Morali. De Vienne is trained by her mother Celine and French team trainer Muriel Leonardi. 
The silver went to the 2018 French Pony Champion, Alexandre Cheret on the 12-year old Belgian riding pony Butterfly Dew Drop (by Florencio x Polaris Harold). The pair scored 70.17% and 69.84% to finish in an average of 70% for a second place overall.
The bronze went to Astrid Antunes Millou on the French bred 8-year old Bandro Hit Linaro (by Sandro Hit x Courage). She achieved 68.50%% and 68.17% to slot in third with an average of 68.34%.
Photo © Poney As
Results - 2019 French Pony Championships - Lamotte-Beuvron
1. Enora de Vienne - Swyn Barrade - 71,20% - 73.82 --- 72.51 
2. Alexandre Cheret  - Butterfly Dew Drop - 70,17% - 69.84  ---  70.00
3. Astrid Antunes Millou - Bandro Hit Linaro - 68,50% - 68.17  --- 68.34
4. Salome Wenske - Turfhorst Painted Colors - 66,28% - 68.98  --- 67.63
5. Diane Vedrenne - T'Choux des Chesnaies - 65,09% - 68.37  --- 66.73
6. LAure Billy Beaute - Robinson - 66,11%  - 65.04  --- 65.58
7. Laurick Hardy - Polhaars Daphne - 62,95% - 62.80 --- 62.88
8. Romane Ducrocq - Shamrock du Neuf Clos - 61,58%  - 60.20  --- 60.89
9. Cassandra Massicot - Boyard Brianelle - 62,65%  - 58.29  --- 60.47
10. Thanais Capelle Morosi - Vidal Delight - 61,15% - 58.88  ---60.02
Related Links
Alexandre Cheret Wins 2018 French Pony Championships
Charlotte Palas Wins 2017 French Pony Championships
Manon Desjardins Wins 2016 French Pony Championship
Clarissa Stickland Wins 2013 French Pony Championships
Joy Albeck Renews Title at 2011 French Pony Championships
A Day at the 2011 French Pony Championships in Lamotte-Beuvron 
Joy Albeck Wins 2010 French Pony Championship