F.O.C.U.S.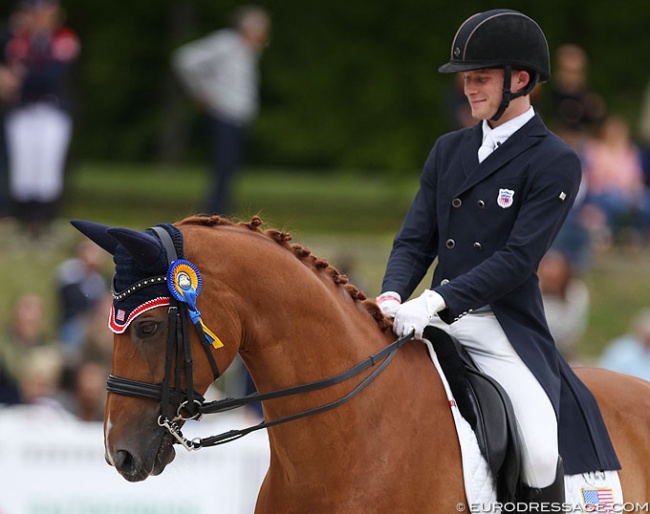 Three American young riders - Benjamin Ebeling, Callie Jones and Kayla Kadlubek - were invited on the annual USEF Dressage European Young Rider Tour as part of the Discover Dressage™ USEF/USDF Emerging Athlete Program, which introduces a cherry-picked group of young riders in the U.S. to international competition as individuals and as part of a team.
While 19-year old Ben Ebeling and the 21-year old Callie Jones were return participants after their first tour in 2018, 19-year old Kadlubek was a debutante to the European experience.
The trio competed at the CDIO Compiègne in France (May) and CDIO-PJYR Hagen in Germany (June), after which Jones and Kadlubek jumped the paddle back to America at the end of June. Ebeling stayed in Europe and went on to show at the CDI Leudelange in Luxembourg at the beginning of July. 
Based in Belgium, Working with Williams
The threesome was based at Eliane Cordia-van Reesema's Jewel Court Stud in Wuustwezel, Belgium, with USEF youth team trainer George Williams as they submerged themselves in the European dressage world.  They trained alongside the first batch of U.S. Grand Prix riders, that were selected for the High Performance Euro tour, and savoured the experience at Jewel Court Stud.
"It's cool being around some of the other senior riders and being able to watch them train and their horse care," said Kayla. "There are really nice trails that my horse loves to hack out on to see some of the Belgian countryside. The barn manager, Evi (Cornelissen), has been super helpful in making us feel at home. It's been great taking private lessons with our youth coach, George Williams, since he stays over here with us. Being with my team mates, Callie and Ben, has been fun. I definitely got a little homesick at times and missed my second horse and my dog."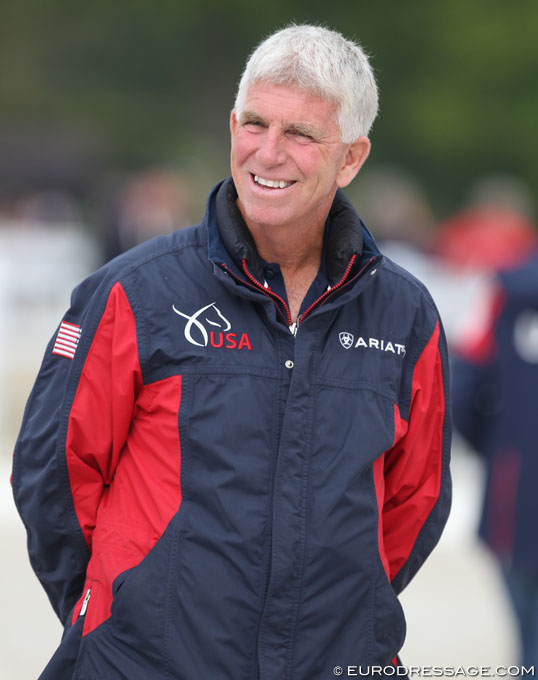 Williams was their chaperone and coach and stayed with them the entire time.
"Working with George is always an honor," Jones stated. "I was George's working student in Wellington, Florida so I am very familiar with his teaching style and we have been able to build a great relationship. I have really been enjoying getting lessons from him and he continues to teach me so much. Jewel Court Stud is a beautiful facility and the staff is so polite and accommodating which has made this trip stress free. We have the option of riding in the indoor or outdoor arena and hacking on the many trails through the forest which is great for the horses."
As a return participant, Ebeling smoothly connected with the coach.
"This is my second year training with George, the benefit being that he knows me, my horses, and my style of riding well. I think training with George works out really well because he has a similar teaching style to my dad (2012 U.S. Olympian Jan Ebeling), meeting each exercise with enthusiasm and a strong emphasis of the basics. It has been a seamless transition."
Ben continued: "Life in Belgium has been filled with training and getting super close with my teammates. After our days of training, we regularly go bowling or play mini golf and have a great time together. My mom and I have actually had a few European adventures on our days off, as we went to Paris for a day last weekend and biked around the city."
Getting Started in Compiègne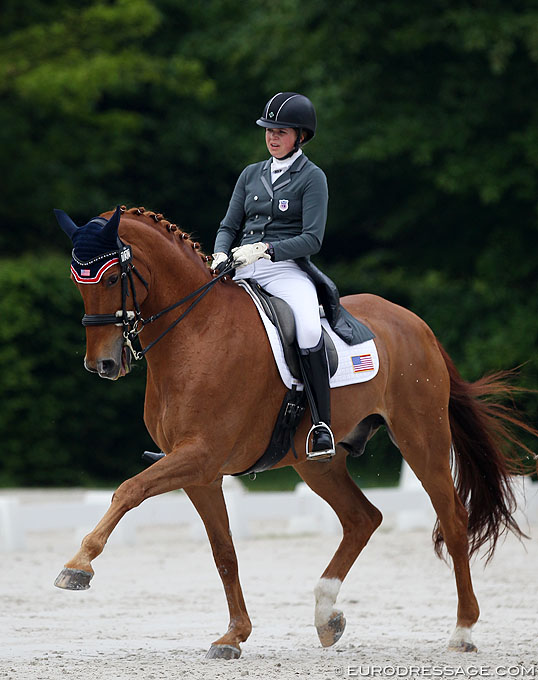 The first competition stop for the American young riders was the beautiful CDIO Compiègne north of Paris, where they met with the best youth riders from mainly Belgium and France. 
Jones and her 11-year old Hanoverian gelding Don Philippo (by Dancier x Warkant) led the American campaign, scoring 71.225% in the Team Test (4th), 69.559% in the Individual Test despite one mistake (5th) and 73.042% in the Freestyle (3rd place).
"I really couldn't be happier with the outcome especially for our first show," said Jones. "I was so happy with Phil, he was so focused and really felt at the top of his game. Last year I had it in my mind that European shows would be different in many ways, but I quickly learned that they are very similar to American shows. I think the difference that stood out to me the most was that there are a lot more competitors in the class. In Compiègne there where 34 riders in the Young Rider class where as in most of the CDI's that I have competed in, in the US there are usually anywhere from 2-15 in the Young Rider division. At the end of the day the arena is the same and it's just you and your horse which is something I think every Rider should keep in mind, this helped me become more confident and relaxed when showing in Europe."
Ebeling brought two horses to Europe: his trusty young riders' horse Behlinger (11yo Hanoverian by Breitling W x Weltmeyer) and his rising Under 25 mount Illuster van de Kampert (11yo Belgian warmblood by Spielberg x Contango).  Aboard Behlinger he was 16th in the team test (68.039%), third in the individual (70.049%) and 13th in the Kur (66.692%). Illuster competed in the first two rounds to finish 14th in the team test (68.333%) and 27th in the Individual (64.069%).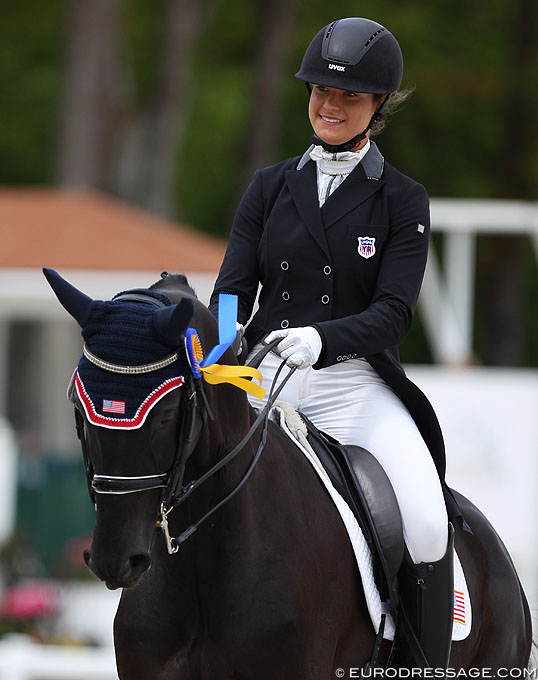 "Compiegne went very well," said Ben. "On the second day of competition, I received my personal best score on my mount Behlinger, and Illuster showed me he has potential to receive extremely high scores in the international ring. I was quite pleased with both of my horses' overall performance."
Kadlubek and her 18-year old Hanoverian Perfect Step (by Peridot x Quick Star xx) finished 16th in the team test (68.039%), fifth in the individual (69.559%) and ninth in the Kur (69.692%)
"Compiegne went very well and was a great learning experience," said Kayla. "It was such a beautiful show ground with a calm atmosphere. Overall, I did better than I anticipated. The first day I was a little nervous and had a few mistakes. I scored better than I thought I would and it gave me a huge boost of confidence going into day 2. I had a much more solid ride on the second day that I was super pleased with and was ecstatic that I placed in the top 5."
Kayla was also impressed by the depth and size of the young rider divisions in Europe. 
"The classes are much bigger and more competitive than American competitions. I'm used to thinking 8 young riders is a big class so it was a bit of a shock competing against over 30 other young riders from several different countries," she admitted. "Therefore, the warm up rings were a bit busier so it took some time to adjust and try not to get run over."
Ebeling agreed and even on his second time around, he considered the huge field of competitors impressive. 
"The European shows differ from American because there are so many riders that I have never seen before," he rung in. "It is amazing to go into a Young Rider class with over 30 people, each of which are just as competitive as the next. In addition, it is interesting to watch some of Europe's top trainers from each nation at the CDI competitions here in Europe. Having the ability to learn from your peers in the Young Rider group and from the High Performance category is extremely beneficial to my riding and knowledge of the sport."
Team U.S.A. Fourth at the 2019 CDIO-YR Hagen
In the Young Riders Nations' Cup at Hof Kasselmann in Hagen, team U.S.A. finished fourth.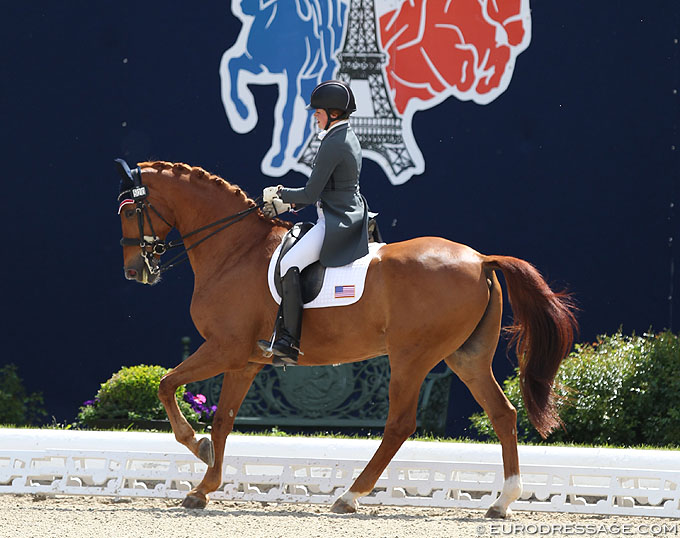 Competition kicked off with the Young Rider Team Test, which served as the Team and Individual qualifier. The U.S. team finished sixth and qualified for the Team Final, the Young Rider Individual Test. Ebeling and Kadlubek directly qualified for the Individual Final, the Young Rider Freestyle test, and Jones qualified for the Consolation Young Rider Freestyle test.
Ebeling and Illuster van de Kampert were first in the ring for the U.S. and produced a strong test, earning a 68.824. Team mates Kadlubek and Perfect Step, and Jones and Don Philippo followed suit, scoring a 68.046 and 67.101, respectively
On Friday, Tour athletes impressed in the Team Final as Jones led the way with a 69.412. Ebeling also gave a strong test, earning a score of 69.391, and Kadlubek earned a 68.718. The U.S. earned fourth in team competition on a score of 207.521, the highest placing for the U.S team since the program began competing at the Hagen CDIO-Y.
"All three of our athletes rode clean and correct tests, they were very steady, and each one contributed to the team's placing," said Williams. "With just a 0.7 point spread across our scores we are seeing a consistency and solid performances that shows us that the development of the dressage program is good. I'm thrilled! It was interesting to see the new Olympic format. I think it was a good test event. There are a lot of differences and there are going to be interesting twists and even fun."
A Unique Experience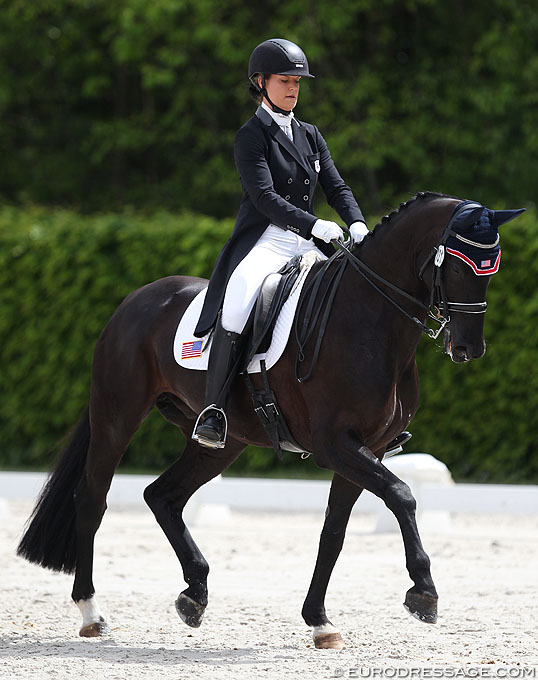 "Europe has been a wonderful and fun experience," said Kadlubek. "It is my first time here so there have been several learning experiences and getting used to culture from the limited store hours to the leisurely, long dinners. It was tough putting my horse on the transport in the US and trusting that he would make it over here safely, as I am not old enough to fly with him. I was relieved to see him step off the transport in Belgium. The people are very nice and have been helpful with the language barrier."
Callie stated that her second time in Europe felt totally different. 
"I think this year is different in a few ways, one being that I am much more confident in myself and in my riding," Jones confessed. "Last year I will admit I was star struck and my nerves got to me a bit when competing, but like I mentioned I learned so much and the biggest thing that I took away is that even the top riders make mistakes but they are still able to get high scores because they ride outside of the box and aren't afraid to take risk and those really pay off in the end. I definitely think that helped boost my confidence for coming into this year. Last year was also my first year being in Europe, so I also think just being more familiar with the culture and how things work also help me with being more comfortable."
Ebeling used his experience from last year to be better prepared for the challenges ahead.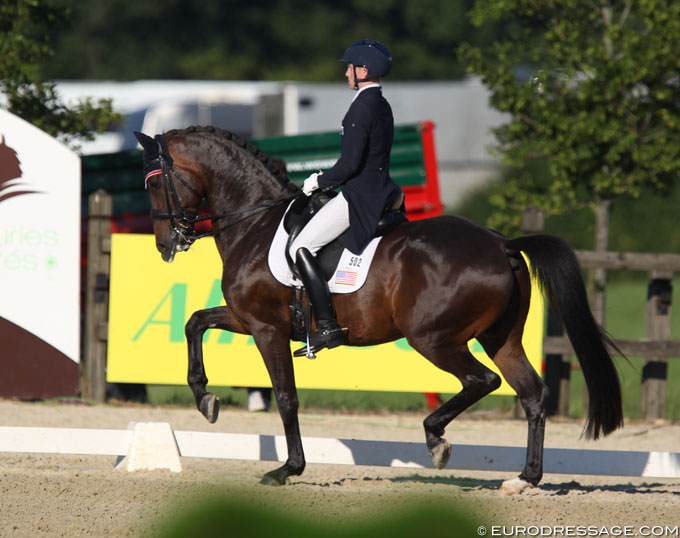 "This trip to Europe has been an amazing learning experience. I truly enjoyed working every day with my horses, and getting very in tune with them. In ways, I felt more secure and ready for the competitions, training, and travel. Because this is my second time showing in Europe, I knew a bit more of what to expect and how it differs from competing in America. For the past 15 years, I have been travelling with my dad, Jan Ebeling, to Europe. I have been able to see through his lens what it takes to be a real competitor here; accuracy, calmness, and being in sync with your horse to name just a few important elements. The biggest difference for me from last year's tour in Europe is that I have brought two horses to compete in the CDIY's."
After the CDIO-PJYR Hagen, Kadlubek and Jones flew back to the U.S.A., while Ebeling moved to Hof Kaselmann, where he will remain for another month following Future Champions.
"It feels like family here to me," he said. "While here, I am able to continue my own horses' training, and also ride some showjumping horses to give me balance!"
Text and photos © Astrid Appels/Eurodressage
Related Links
Three U.S. Young Riders Selected for Euro Tour and 2019 CDIO-Y Hagen
American Young Riders Euro Tour Wraps Up at 2018 CDIO-PJYR Hagen
Three U.S. Young Riders Soak Up Experience on 2018 Discover Dressage Emerging Athlete Euro Tour
American Athletes Selected for 2018 European Young Rider Tour
Asher, Davis, Gluch Make Euro Tour Show Debut at 2016 CDIO Compiegne
Great Learning Experience for Austin and Malone at 2004 CDI-YR Hagen, Germany
Illuster van de Kampert, New Ride for Benjamin Ebeling