Verden Auction News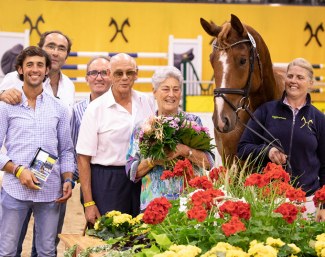 The Verden auction team had successfully put together a colourful mix  of talented dressage and show jumping horses that suited all demands for its 2019 Hanoverian Summer Auction on 20 July 2019.
This was well honoured as the 47 horses sold for an average price of 16,330 euro.  While it flashed and thundered outside the Niedersachsenhalle, everything went according to plan at the Hannoveraner Verband.
It was a dressage horse that left the Niedersachsenhalle as the top prized horse. The stud Sola Nogales from Spain bought Semino JU (by Scolari x Fürstenreich (breeder: Michaela Pridöhl, Grethem, exhibitor: Jürgen Uhlenwinkel, Gretehm)) for 33,000 Euros. Every bid was rewarded with applause, while a summer thunderstorm raged outside the auction hall. Together with the strong moving chestnut, two other top-class rough diamonds will leave Verden for Seville.
The 4-year old gelding Fioretto Deluxe M (by Finest x Scolari) sold for 30,500 euro
The 4-year old mare Farah (by Furst Belissaro x Fidertanz) found new owners for 27,500 euro
Three horses sold for 23,000 euro:  Fame (by Foundation x Matcho AA), Saturday Night (by Stakkato x Embassy), and Dia Stapira (by Diarado x Stakkato).
The best paid show jumper was auctioned over the telephone to Brussels/BEL. Cecile S (by Cascadello/Contendro (breeder: Friederike Stüvel-Huck, Egestorf, exhibitor: H. u F. Stüvel GbR, Zeetze)), who has already celebrated victories and placings in young horse show jumping classes, cost 26,000 euro.
A look at the statistic shows that 28 horses were sold for 15,000 Euros and more, four of these achieved a price of 25,000 Euros and higher. The domestic/international ratio was balanced, 25 auction candidates will leave Germany.