Rhinelander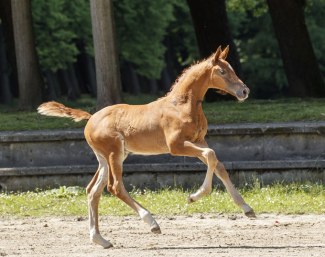 The next foal auction will take place on 17th August of 2019 in the Rhenish Horse Center Schloss Wickrath. Organized by the district association NRW in the Hanoverian Breeding Society and the Rhenish Studbook e. V.
Over the last 27 years our sale events have included many special horses, whose subsequent successes made headlines. National Champions, Grand Prix horses, licensed stallions, elite show mares and world champions such Victoria's Secret, who was discovered at our Rhenish foal market.
This year, 37 warmblood foals will be auctioned. Excellent pedigrees, successful foals of the VTV-Championship in Kempen 2019 as well as show-winner and gold medal foals are included in our exquisite collection.
The presentation of the foals will take place at 3.00 pm in the event hall in Wickrath. We are also excited to announce that both the presentation, as well* as the foal auction, will be broadcast live via ClipMyHorse.TV. After the presentation the auction of the foals start by our auctioneer Volker Raulf at 6:00 pm.
Bidding can be done by phone.
The collection can be viewed here
The foal auction catalog is available in a digital version as a download on our website www.pferdezucht-rheinland.de.
The catalog can also be ordered as a printed version via the Rhenish Horse Center Schloss Wickrath.
For further information, feel free to get in touch:
Related Links
Rhenish Sport Horse Sales Return during 2019 CDIO Aachen
Rhinelander and Hanoverian Society to Merge Officially on 1 January 2015
Hanover and Rhineland, Facing the Future Together