F.O.C.U.S.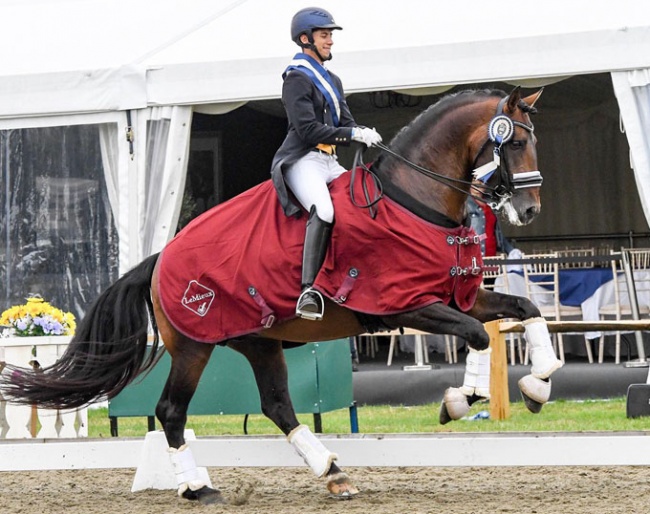 Joao Miguel Torrao and the Lusitano breeding stallion Equador MVL are the shootings stars of Portuguese dressage, capturing a place on the national team for the 2019 European Dressage Championships in Rotterdam just six months after their international Grand Prix debut. 
Bred by Coudelaria Monte Velho and owned by Monte Velho in partnership with Belgian-Polish couple Marc Lebbe and Katarzyna Gontarska, the bay licensed Lusitano stallion (by Quo Vadis x Hostil) has been a talent carefully nurtured.  
A Growing Partnership from Novice to Grand Prix
The now 10-year old Equador and the 26-year old Torrao were matched in 2014 and have been a growing duo from the start, going from novice level to Grand Prix in five years time.
Torrão, who studied Equine science in Portugal, came to Monte Velho on a summer internship and got hired as their full-time rider.  The pair made its first start in the 6-year old national young horse classes at the CDI Vilamoura in 2015, and moved on to the CDI Biarritz a few months later.
The goal had always been Grand Prix so competitions were not a priority along the way. In 2017 they tested their level at the CDI Segovia in the small tour, winning both the Prix St Georges and Intermediaire I with seventy + scores. Their Grand Prix debut was at the CDI Cascais in March 2019, where they won the Grand Prix with 69.391% and Special with 69.426%.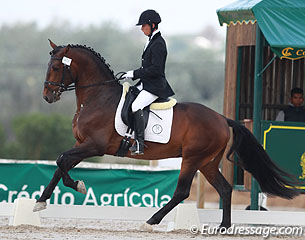 Co-owner Diogo Lima Mayer Jr, who runs Monte Velho Equo Resort in Arraiolos (POR) has always strongly believed in the innate talent of his horse and knew that the combination was the right one from the start.  Their stellar successes in their joint first year at Grand Prix has blown them all away, nonethless.
"I believe that in this sport, consistency, discipline and honesty are absolutely crucial if you want to reach top level," said Lima Mayer Jr. "Equador and João have grown together and have built a very solid partnership over the years that is increasingly bearing its fruits. This is the first horse João has ever trained to Grand Prix, so in many ways this has been a unique project, but one that gives me an immense joy and pride."
Trainer Coralie Baldrey has been instrumental in the progress of the young pair, supporting the combination's along the way.
"I remember like if it was today, when Equador was turning 6 years old and João came to my office in tears, begging me if I could pick another rider," Diogo admitted. "He was struggling with the flying changes and told me he thought the horse was too good for him and compromising Equador's career. My answer was a resounding no. I told him I believed in him, and that Monte Velho would give him all the necessary training and support to overcome these obstacles. It seems this was destined to happen, but the flying changes are now one of their highlights. A key moment was the arrival of Coralie Baldrey to our team, a trainer who has trained several horses to GP and has followed João on a daily-basis in the last four years. She helped him to grow technically and definitely boosted his confidence. She focused a lot on the basics of the training scale, thus correctly and sustainably preparing the pair for the Big Tour."
Scores Climbing to 70% and More
For their first year at Grand Prix, some local CDI's in Portugal were picked to spare the horse from making huge voyages on the lorry. After a magical debut at the CDI Cascais, Joao and Equador MVL reconfirmed their talent with scores climbing to 70% and more at the CDI's in Abrantes and Alter do Chao.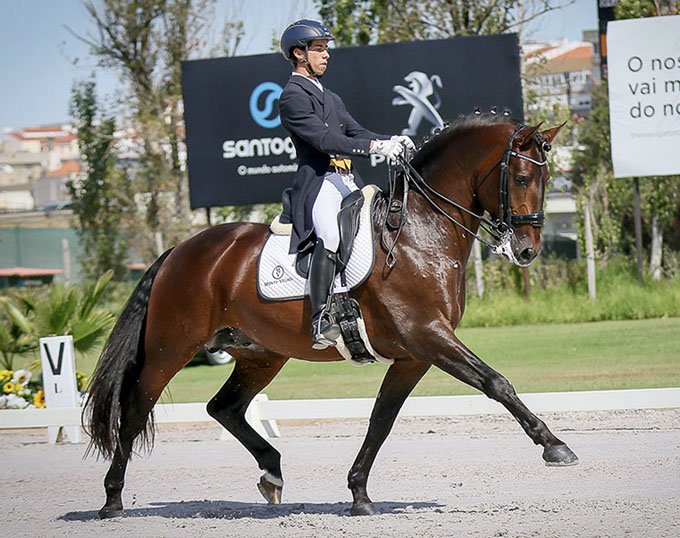 At the CDI Abrantas they started off with 68.413% in the Grand Prix, but they posted their first seventy in the Special with 70.830%. The same course happened at Alter do Chao with 68.565% and then a 71.702%. 
"Equador's international debut has indeed surpassed all our expectations, taking into account the inexperience of the pair at this level," said Diogo. "We've always believed in their glory, but not so quickly. This story seems like a puzzle with pieces coming all together. Equador seems to be enjoying every minute of it. He is that kind of 'cocky' horse, that loves to show-off his power in the arena. He is one of the most willing horses I've seen and a fighter ready for the war. The same happens with João, a very shy and introverted guy that put all his claws out as soon as the bell rings in C."
At the CDI Segovia in Spain in May, they finally held on to the Magical Seventy with 70.109% in the Grand Prix and 70.340% in the Special.
With four shows where consistent high marks were achieved, Torrao and Equador MVL caught the eye of the selectors and all of a sudden Rotterdam was no longer a dream.
Some Carl Hester Magic to Boot
In order to give Torrao the best platform for growth, Lima Mayer Jr realised he needed to look across the borders. British Olympian Carl Hester was approached to see if he wanted to coach the budding pair to a higher level.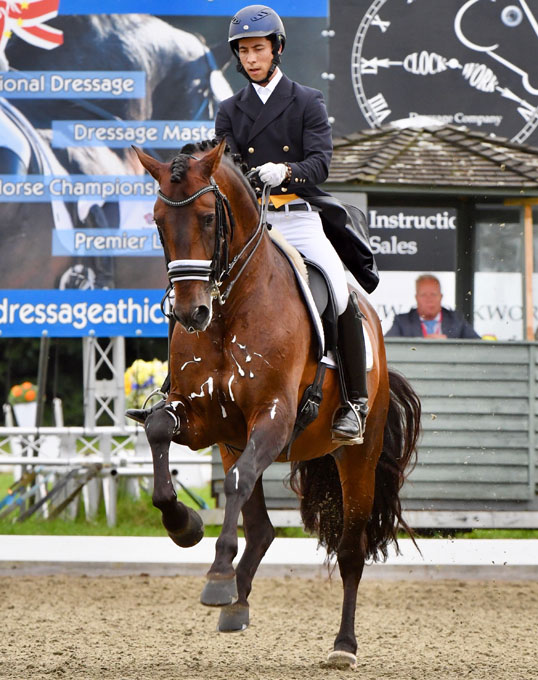 "I believe the role of the owner is absolutely crucial in any sportive equestrian project, not only to financially support the rider but most importantly to set-up a vision and to take decisions that can be translated into good results for the team," said Diogo. "This journey has been a big learning process for me as well, and I believe staying as much involved with the training has made me more realistic about the rider's challenges and difficulties, and consequently more prepared to help the team. João comes from a humble background and has made his successful path due to his hard work, full dedication, many sacrifices and obviously a lot of talent. I think Carl was touched by João's story of commitment with Equador, and is doing all he can to make their partnership grow."
Carl Hester welcome João in his stables for the summer so he could compete at the British CDI's in Hartpury and Hickstead in preparation of team selection for Rotterdam.
"Equador is a very young stallion with less than 6 months of experience in the Big Tour, and I thought that if we wanted to dream higher and compete among the best in Europe, João would need to step-out of his comfort zone and compete abroad," said Diogo. "The goal was to increase their technical quality."
Joao and Equador spent the summer at Carl Hester's yard and their focused work paid off immediately. At the CDI Hartpury they posted 71.196% in the Grand Prix and at the CDIO Hickstead they achieved a whopping 73.522% in the Grand Prix and a 75.787% in the Special, leading Team Portugal to a first-ever, historic victory in the FEI Nations' Cup!
"We were extremely happy to contribute to the first victory of the Portuguese team in a FEI Nations Cup, with a squad formed only by Lusitanos," Diogo explained. "In the Special at Hickstead, João had his best score to date with a 75.7% and still with little mistakes. They are definitely one of those partnerships that magically make people get goosebumps and become emotional. They are writing their own story and one I'm very proud of."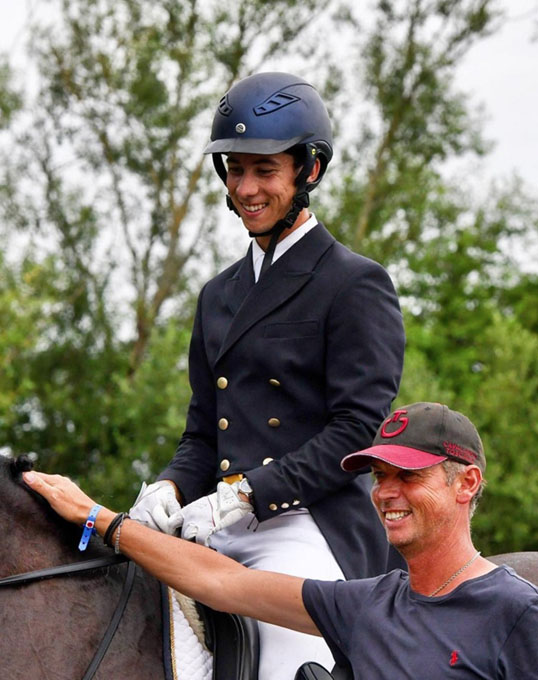 Carl has helped João in many ways, not only on coaching the young rider on Equador, but also letting the Portuguese ride some of his own horses.
"Carl focuses a lot on the frame and the outline, making the horses look easy and fluid through the tests," said Diogo. "With his technical excellence and experience, Carl has lifted the pair's precision and accuracy. João also ride some of Carl's horses, to practice some exercises like the pirouettes, on which they've been focusing a lot. That was completely unexpected, but shows how generous Carl is.  We absolutely share Carl's equestrian philosophy and horsemanship. He's a total inspiration for all our team and we're enjoying every minute of this outstanding journey, with the consciousness that we still have a long way ahead of us."
The collaboration between Hester and Monte Velho has been extended with a second horse sent to the U.K.  Carl's assistant trainer Amy Woodhead has taken on the ride Equador's half sister, Esquadra MVL (by Quo Vadis x Xaquiro).
After the Europeans Equador will enjoy some deserved vacation at home in Portugal and focus on his stud duties. 
Discover Monte Velho at www.montevelho.pt
Related Links
Portugal Writes History at 2019 CDIO Hickstead, Sweden Wins 2019 FEI Nations Cup Series
Equador MVL Raises Interest of International Investors
Joao Miguel Torrao and Monte Velho's Equador Shine Bright at 2017 CDI Segovia