The Netherlands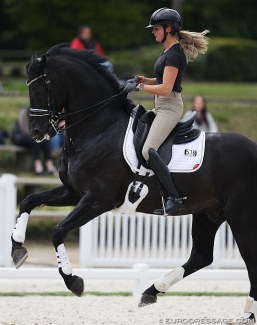 The Dutch Olympic Horse (NOP) foundation has added a new horse to his support plan, Desperado, and dropped Expression from the list. 
The N.O.P. (Dutch Olympic Horse) Foundation is a project of the Dutch Equestrian Federation in partnership with the Dutch Olympic Committee. Their goal is to keep top performance horses in the Olympic discplines in The Netherlands for Dutch riders to campaign.
NOP was first established in 1980 and ended in 1990. The project was re-established in 2013 and offers a monthly financial fee to the owners of the horses for them not to sell their horses. The NOP board includes Ieko Sevinga, Bram de Feijter, Emile Hendrix, Frank Kemperman, and Maurits Hendriks.
This year Emmelie Scholtens rode the 11-year old KWPN licensed stallion Desperado (by Vivaldi x Havidoff) onto the Dutch A-team and team for the 2019 European Championships in Rotterdam. He is owned by Ad Valk and has now been secured by NOP for the horse not to be sold.
Diederik van Silfhout and Expression have been Dutch A-team members since 2018 but the pair missed out of team selection because the 10-year old Vivaldi x Jazz licensed stallion got injured this spring. Expression was already secured by NOP in the spring of 2018, but a few months ago owner Van Norel decided not to extend the contract. 
Expression is owned by Gerrit Willem van Norel and his two sons. In 2018 two of them were pro NOP so the contract was signed, but this year two were against renewing it so they could retain the possibility to sell the stallion. 
Four dressage horses are now NOP listed: Zonik, Dream Boy, Avanti and Desperado
Photo © Astrid Appels
Related Links
Van Silfhout's Expression Becomes NOP
Dream Boy Receives NOP Status
NOP Foundation Adds Meulendijks' Avanti to Sponsorship Plan
Zonik Receives NOP Status
Hans Peter Minderhoud's Johnson Added to NOP Team
Dutch Olympic Committee Invests in Dutch Olympic Horses