2019 European Pony Championships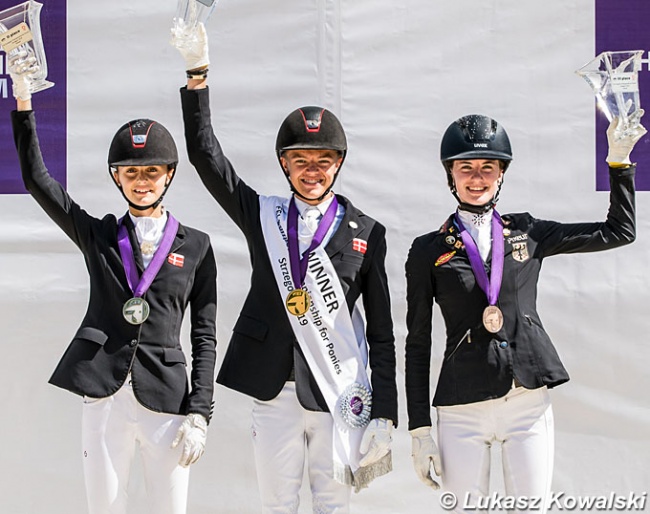 In his last year on ponies, Danish Alexander Yde Helgstrand captured his third gold medal after winning the Kur to Music at the 2019 European Pony Championships in Strzegom, Poland, on Sunday 18 August 2019. 
The Kur podium was identical to the one for the Individual Test: Helgstrand took the highest step, while Danish team mate Liva Addy Guldager Nielsen earned silver and German Shona Benner got bronze. 
The 2019 European Pony Championships for dressage concluded on Sunday morning with the Kur to Music finals. The class was judged Orsolya Hillier, Jo Graham, Elke Ebert, Alban Tissot, and Leif Tornblad.
Eighteen riders from 10 different nations participated in the Kur with especially Polish Tatiana Bierieznow writing history for her country on home turf as being the first Polish rider to make it to the Kur finals ever. 
Fifteen Alexander Yde Helgstrand and the 13-year old Danish team routinier Adriano B (by De Angelo B x Flying Dream) were on stellar form this week and hardly dropped a stitch in all three rounds. He topped it off with a dynamic freestyle that earned them 82.140% and his third gold medal of the week after already earning team and individual test golf. Four judges placed the pair first, one judge had them third.  Alexander's 80+ percentage score will still quite far from the world record set in 2015 by British Phoebe Peters on SL Lucci (85.825%). 
""It was really exciting until the last moment, and after the last rider I was so happy, so it's incredible," said Alexander. "Adriano B is super sweet, he is a nice and relaxed pony, but when he is on a track at the show he is fighting!"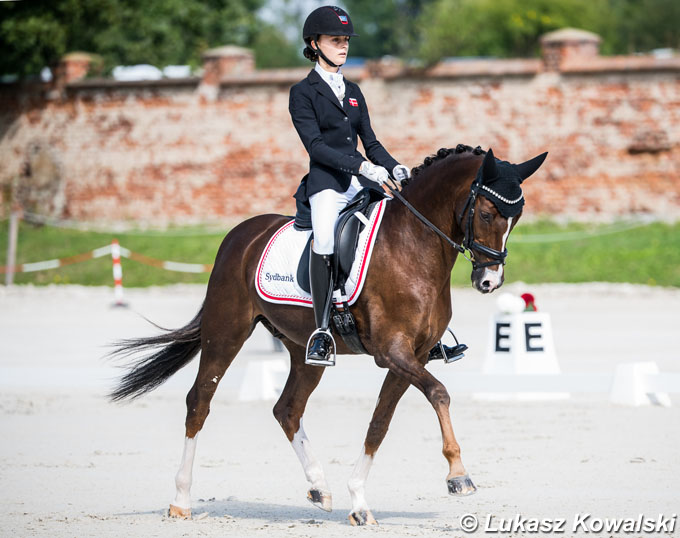 For Helgstrand there was no more ideal way to finish his last year on ponies as the rider turns 16 in the autumn and will make the definitive move onto horses in 2020. Alexander is no stranger to bigger horses as he has already been competing at international junior rider's level this year aboard the Danish mare Grevens Sa Va. 
Danish Liva Addy Guldager Nielsen and the 13-year old gelding D'Artagnan (by FS Don't Worry x Colano) convincingly rode to her second silver medal after posting 80.655% on the board for her freestyle.Three judges had her second, one first and one third. The pair shows incredible promise for the future and with still one year to go on ponies, Nielsen could make a try for gold at next year's European Pony Championships. Unfortunately the FEI has not yet received an official bid to host this event in 2020, so the venue is still unknown. 
"We are over the moon. This is a super achievement of our Danish pony riders," said Danish team captain Rigmor Kristensen. "It is not because there was no competition. The Germans came with new and young riders that shows very nice things and Holland has really nices ponies too. So we can say that Denmark is part of the strongest nations. Despite the strong competition this year, the Danish riders kept their cool."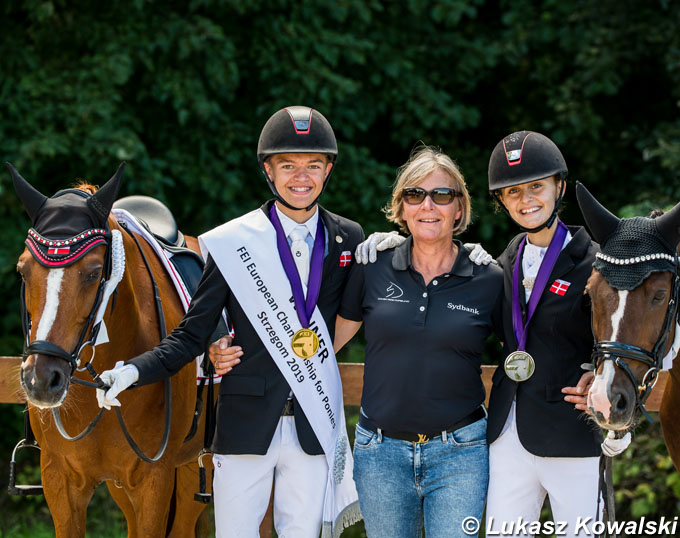 Denmark's high position in the pony world is nothing new. It already had a European Pony Champion in Alexandra Juel Brockdorff  in 1985 and 1986. Denmark disappeared from the team podium in the early 2000s, but returned in 2007, to lose it again for two years in 2013 and 2014. In 2016, 2017 and 2018, the Danes captured team silver each time and this year it was gold. 
"The parents know that there must be a proper daily training programme set up to reach this level," said Kristensen. "Denmark has produced many good ponies that can compete at this level, but also the riders are good and they want to work to become good riders. It's not just about buying a good pony and steering it." 
German Shona Benner and her 9-year old Oldenburg bred Der Kleine Sunnyboy (by Der Feine Lord x Valentino) captured their third bronze medal of the week after posting 79.070% for their Kur to Music. The judges had her between second and fifth place with individual scores ranging from 75.625% to 82.550%!
"Everything went as we had imagined in an ideal case scenario," said the Billerbeck based Benner, who trains with Helen Langehanenberg. "In the Kur Sunny made again his best effort and I really noticed how he worked with for a top place. I was so happy in the final halt and salute. I won't forget that moment."
Benner and Der Kleine Sunnyboy have only been a pair for less than two years. At the time the pony was just scoring 58% in the FEI pony test. With careful training and much dedication they worked their way up and in June 2019 they were standing second on the FEI World Pony Riders' Ranking. Two months later they had three bronze medals in their pocket.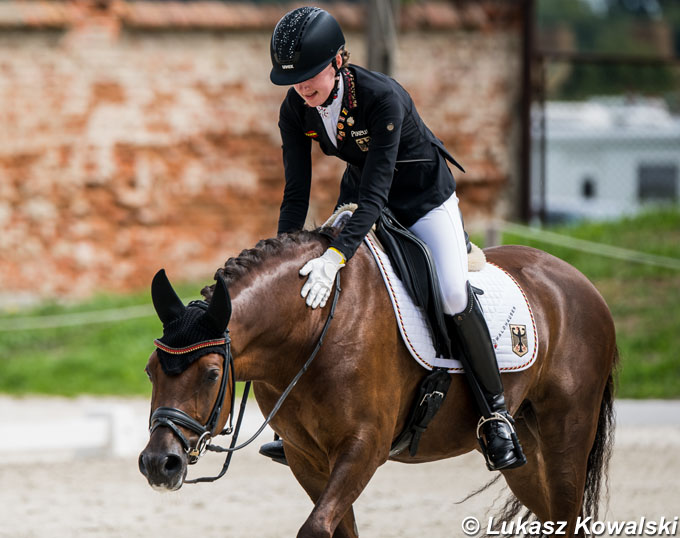 "The setting here  was fun. I learnt much," said the 15-year old Shona. "I met many people from different nations and I'm proud to have participated in a European Championship." 
Just missing out on a podium place was Dutch Micky Schelstraete on on Rose van der Lof's 17-year old German riding pony stallion Elin's Noncisdador (by Nostramdamus x LP Nixen). The Dutch recaptured that fourth place they held in the team championship test, after dropping to fifth in the individual test. With their freestyle they scored 78.300%. It was an emotional final ride for Schelstraete who rode her last test and final competition on the grey stallion. 
German Lana-Pinou Baumgürtel and her 14-year old Massimiliano (by Monsun P x Cap Cennedy N) scored 76.850% for fifth place. Baumgurtel and the buckskin gelding, who was the 2016 and 2017 European Pony Champion under elder sister Lucie-Anouk, had their best ride in the freestyle, after placing seventh in the team test and eighth in the individual test. 
Text by Astrid Appels
Photos © Lukasz Kowalski - Image Gallery from the 2019 European Pony Championships on Facebook
Related Links
Scores: 2019 European Pony Championships
Eurodressage Coverage of the 2019 European Pony Championships