2019 European Youth Riders Championships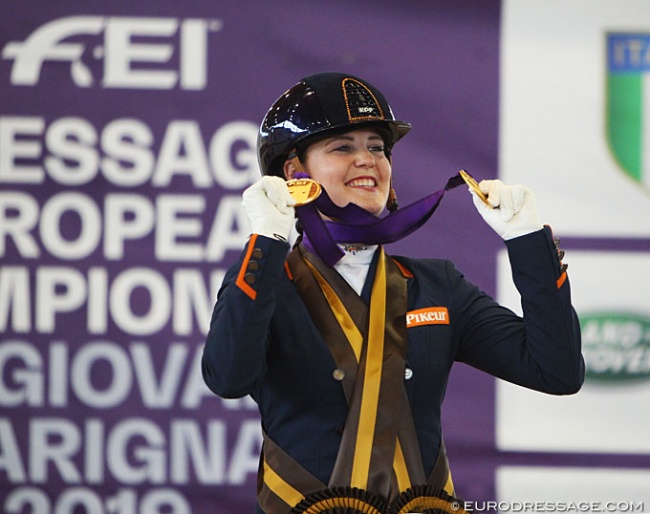 (Sorry for the tardiness, but I still wanted to post this article and photo gallery)
The 2019 European Youth Riders Championships in San Giovanni in Marignano, Italy, came to a conclusion Sunday afternoon 28 July 2019 with the Under 25 Kur to Music finals. Dutch Jeanine Nekeman scored her second individual gold medal and is the 2019 European Under 25 Champion. 
After earning team silver on Wednesday, Nieuwenhuis and Tim Coomans' 14-year old Dutch warmblood gelding TC Athene (by United x Jazz) went on to win the individual gold medal in the Short Grand Prix test on Saturday with a score of 76.436%. On the podium she was flanked by team mate Denise Nekeman for silver (73.782%) and Jil-Marielle Becks for bronze (73.359%).
To make the medal haul complete, Nieuwenhuis steered her powerhouse gelding Athene to another victory in the freestyle. With the sound of roaring engines from the 2019 Italian MotoGP Championships in the neighbouring village of Misano in the background, Jeanine rode a very strong Kur that featured music of Ed Sheeran amongst others. The half passes were bouncy, the passage regular. The extended walk had good overtrack, the collected was clear in the rhythm. The extended canter was powerful, the tempi changes super straight, but there was a mistake in one line of two tempi changes. Jeanine rode a good amount of double pirouettes. The weak point of the test is the piaffe. The pair showed two piaffes on the track for support but they stayed small. With 77.670% Jeanine Nieuwenhuis and TC Athene became the Kur gold medal winners. 
"It wasn't my best test of the week. In all other tests I had no mistakes and in the Kur the twos went wrong," said Nieuwenhuis. "Athene was fantastic to ride and I just love riding that freestyle." 
Nieuwenhuis was very nervous this week, even though it all worked out for the best. "I was very focused coming into the Championships," she said. "I had a lot of stress here from waiting for the results. After the Individual test I had to wait a very long time until it was clear that I was still on top. I had so many nerves this week. It was great top sport though. It's so gorgeous here in San Giovanni, but also very hot. It was a challenge to keep the horses fit and stay fit yourself while we had to perform in full outfit in the burning soon. It does give something extra."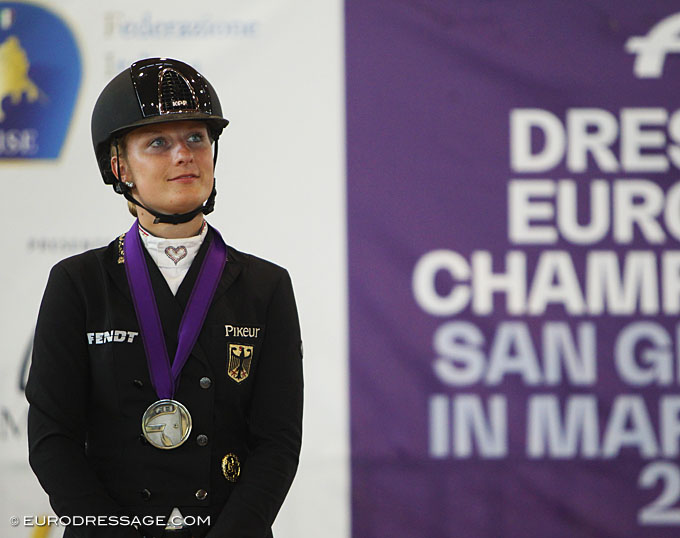 German Bianca Nowag made a stellar surge on the score into second place aboard Michele Widner del Pino's 10-year old Hanoverian gelding Sir Hohenstein (by Sir Donnerhall x Hohenstein). After placing seventh in the Short Grand Prix, Nowag worked her way up and landed silver with 74.455%. After winning team gold on Wednesday, Nowag now added Kur silver to her tallye. This is already her fourth European Under 25 Championship medal after winning team gold in 2017 and 2018 aboard Fair Play RB, who was retired from sport due to injury.
"It's a dream come true. I was really sad yesterday that I couldn't get a medal. The weather was horrible, but the break and the double warm-up were worse. It really shook my horse and made him insecure," said Nowag. "Today I tried to give him confidence and strength and reminded him that he can do everything. He did a super job in the test and was totally focused."
German Under 25 team trainer Sebastian Heinze concurred. "Bianca really did a good job today. Her freestyle was faultfree, just one transition didn't work out so well. I'm happy for her that she could take a medal at her last Under 25 European Championships."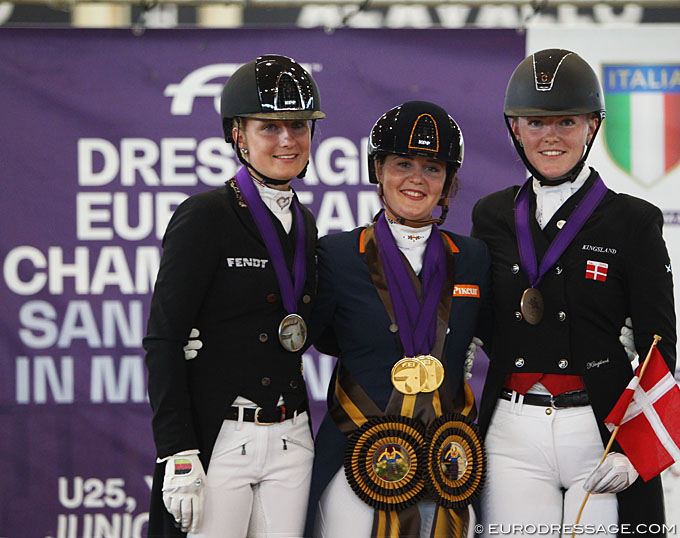 Danish Josefine Hoffmann steered her employer Anna Kasprzak's 15-year old Danish warmblood gelding Honnerups Driver (by Romanov x Don Schufro) to the bronze on a 73.855%. Riding to music from The Matrix, Hoffmann had her horse in a very quiet, focused way of going. The extensions were huge, the canter ones uphill. In passage the horse swings much with the hindquarters and there was a mistake in the one tempi changes, but the pirouettes were well ridden. 
"It's so crazy. I am so pleased and touched by what Driver has achieved at this European Championship," said Hoffmann. "Driver has delivered beyond all expectations. I am so glad that he has taken in the atmosphere and heat so well in these amazing surroundings. I had a great ride today, a mistake in one of my one series, but otherwise it was small stuff. He's just been so nice to me during this entire Championship and I'm so indescribably proud and happy. He is just the best."
Text and Photos © Astrid Appels - NO REPRODUCTION ALLOWED
Eurodressage is on the scene photographing all junior, Young riders and Under 25 riders in San Giovanni. If you are interested in photos for print or social media, send us an email.
Related Link
Eurodressage Coverage of the 2019 European Youth Riders Championships