Danish Warmblood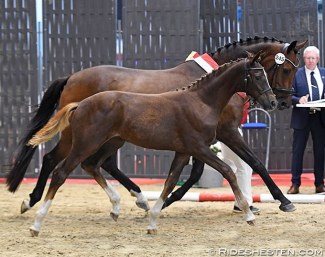 The filly Vilard's Frina and the colt Grand Quest-Bell were named the Danish Warmblood Foals of the Year 2019 at the annual Elite Mare and Foal show in Vilhelmsborg, Denmark, on 23 August 2019.
The best of Danish breeding was showcased at the Danish Warmblood Elite Show at Vilhelmsborg, where regionally selected foals, 2-year-old fillies and saddle-tested mares compete to win the champion titles in the breeding categories dressage or show jumping.
Saturday afternoon four foal champions were named, amongst them two in the dressage division.
Grand Quest-Bell, Colt Champion
An exceptionally attractive and and very elegant liver chestnut named Grand Quest-Bell  earned the title Dressage Colt Foal of the Year. This tall, noble and large-framed foal with very supple and ground-covering, rhythmic gaits is a full brother of the premium stallion Giovanni Bell. Grand Quest-Bell is by Grand Galaxy Win x Blue Hors Don Romantic and is bred by Tina & Nicolai Jepsen.
For the colt champion's ring, six foals in total were selected:  Bøgegårdens Asensio (by Schubert's Aston x Bøgegårdens Laurino), Frankie (by Franklin x Quarterback), Grand Quest-Bell (by Grand Galaxy Win x Blue Hors Don Romantic), Jackpot-D (by Janeiro Platinum / Soreldo), Borbjerg's Mieck Out (by Knock-Out x De Noir), and Straight Horse Senator (by Straight Horse Sir Romance x Blue Hors Don Schufro).
About the champion Grand Quest-Bell, the judges said, among other things, that it was a wonderfully beautiful model, with lots of expression and radiance, a suitable degree of nobility and not least excellent function. The step was described as spacious, tact-proof and agile, there was great action and up-hill tendency in the pile and the canter was extremely well balanced and ground covering.
Vilard's Frina, Queen of the Fillies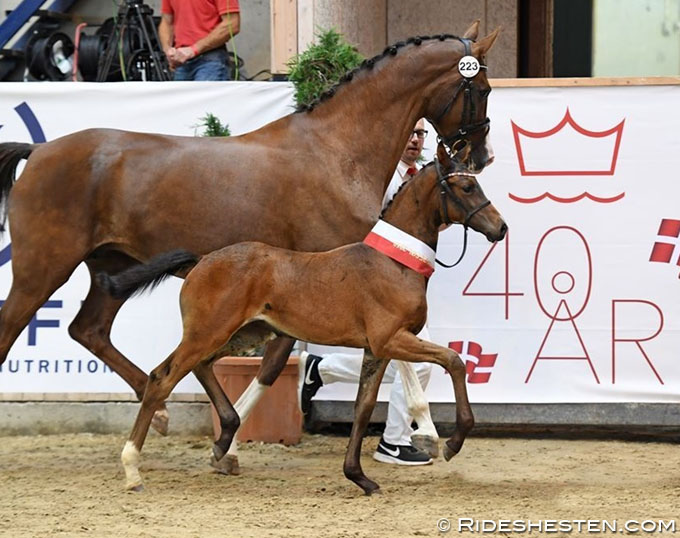 A noble and light-footed foal named Vilard's Frina took the title Dressage Filly Foal of the Year. She is by Franklin x Blue Hors Don Romantic, bred by Stutteri Vilard, and is out of the same damline as the international champion stallion Global Player. Frina danced her way through the finals to win her champion title.
Vilard's Frina competed against four other fillies in the champion's ring. They were Drostgaard's Dibria (by Blue Hors Don Olymbrio x Blue Hors Don Romantic), Hera A´ Fenris (by Grand Galaxy Win / Gribaldi),  Logo's Faya (by Franklin / Fürstenball), and Strandagergårds Sanadu (by Blue Hors Zackery / Blue Hors Don Romantic).
About Vilard's Frina the judges said: "A real eye-catcher who is adorable, feminine, well-mannered and noble among other things." Vilard's Frina also received praise  for his " impressive self carriage, with plenty of spring, airtime and suspension in the movement."
Sunday at the Danish Warmblood Elite Show is totally devoted to the evaluation of 2-year-old fillies and young saddle-graded mares.
Related Links
Remember Me and Diaz Skovvang Named 2018 Danish Warmblood Foal Champion
Svalegards Hot Boy and Faretti Named 2017 Danish Warmblood Foal Champions
Francisca Lightfoot and Bogegardens Santiago Bernabeu, 2016 Danish Warmblood Champion Foals
Delicious, Mildura, Schwarze Schwalbe, Tebaldo Winners of 2015 Danish Warmblood Elite Show
Strandagergards Sirocco and JJ Sasha, 2014 Danish Warmblood Foal Champions
Horgaard Tabasco and Springborgs Gateway, 2013 Danish Dressage Foal Champions
JJ Filippa and Tailormade Attraction Named 2012 Danish Dressage Foal Champions
JJ Fuji and Ellely's Tornado Named 2011 Danish Dressage Foal Champions
Dancing Boy and Stigma, Danish Dressage Foals of the Year 2010
Bjerggaards Don Perignon, 2006 Danish Warmblood Foal of the Year and Top Auction Foal