2019 U.S. Dressage Championships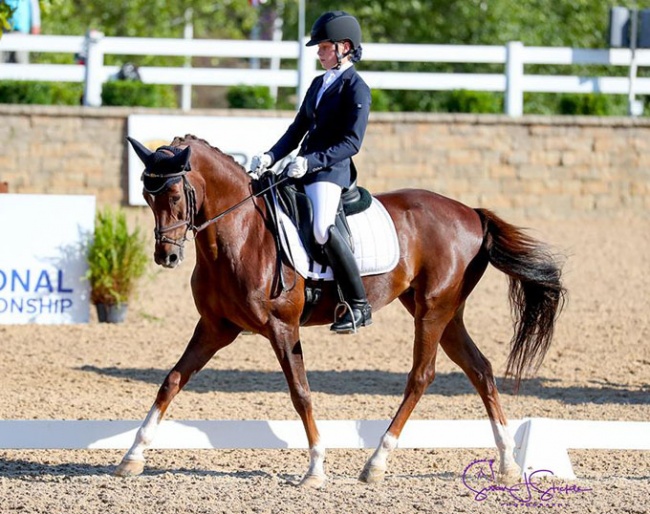 Pony rider Lucienne Bacon, children rider Lexie Kment, junior rider Jori Dupell, and young rider Kayla Kadlubek won the titles in the youth divisions at the 2019 U.S. Dressage Championships in Wayne, ILL, on 20- 25 August 2019.
USEF Pony Rider Dressage National Championship
Lucienne Bacon (Atherton, Calif.) and Bonnaroo claimed the U.S. Pony Championship after two back-to-back days of competition. While Bacon had some bobbles with her 10-year-old Weser-Ems Pony mare in the Pony Individual Test, the strong partnership was able finish strongly to earn a score of 67.252 percent and thus claim the national championship title with an overall score of 68.031 percent.
"It feels good," said Bacon of being a national champion. "Bonnie is very personable, so to know you can have a friendship outside the ring and take that inside the ring and do well is really incredible. She's won before, so it's continuing her legacy."
The 2018 US Children Champions Miki Yang (Los Altos Hills, Calif.) and Garden's Sam moved up the Pony Rider level and saw success yet again. Yang and Four Winds Farms 12-year-old New Forest Pony gelding took home the reserve champion title with an overall score of 67.627 percent.
""I'm so happy and so proud of Sammy. Transitioning from children's was a huge step for both of us, but the help from my trainer Hillary Martin, support from my mom and family, and everybody who helped me get here, I'm really grateful for all the work and dedication that went into it," said Yang.
Pony Rider veteran Jordan Osborne rode Geralja's Tobias, Tiffany Ramsey's eight-year-old New Forest Pony gelding, to a strong third-place finish with an overall score of 66.948 percent.
""It was fun coming back. I wanted to come here and ride for my family and make them proud," said Osborne. "I have been riding Tobias since about March, but didn't start consistently since April, so just to get out and qualify with him meant the world. To come here and do that well with him means a lot to me and his owner."
Kment Wins Children Championship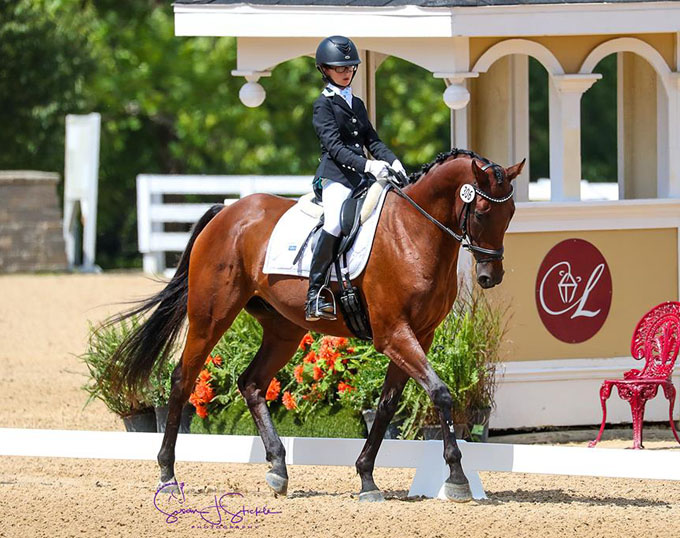 Following the Children Individual Test, Lexie Kment (Palmyra, Neb.) and Manatee came away with the US Children Championship. She and the 16-year-old Thoroughbred gelding owned by Jamie Kment earned an overall score of 69.591 percent.
"[Winning the national championship] truly hasn't sunk in, yet. Last year when [my sister competed], I told myself I was going to be here someday … We got him as a horse that we could just hack with and have fun, and it's cool to see how far he could come," said Kment.
Carmen Stephens (Saratoga, Calif.) and Woldhoeve's Silco, her 19-year-old KWPN Welsh Pony gelding, earned the reserve championship with a score of 68.524.
"I've had Silco for three or four years now. He's very sweet and has a very funny personality. He's on the older side and has been unpredictable at times, but he's gotten to a really good point. He's taking me from having fun around the arena to being able to compete here," said Stephens.
Joslyn Allen (Pleasant Hill, Mo.) and Lady Lilliana, Mary Adams's 10-year-old Friesian Sporthorse mare, placed third with a score of 67.635 percent.
" "We got my horse from the Amish, and then my grandma purchased her from a student of my mom's," said Allen. "Last year, my sister brought her here. She put all the second level work on her and won second place in the children's division."
Dupell Claims Junior Championship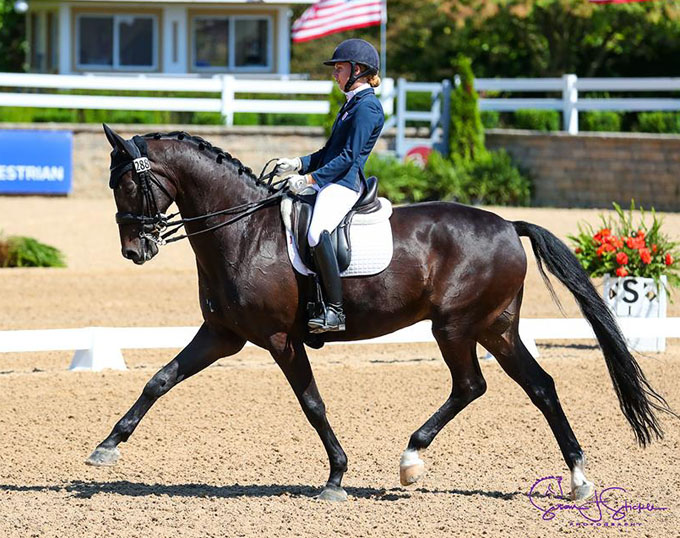 Jori Dupell (Wilsonville, Ore.) and Fiderprinz  held on to her lead following the Junior Individual Test to win the US Junior Championship. She and her 10-year-old Oldenburg gelding earned a score of 72.059 percent in the Individual Test for an overall score of 71.004.
"[Winning the title] means a lot. It's really rewarding to work so hard all season and continue to progress. [Competing at the U.S. Dressage Festival of Champions] and having a personal best was just really amazing," said Dupell, who won individual silver in the Junior Freestyle at the Adequan® FEI North American Youth Championships presented by Gotham North [NAYC] earlier in the month. "For me [this] was the best he's ever gone in [the Individual] test … He was just really with me the entire time. I can't really fault him for anything."
Mackenzie Peer (Overland Park, Kan.) and Quantum MRF, Nicole Helland's 10-year-old Hanoverian stallion, took reserve champion honors with an overall score of 69.627.
"You try so hard, and you hope to come here and show your horse to the best of the ability, and when it works out like this then you feel on top of the world like, 'Yay, we did it together'," said Peer.
Isabelle Braden (Decatur, Ga.) and Dali De La Ferme Rose, Chris and Erin Braden's 10-year-old Hanoverian gelding, placed third with an overall score of 69.015 percent.
"I'm just really proud of my horse and how he has put up with the traveling. He's really stayed with me so well, and I'm really grateful to the people that have gotten me to all these competitions and helped me toward all the successes and supported me: my trainer Anneliese [Vogt], my parents, USEF, USDF, and everyone that has supported the youth dressage program," said Braden.
Kadlubek Wins Young Rider's Title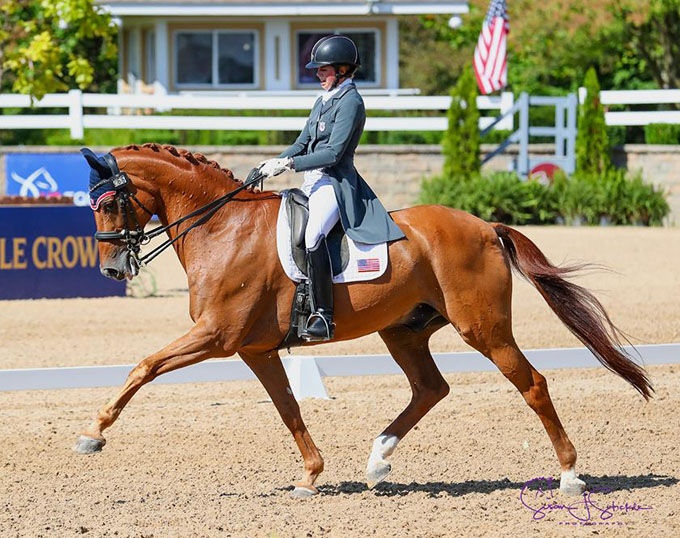 After competing at the U.S. Championships for the past several years, Kayla Kadlubek (Fairfax Station, Va.) now as a national title to her name. The Discover Dressage USEF/USDF Emerging Athlete Program member and her 18-year-old Hanoverian Gelding earned a score of 72.647 in the Young Rider Individual Test, claiming the title with an overall score of 71.422 percent.
"[This] has [not] sunk in yet… it's something you dream about for years, then to make it actually happen is incredible. I couldn't do this without my horse; he has been with me every step of the way. Lendon Gray and Suzanne Dansby, I am so grateful for them and for allowing me to ride to this horse. It's a once in a lifetime opportunity. He has opened so many doors like this for me, and I am so grateful to have him as my partner," said a proud Kadlubek.
She continued: "It's such a huge confidence booster. It's such a power house of young riders who are scoring in the [mid-70s], and I am just now reaching that level, which is great, but it's really exciting to watch them go for it in their test. It helps you say, 'oh, I can actually push for a little more and achieve those higher scores'. But it's really helpful to go there then come here and have this confidence boost."
Quinn Iverson (Wellington, Fla.) and Black Diamond CL, Billie Davidson's 13-year-old KWPN Gelding earned the reserve title with an overall score of 69.314.
"This was my first and last year [competing at Festival] as I'm aging out of young riders, so hopefully, afterwards he gets a vacation and some time outside to lay low," said Iverson. "After that, hopefully [I'll] try to bump him to the U25 to see if we can get that under our belt. It would pretty cool because I have known [Lou] since he was six-years-old, but I got the ride on him when he was 10 or so. I was a jumper before so I'm trying to figure dressage out… but it would be really cool to finish him in the Grand Prix. I am taking some time off school and will continue to work with Debbie [McDonald] and Adrienne [Lyle] in Florida and see where we can go from there. "
Bianca Schmidt (Edina, Minn.) and Lou Heart, Eliana Schmidt's 15-year-old Hanoverian gelding, placed third with an overall score of 69.167 percent.
Manhard Perseveres and Takes Under 25 Title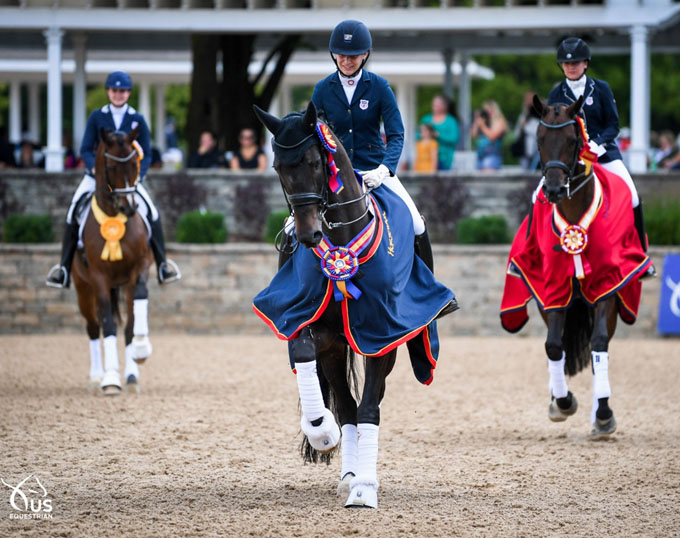 Following the Grand Prix Freestyle, Claire Manhard and Wilfonia won the U.S. Under 25 Championship, known in the States as the Brentina Cup. Joining the long line of prestigious winners of this division, Manhard and her 16-year-old KWPN mare earned an overall score of 68.236.
"[This is] incredible. I'm so surprised. It's amazing to see how far I have come in a year. When I was here last year, I felt all over the place, and this year, I felt like I knew what I was doing. It's crazy to be considered the national champion. I am so grateful for that experience and the title… and to be riding with great people like Hope [Cooper] and Anna [Buffini]," said Manhard.
Following a two-year hiatus from the U.S. Dressage Festival of Champions, Anna Buffini and Wilton 11 earned an overall score of 68.189 to earn the reserve national championship. Buffini follows this reserve national championship after earning the 'Brentina Cup' national championship with Sundayboy and reserve championship with Wilton 11 in 2016.
"It's incredible to be back and riding Wilton, period," said Buffini. "In 2017, he became unrideable, and he was in the field retired, forever. Then under Guenter Seidel's teaching, he has been incredible. We have restarted him, and he has come back better than ever….and to come back and not just ride but get second is incredible … Just being here is a win, and there is no one I would rather lose to than Claire. We train together every single day, we get our nails done, we go to movies, we do everything [together], and I see how hard she works. We train right after each other, we push each other, and we make each other better under Guenter's incredible training. To be back here, and to come in second with a horse that I thought I would never ride again is a dream come true."
Hope Cooper and Hot Chocolate W placed third with a score of 67.647 percent.
"I still feel very new at this, and Chocolate is very new at this, too," said Hope. "But with my mom and Juan Matute's help, it's been amazing. To work through the season and to get to where we are is just a such a surprise. Chocolate is just an incredible generous partner to dance with, but he is super new to this, so whatever I can get in the ring I am proud with. It's just incredible to be sitting next to two the most amazing U25 riders. It's really honor."
Results - 2019 U.S. Dressage Championships
Under 25
1. Claire Manhard / Wilfonia /  68.912 / 67.564 / 68.450 / 68.236
2. Anna Buffini / Wilton II / / 68.738 / 66.59 / 71.525 / 68.189
3. Hope Cooper / Hot Chocolate W / / 67.824 / 67.103 / 68.810 / 67.647
4. Lauren Asher / West Side / 63.618 / 69.026 / 67.575 / 66.645
5. Kerrigan Gluch / Vaquero HGF / H/ 68.706 / 63.923 / 67.860 / 66.427
6. Anna Weniger / Don Derrick /67.588 / 65.282 / 65.10 / 66.177
Photos © Sue Stickle
Related Links
Asher, Blitz, Harrison Score the Title at 2018 U.S. Dressage Championships
Boehning and Jones Win First Titles at 2018 U.S. Dressage Championships
Linder Wins 2017 U.S. Junior Rider Championship, Fodor 2017 U.S. Children's Champion
Kasey Perry-Glass, Kaitlin Blythe and Adrienne Lyle Win 2017 U.S. Dressage Championships
Upchurch Wins Junior Title, Davis Young Riders' Title at 2016 U.S. Youth Riders Championships
Nemeth and Hickok Win 2015 U.S. Pony and Under 25 Championship on Final Competition Day
Chamberlain and Frederick Take First Titles at 2015 U.S. Youth Riders Championships
Peters Scores Double National Title, Sadis Pony Champion at 2014 U.S. Championships
Peters Cruises as Buffini, Schmidt, and Dagge Claim National Titles at 2014 U.S. Championships
Peters, Herslow, Davis, Redston Earn National Titles to Close out 2013 U.S. Dressage Championships
Roffman and Hafner Score National Titles on Final Day of 2012 U.S. Championships
Roenick, Uhlir, Davis Win 2012 U.S. Youth Riders Championships
Leibler and Watson Lead 2011 U.S. Young Rider Championship in Gladstone