Danish Warmblood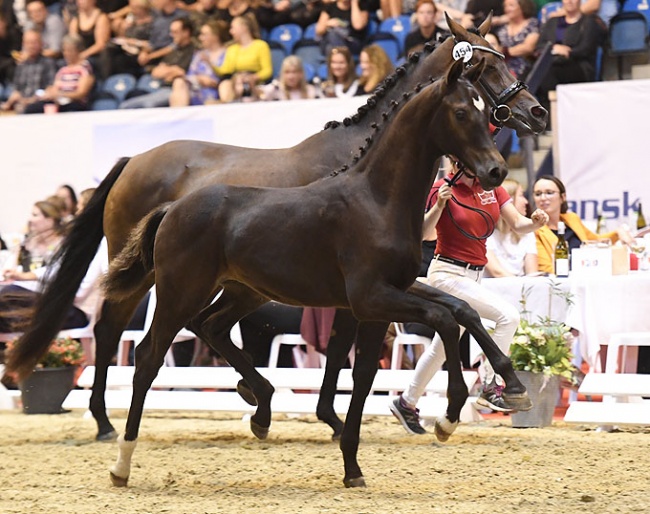 The dressage bred colt Borbjergs Fairy Beautifull (sic) (by Knock Out x Blue Hors Romanov) became the top selling foal at the 2019 Danish Warmblood Elite Foal Auction held in Vilhelmsborg, Denmark, on 24 August 2019. 
After last year's exceptional and record-breaking result of the Danish Warmblood Elite Foal Auction the organisers had set a high but realistic goal for this year's auction, and the goal was reached Saturday night at Vilhelmsborg, where 84% of the foals were sold for a very good average price
Auctioneer Casper Cassøe had 60 carefully selected foals under the hammer, and 84% were sold for an average price of 12,280 euro and a total turnover of 614,000 euro. Many foreign customers took part in the bidding, but most foals were purchased by Danish riders and stallion stations. However, foals were sold to the UK, the USA, Norway and Poland.
The Danish Warmblood Elite Foal Auction is privileged to have many returning customers and among them are show jumping stable Frandsbjerg, that bought five foals, as well as stallions stations such as Blue Hors, Helgstrand Dressage and Stutteri Ask who supported their own customers by purchasing foals by their own stallions.
Colt Borbjergs Fairy Beautifull, by the Expression son Knock-Out and a mare by Blue Hors Romanov, became the price highlight of the auction. Helgstrand Dressage placed the last bid at 50,000 euro for this outstanding mover. In addition to this auction highlight they bought two more dressage foals, including the 2019 Danish Warmblood Filly Champion Vilard's Frina (by Franklin) for 24,000 euro, and the show jumping colt foal of the year, A'int He Special S (sic) (by Action Man Ask x Cassini I), for 17,000 euro.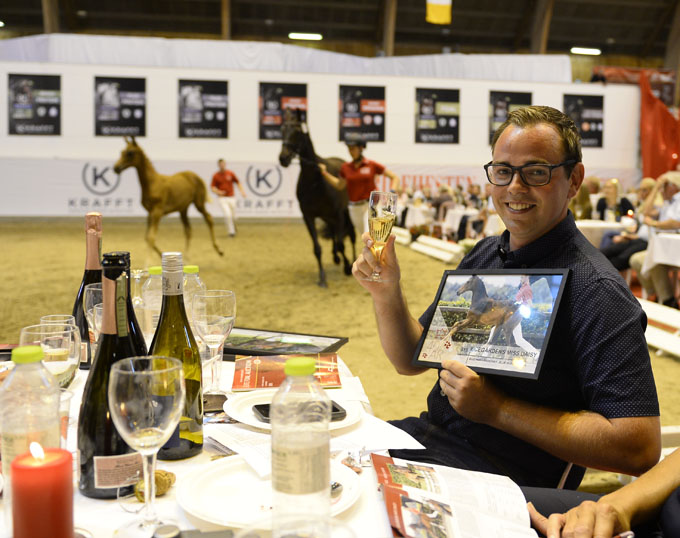 Blue Hors Stud purchased the most expensive filly foal which also became the second most expensive foal of the auction. Unfortunately, this exceptional mover had sustained an injury and was therefore not present in the auction hall but shown on video. Egegårdens Miss Daisy is by the young and promising Blue Hors Zackerey x Blue Hors Farrell and achieved a knock-down price of 40,000 euro.
Blue Hors also acquired the talented colt Sødovergårds Tennessee (by Blue Hors Farrell x Edelman (breeders Bent Knudsen and Lise Lodskov) for 25,000 euro (DKK 188,000).
Head of the auction committee, Ulrik Kristensen was thrilled to witness a very good auction with a great flow to take place in a full auction hall with a festive atmosphere.
"The sales percentage and the average price have fully met our goals which is to sell as many of the breeders' foals as we possibly can. We also had customers bidding from countries like Australia, Italy and Sweden, but now all were successful in acquiring the foals they wanted. There is a positive tendency that the Danish stallion keepers purchase foals by their own and even by other stallions," says Ulrik Kristensen.
Related Links
Netstutteriet Fazza, Price Highlight of the 2018 Danish Warmblood Elite Foal Auction
Vianna, Price Highlight of the 2017 Danish Warmblood Elite Foal Auction
Lissau's Ginger, Best Seller of the 2016 Danish Warmblood Elite Foal Auction
Tophojs Tebaldo, Top Seller of 2015 Danish Warmblood Elite Foal Auction
Strandagergaards Sirocco, Price Highlight of the 2014 Danish Warmblood Elite Foal Auction
Atterupgaards Jazzper, Top Selling Foal at 2012 Danish Elite Foal Auction
Future Jazz RV, Price Highlight 2011 Danish Elite Foal Auction