Denmark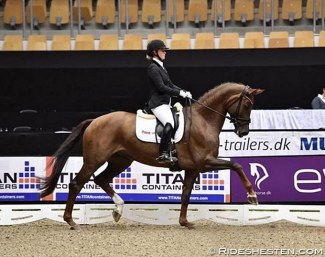 Danish Olympic Anna Kasprzak has reported that her World Young Horse Champion Victoria's Secret is back in training after a long recovery from injury.
Victoria's Secret is an 8-year old Rhinelander mare by Vitalis x Fidermark. She is bred by Walter Schulte-Böcker
Owned by Andrea Klüfers and Matthias Fieseler of Rhenania Pferde in Alpen, Germany, Victoria's Secret won the 2016 World Young Horse Championships in Ermelo under Beatrice Buchwald.
A few weeks after Ermelo she sold to Danish Bolette Wandt who invests in horses together with Andreas Helgstrand. Only two weeks later, the mare resold and moved to Anna Kasprzak's yard. In October Kasprzak and Victoria's Secret won the 2016 Danish Young Horse Championships.
In June 2017 it was announced that Victoria's Secret would not be participating in the German selection trials for the 2017 World Young Horse Championships due to a minor tendon injury.
The injury proved more severe and it has taken more than two years and an operation for her to rehabilitate. 
"We ended up removing both scar tissue and tendon tissue from Vicky's front leg, because the veterinarian believed she would not be able to walk again unless she was operated on as the injury continued to flare up," Anna explained. "Vicky was operated on at the end of 2018 and has been through a long rehabilitation course since then."
Victoria's Secret only returned to Anna's yard in Haderslev in April 2019. 
"It is going very slowly and we have started almost from scratch. Josefine (Hoffmann) restarted her in the beginning and now I have taken over the training but she lacks a lot of balance and strength," said Anna. "I'm looking at it from the bright side.  She is young and she should recover. Of course, she gets all the time she needs. We follow the rehabilitation plan, but take it easy and listen to our gut feeling if it goes a little too far. Fortunately, Vicky is very happy and you can clearly see that she loves getting started again, so fingers crossed that the project will succeed because she is really a star horse."
In 2018 the embryo transfer foal Valerie (by Franklin) out of Victoria's Secret was born.
Photo © Ridehesten
Related Links
Victoria's Secret Withdrawn for 2017 German WCYH Team Selection
Hesselhoj Donkey Boy, Victoria's Secret, Fiontini Win 2016 Danish Young Horse Championships
Victoria's Secret Sold to Anna Kasprzak
World Champion Victoria's Secret Sold to Denmark
Victoria's Secret Wins 5-Year Old Finals at 2016 World Young Horse Championships
Buchwald and Victoria's Secret On Gold Medal Course at 2016 World Young Horse Championships