Bits 'n Pieces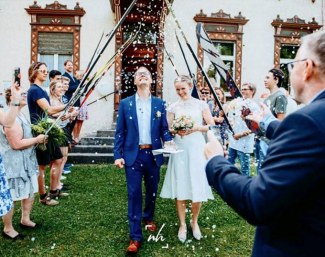 Lots of wedding bliss this summer !
German equestrian photographer Sina Schäper, who covers most major German youth riders competitions and is occasionally featured on Eurodressage, got married to her partner Florian Kuiper at Villa Jauss in Oberstdorf, Germany, on Saturday 6 July 2019. Congratulations!
Portuguese based Australian Sarah Warne, a former contributor to Eurodressage with her Classical Training series, has married her long-time partner André Furtado on 15 June 2019. They celebrated their union with family and friends from Portugal and Australia. On the day of their wedding, the couple also announced the expansion of their family. Warne is  three months pregnant with a baby girl.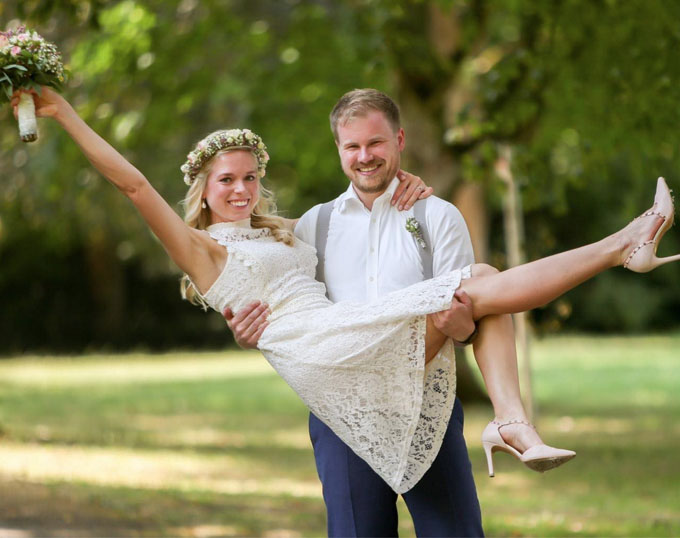 Former German youth team rider Kirsten Sieber married her partner Henrik Sundermeyer on 6 July 2019. On their wedding invite the couple wrote: "Happiness in the world is not only to be found on the back of a horse." The couple had a civil ceremony in the Dortmund town hall. Sieber competed on the German team at the 2009 and 2009 European Young Riders Championships aboard Charly WRT. Her last international start dates back more than five years ago at the 2014 CDI Hamburg.
Sad news from Canada. Former Canadian Junior/Young Rider Sarah Durham (née Pfaff) lost her husband Alex in a tragic farming accident on Tuesday 9 July. Alex Durham was transported to hospital, where he succumbed to his injuries after he was located under the rear tire of a hay baler on the farm property. The 27-year olds Sarah and Alex were sweethearts, having met nine years ago when both were 19. They purchased their first farm at the time and built their business through boarding horses and custom hay farming. In June 2017 the couple welcomed their first son, Oliver. In April 2019 Sarah announced that she is pregnant with their second baby, another boy. Aboard Pamalka, Pfaff was member of the Canadian/Ontarian team at the 2010 North American Junior Riders Championships and aboard Vavite Fortuna she represented Ontario at the 2013 North American Young Riders Championships. It was her last international in her career so far. Durham's family has started a fundraiser in memory of Alex.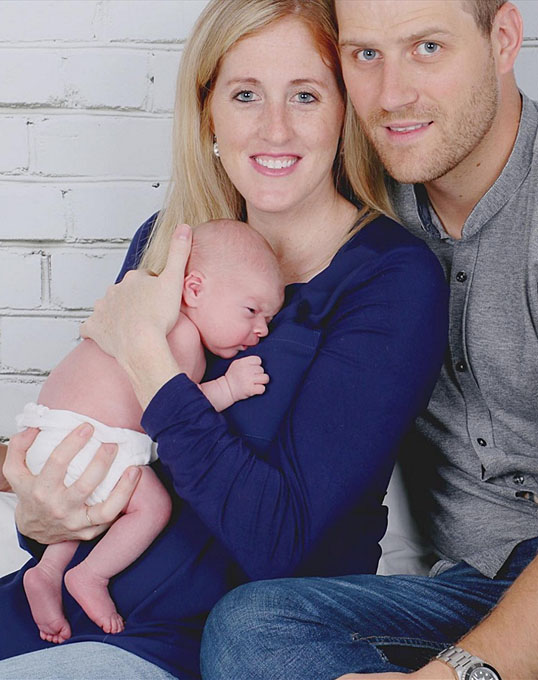 Canadian Grand Prix rider Brittany Fraser-Beaulieu gave birth to her first child, a baby boy. Brittany and her husband Marc-André welcomed Théo Fraser Beaulieu at on 16 June 2019. He weighed 7lbs and 4oz at birth.  The Canadian is already back in the saddle and plans to compete in her first CDI again at the end of September at the CDI Devon. 
The 4-year old licensed Trakehner stallion In Versuchung (by Schwarzgold x Likoto xx x Kennedy) has been sold to a French dressage rider. Bred by  Frank Scharffetter, In Versuchung began his career as an auction foal at the Hanoverian Elite Foal auction and he got approved at the 2017 Trakehner Stallion Licensing in Neumunster, where Heinrich Brähler acquired him at auction. He did his 100-day performance test in Poland. Since 2018 he stood up for stud at Gestüt Elmarshausen.
Dutch young rider Elles van Asseldonk lost her small tour horse Earth Wind Fire to colic. The 10-year old Dutch warmblood gelding (by Lord Loxley x Farmer) suffered from a severe colic attack and was immediately transported to the equine clinic, where he was operated on. Unfortunately the horse could not be saved. Van Asseldonk and Earth Wind Fire had just made their international Young Riders debut at the CDI Exloo last June, where they scored 69.020%, 66.471% and 69.145%.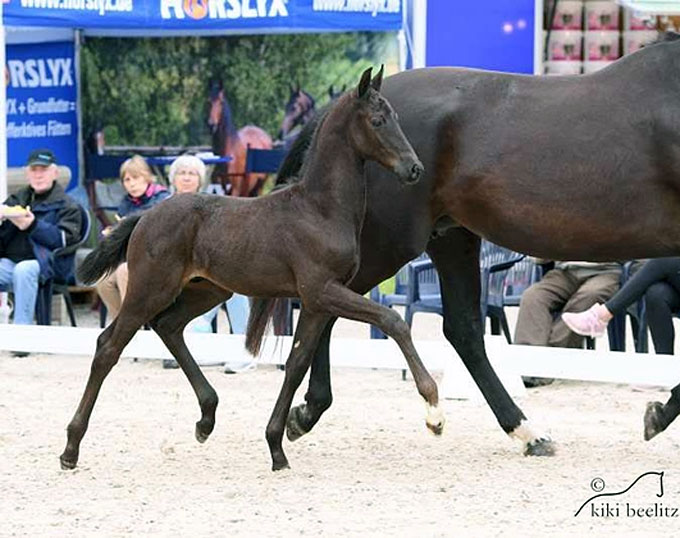 Dirk Fiechter, a long-time Dutch horse dealer based in Merksplas, Belgium, right on the border with Holland, has filed his business Fiechter Equestrian Sales for bankruptcy. Since 2015 he has been successfully running his horse sales under a different company, Fiechter Quality Dressage Horses. The most famous horse Fiechter sold is probably Imke Schellekens-Bartels' Dutch team horse Toots (by Jazz). 
There's a never ending string of online foal auctions taking place in Europe as most breeding associations as well as large breeding operations have discovered the ease of the process. German Oldenburg breeder and stallion keeper Gerd Sosath also hosted one and the price highlight there was the black colt Valentino (by Van Primero x Ampere x Donnerschwee) which, drum roll, Helgstrand Dressage bought for 30,000 euro. 
More wedding bliss at the end of August. Former German young rider Romina Hoyzer had her dream wedding at Lake Como in Italy. The 28-year old Berlin based rider married her boyfriend, 26-year old real estate agent Michael Aumer. The couple held a 3-day wedding celebration with 80 guests which all traveled to Italy on the same plane. The wedding ceremony was held at Villa Erba in Cernobbio, which is famous for being featured in the movie Ocean's Twelve. The lavish nuptials with amazing flower decorations was staged by wedding planner Maja von Schmeling.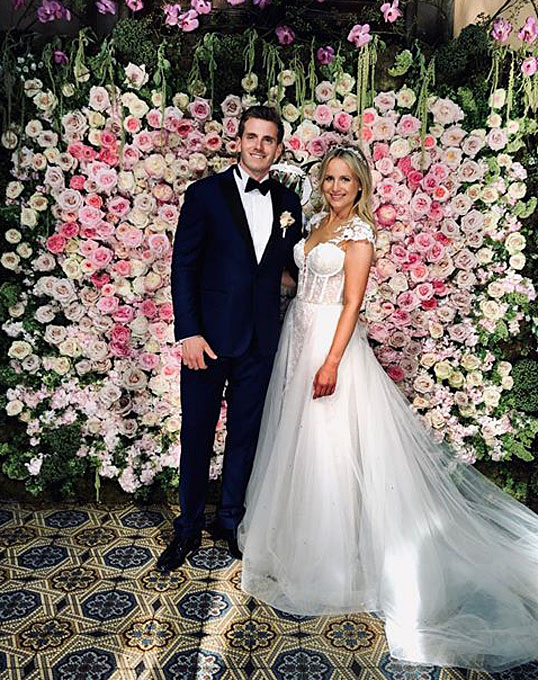 Hoyzer competed in the international youth rider classes in the 2000s on horses such as Don Windsor, Arriba Davida, Champagner, Jamiro Rosso, Expose, and Camiro Marrone. In 2016 a severe riding accident left Hoyzer in a wheel chair for eight months, but she made a full recovery. She works in the family business of underground engineering and currently rides her 8-year old Platinum Edition, which she aims to compete in the Nurnberger Burgpokal qualifiers next year. 
Tempus Fugit - Dixit Udo Bürger in his book "Vollendete Reitkunst" (1959): "Good marks are given to horses whose gaits are basically wrong(...), their walk can only be called a weary march, their piaffe is executed on the spot, but with insufficient Flexion of the haunches and lowering of the croup."
Bürger continues: "If the same criteria applied to the sport as to the art, riders would be discouraged by the difficulties and the time it takes to educate a horse to such standards. It may therefore be necessary to take into account first the accurate performance, even if the rider has to hold the horse firmly all the times between hands and legs in order to ensure immediate obedience."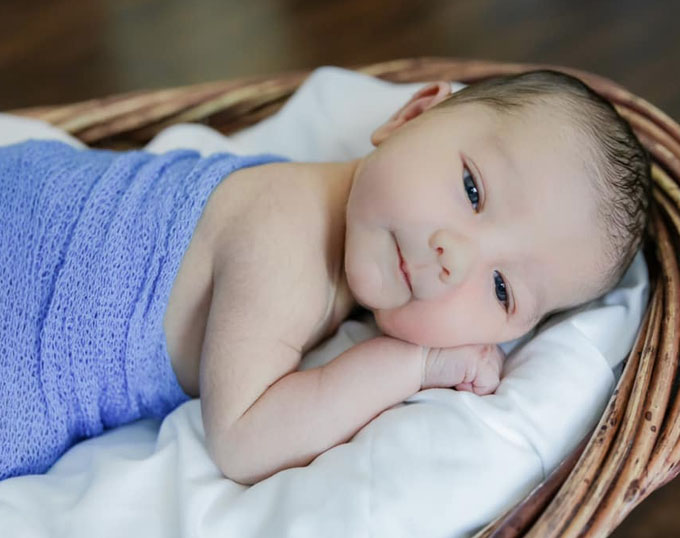 Philippine Grand Prix rider Ellesse Tzinberg Gundersen has given birth to a baby boy. On 28 August 2019 at 9.55am, Christian Steen Gundersen was born. This is the first child of newly weds Ellesse and Danish show jumping horse dealer Henrik Gundersen. "Just like his mom, he came exactly on his due date, and, just like his dad was, he was born 8.3lbs and 21 inches," said Ellesse. The couple got married on 18 March 2019 after a 15-month engagement. Gundersen has two children, Claudia and Casper, with his ex-wife Danish Grand Prix rider Mikala Munter.
German Olympian and multiple medal winning team rider Kristina Bröring-Sprehe has also given birth to her first child, a baby girl. Mila Bröring arrived on 29 August 2019 and mother and child are doing well. Kristina and her husband Christian celebrated their fourth wedding anniversary this summer, but they have been together for almost 16 years.
Hans Olthof, the (co-)owner of Joyce Heuitink's top horses Wup and Gaudi Vita, died unexpectedly in his sleep on Thursday night from 29- 30 August 2019. On Wednesday 28 August, Olthof attended the Borculo foal auction. Hans leaves behind his partner Gerdie and two sons Mark and Pieter.