2019 Danish Pony Championships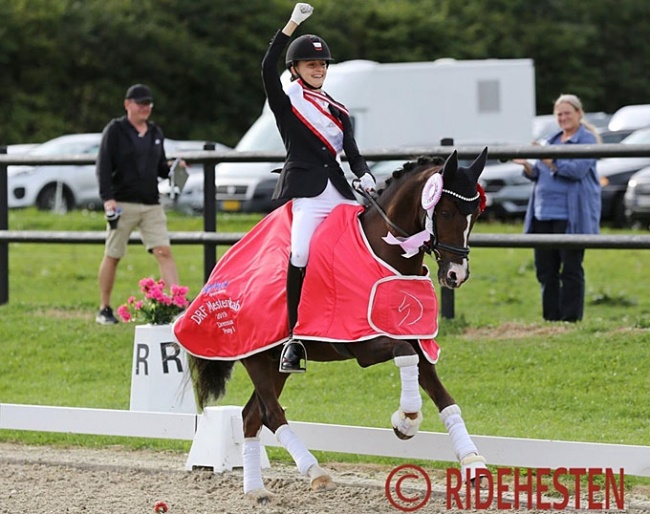 Liva Addy Guldager Nielsen and D'Artagnan scored the gold medal and national title by winning the FEI pony level division at the 2019 Danish Pony Championships in Skårup on Fyn, Denmark, on 30 August - 1 September 2019. 
Hosted at the Rohmann family's Hovgaard riding club, the Danish Pony Championships featured three division and a style class. No less than 46 combinations contested the category 1 FEI pony level division. 
Guldager Nielsen won team gold and double individual silver at the 2019 European Pony Championships in Strzegom, Poland, a month ago and was the hot favourite for national gold in the absence of the 2019 European Pony Champion Alexander Yde Helgstrand, who decided to skip the Nationals and focus on starting school again. Aboard the 11-year old gelding D'Artagnan (by FS Don't Worry x Colano), she won the team test wuth 75.797%, finished second in the individual test (74.797% and won the Kur to Music with 78.925% to finish on a golden total of 229.491 points. Fifteen-year old Guldager Nielsen still has a year to go on ponies. She took over the ride on D'Artagnan from former Danish pony team rider Kristian Wurtz Green. 
The silver medal went to gold medal winning team mate Nathalie Thomassen on the 10-year old Danish bred Lykkehoejs Dream of Dornik (by Melli's Dornik x Cupkehos Winobert. The pair was second in the team test with 75.171%, won the individual test with 74.878% and was second in the Kur with 78.200%. They totalled 228.249 points for silver. 
Mathilde Sofie Jepsen, who was not selected on the Danish team for the Euros, landed the bronze medal with 215.377 points, edging out Danish team rider Thilde Rude Hare (213.594 points). Jepsen and the 8-year old German bred Tackmann's Cookie (by Can Dance x Neckar) scored 72.564% in the team test, 70.488% in the individual test and 72.325% in the Kur. 
In Scandinavian countries the FEI pony level division is often split up into two categories depending on the pony's size. Category 1 are the tallest ponies (D-section) while category 2 are the smaller ponies. At the 2019 Danish Pony Nationals the category 2 winner at FEI level was Josephine Gert Nielsen on the 12-year old Dot Com, while Cecilie Lyngvild and Tovdal's Golden Future Imperial (by Chargon Bredager x Rytterbjergets Imperial) got silver.  Elisabeth Cecilie Bonefeld-Dahl and Truly Yours (by Timberlan x Parino B) finished with bronze. 
Photo © Ridehesten
Results - 2019 Danish Pony Championships - Skårup
1 Liva Addy Guldager Nielsen  - D'Artagnan - 75.769 - 74.797 -  78.925 --- 229.491
2 Nathalie Thomassen - Lykkehoejs Dream of Dornik  -  75.171 - 74.878 - 78.200 --- 228.249
3 Mathilde Sofie Jepsen - Tackmann's Cookie - 72.564 - 70.488 - 72.325 --- 215.377
4 Thilde Rude Hare - Morgensterns Dakar -  72.350 - 70.569 - 70.675 --- 213.594
5 Caroline S Jørgensen - Dr Doolittle - 68.889 -  70.813 - 73.500 --- 213.202
6 Emilie Balling Nissen - Divino van stal Romano - 70.513  - 69.919  - 72.700 --- 213.132
7 Frederikke Gram Jacobsen - Gee Gee - 70.256 - 69.268 - 72.450 --- 211.974
8 Cecilie K. Hansen  - Prince of Glory - 69.316 - 68.293   73.475 --- 211.084
9 Ellen Bruun - Struntze's Masterpiece -  69.487 - 69.634 - 71.950 --- 211.071
10 Sophia Boje Obel - Bomgaardens Dooley - 68.248 - 69.146 - 73.250 --- 210.644
11 Fie Dybro Jensen - Praest Cameo -  69.316 -  68.984 - 72.050 --- 210.350
12 Anna-Augusta Spang-Kildegaard  - Cake Royal - 68.547 - 68.252-  71.085 --- 207.884
13 Ida Guldbrandsen - Chili -  68.846 - 68.374 - 69.150 --- 206.370
14 Benedikte Rantzau Ulrich  - AJ Don't You Forget About Me - 70.214 -  69.675 - 66.250 --- 206.139
15 Elisabeth Cecilie Bonefeld-Dahl  - Gambys Hanneken - 69.701 - 69.268 - 66.875 --- 205.844
Related Links
Alexander Yde Helgstrand Takes Triple Gold at 2019 European Pony Championships
Helgstrand Wins Individual Test Gold at 2019 European Pony Championships
Historic Team Gold for Denmark at 2019 European Pony Championships
Previous Winners
Alexander Yde Helgstrand Wins 2018 Danish Pony Championships
Sara Aagaard Hyrm Wins 2017 Danish Pony Championships
Louise Christensen Wins 2016 Danish Pony Championships
Van Deurs Petersen Wins 2015 Danish Pony Championships
Sandra Aagaard Hyrm Wins 2014 Danish Pony Championships
Victoria Vallentin Wins 2012 Danish Pony Championships
Vallentin Wins 2011 Danish Pony Dressage Championships
Maya Jørgensen Wins 2010 Danish Pony Championship
Skodborg Merrald, Kasprzak, and Bendix, 2007 Danish Dressage Champions
Sofie Jeppesen Wins 2004 Danish FEI Pony Championship