Japan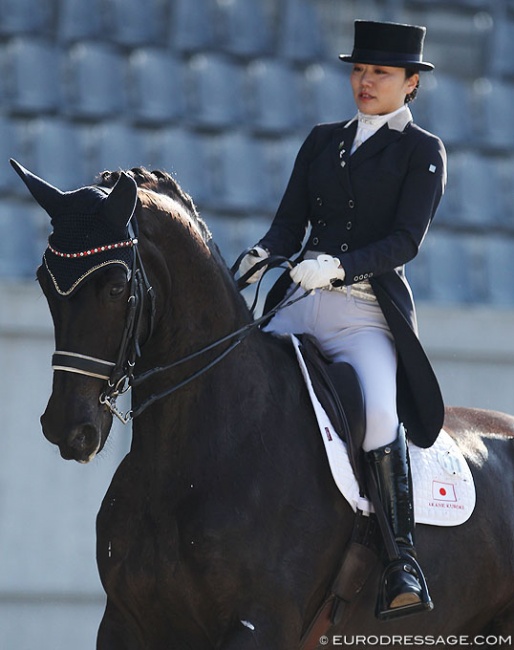 Japanese Grand Prix team rider Akane Kuroki has relocated to Aubenhausen, Germany, switching trainers. In the lead-up to the 2020 Tokyo Olympics, Akane will be coached by Benjamin Werndl.
The 41-year old Kuroki began competing internationally in 2014. She showed Radames at small tour level in Nieuw en St. Joosland, Hagen, Saumur and Roosendaal. 
Alexandra Barbançon's Don Luka was her first Grand Prix horse with whom she made her CDI debut in Saumur in May 2014. In 2015 she rode him in Barcelona, Mallorca, Pompadour, Deaville, Perl, and Biarritz.
Kuroki's big break through happened when her father bought  Imke Schellekens-Bartels' number one Grand Prix horse Toots at the end of 2015. Trained by Imke and Tineke Bartels, Akane and Toots qualified for the Japanese team for the 2016 Olympic Games in Rio de Janeiro and won team gold at the 2018 Asian Games in Jakarta. 
Toots was retired from sport at the end of 2016. Kuroki had bought the Lusitano mare Batuta as a successor but less than one month into her ownership, the mare succumbed to colic. With the 2020 Olympics hosted in her home country Japan, Kuroki went in search of a new Grand Prix horse and ended up leasing the KWPN licensed stallion Bordeaux (by United) from Joop van Uytert. Akane and Bordeaux made their CDI debut in Exloo in June where they posted 65.196%. It was their only show of 2019, so far.
In search of new inspiration, Kuroki has decided to switch trainers and after six years of training at Bartels Academy in The Netherlands, she has now moved to Aubenhausen to be coached by Benjamin Werndl. She has taken Bordeaux with her.
"Back in 2017 I've met Jessica (von Bredow-Werndl) for the first time at the FEI World Cup in Stuttgart. Since the loss of Batuta last year, she has cared about me," said Akane. "Of course she is an iconic equestrian in another world to me but at the same time, I also found her congenial. So my wish started growing to train at Aubenhausen with her team. I'm very much looking forward to work with them so I could reach my goal."
Photo © Astrid Appels
Related Links
Bordeaux Returns to Holland, Leased by Kuroki for One Year
Toots Passed Away
Akane Kuroki's Batuta Passed Away
Japanese Dressage Teams Honoured at 2019 Japan Equestrian Federation Gala
Japan Wins Team Gold at the 2018 Asian Games
Kuroki and Toots Win Japanese Selection Trial for 2018 Asian Games
Imke Schellekens' Toots Sold to Japan