2019 Luxembourg Dressage Championships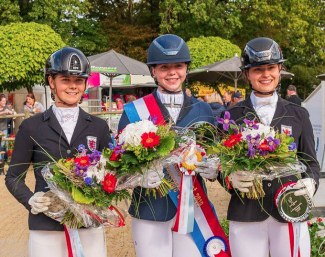 Junior rider Jamie-Lee Lange, young rider Magali Goergen, and seniors Alexandra Hidien and Sascha Schulz claimed the national title in their respective divisions at the 2019 Luxembourg Dressage Championships held at the equestrian centre Bouferterhaff of the family Mangen Henri in Bertrange, Luxembourg, on 6 - 8 September 2019. 
Eight junior riders contested the championship for 14 to 18 year olds at M-level and five of them finished all three rounds. The 14-year old Jamie-Lee Lange grabbed the champion's sash aboard the 13-year old Dutch warmblood Bandiet (by Uphill x Cabochon). The pair only made its international show debut in Leudelange at the beginning of July with just one class ridden, but at the national Championships they found their stride, winning all three rounds. They posted 71.250% in the first test, 69.009% in the second test and 68.640% in the third round. With a total of 208.899 points they got the gold and stayed miles ahead of the competition. Celine Wagner and her 10-year old Hanoverian Fuchur (by Florencio x De Niro) got the silver. She posted 66.618%, 66.486% and 67.456% to finish on a 200.560% point total. The 16-year old took over the ride on Fuchur from 2010 WEG rider Gaston Chelius. Lynn Thill and her 17-year old Trakehner bred C'Est Bon (by Distelzar x Tycoon) concluded their last year at junior level with bronze. The 18-year old Thill, who has not competed internationally since her pony time on Interbrew De Rechri in 2017, has focused on national level showing in Luxembourg and Germany in 2018. This year she stayed close to home. At the Nationals she finished third on 192.964 % points after posting 64.338%, 64459% and 64.147%.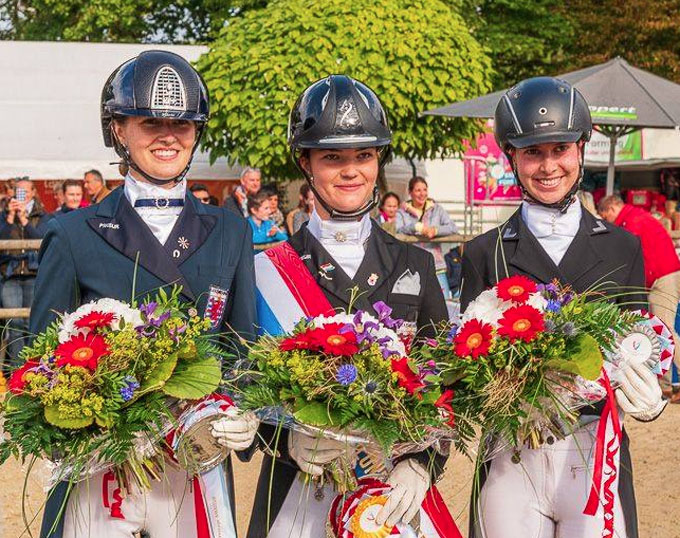 Magalie Goergen concluded her final Young Riders' year with the national title. The 21-year old faced just three competitors in her division and with her 14-year old Hanoverian Bayard (by Breitling W x De Niro) she stayed well ahead at the top of the leaderboard. The young riders only competed in two rounds, both won by Goergen with 68.904% and 68.772%. The German born 21-year old Sarah Dinges and the 9-year old Trakehner bred Dexter (by Kronprinz x Gribaldi) fetched silver with 65.088% and 67.325%, while Kristine Winkel and her 11-year old Oldenburg gelding Sundancer (by Sungold x Wolkentanz II) landed bronze with 62.368% and 64.430%
The 2019 Luxembourg Dressage Championships featured a senior division at small tour level, which was won by Alexandra Hidien on the 9-year old Hanoverian gelding Rockhampton (by Royal Classic x Baroncelli) just a fraction of a point ahead of Mandy Zimmer on the 7-year old Hanoverian stallion Dragon Welt (by Dancier x Weltmeyer). Verena Heinz and her longtime partner Statesman OLD (by Stedinger) were good for bronze.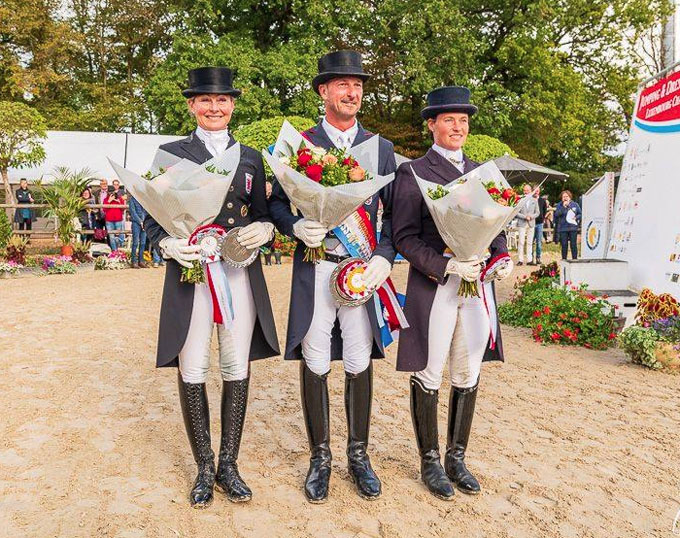 The elite class, the senior Grand Prix Championship, had just five riders competing and just three contesting for the medals by riding all three rounds. Biggest absentee was 2019 European Championship rider Nicolas Wagner on Quater Back Junior. His team mate Sascha Schulz and Patrice Mourruau's 11-year old Lusitano stallion Dragao (by Unico x Xaquiro) were unbeatable with 73.700% in the Grand Prix, 73.235% in the Special and a whopping personal best of 79.042% in the Kur to Music. His total of 225.977% points gave Schulz the gold and champion's sash for the third year in a row. Fie Skarsoe and Victoria Schönhofen's 12-year old Hanoverian mare So Dark (by San Remo x Rotspon) landed silver with 70.967%, 67.026% and 72.667% (total 210.660 pts), while Diane Erpelding and her 16-year old Trakehner Woltair (by King Arthur x Polarpunkt) finished on the bronze step of the podium with  66.300%, 61.503% and 67.417% (195.220 pts).
Photos © Emile Mentz
Results - 2019 Luxembourg Dressage Championships
Junior Riders
1. Jamie-Lee Lange - Bandiet - 71,250% -  69,009%-  68,640% --- 208,899%
2 Celine Wagner -  Fuchur -  66,618% - 66,486% - 67,456% --- 200,560%
3 Lynn Thill - C'est bon  64,338%-  64,459% -  64,167% --- 192,964%
4. Isabelle Rennel -  Decoeur -  63,456%  - 63,559% -  64,167% --- 191,182%
5. Jil Plumer -  Demi More - 62,353%  - 63,288% -  64,649% --- 190,290%
Young Riders
1 Magali Goergen-  Bayard -  68,904% -  68,772% --- 137,676%
2 Sarah Dinges - Dexter - 65,088% - 67,325% --- 132,413%
3 Kristine Winkel -  Sundancer - 62,368% - 64,430% --- 126,798%
4. Laura Hendrickx - Lady Lascara -  61,930% - 62,675% --- 124,605%
Senior - Small Tour
1 Alexandra Hiden -  Rockhampton - 65,702% - 68,246% - 71,583% --- 205,531%
2 Mandy Zimmer  - Dragon Welt MZ -  67,456% - 66,009% - 72,042% --- 205,507%
3 Verena Heinz - Statesman OLD - 62,149% -  61,667% - 66,792% --- 190,608%
Senior - Grand Prix
1 Sascha Schulz - Dragao- 73,700% -  73,235% - 79,042% --- 225,977%
2 Fie Christine Skarsoe - So Dark - 70,967% - 67,026% - 72,667% --- 210,660%
3 Diane Erpelding - Woltaire TSF -  66,300% -  61,503% - 67,417% --- 195,220%
Related Links
Becca, Remy, Moller, Schulz Win 2018 Luxembourg Dressage Championships
Thill, Becca, Wagner, Schulz Win 2017 Luxembourg Dressage Championships