Korea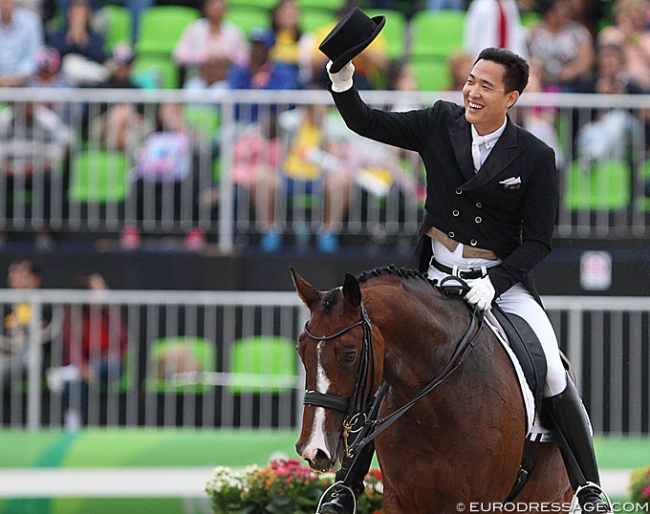 Korean Grand Prix rider Dong Seon Kim has moved back home to Korea to continue his dressage business on home turf. 
In the spring of 2018, Kim acquired Gerd Kraft's stallion station Gestut St. Ludwig in Wegberg, Germany, where he wanted to develop his own training and sales business. He also invested in Chinese restaurant "Das Wok" in Wassenberg and a sushi restaurant in Düsseldorf. 
One and half year later, Kim has changed his plans and has put St. Ludwig up for sale. He is back home now in Seoul, Korea. 
"I miss home and wanted to move back," Dong Seon told Eurodressage. "I want to contribute to the horse sport in Korea by training young Korean bred horses to FEI level dressage. 
Kim took a set of horses with him to Korea, but the majority of his stock is spread out in Europe at different stables for training and resale.  "I ride 5 horses every day in Korea. I have Bukowski, Diamond Royale and a young one (with me) in Korea," he explained. Grand Prix mare Stella Pack Ganda is also in Korea.
Dong Seon has his other horses with Hubertus Schmidt (Bonamour and Quantum), Andreas Helgstrand (Belstaff), Dorothee Schneider (Furstenfee), and Diederik van Silfhout (Lord Nunes and Bordolino). 
"I am planning to buy more nice young ones and give them to top riders. It's much smarter than buying old ones that are already expensive," said Kim. "When I try the young horses I ride them myself for a bit, but i think ultimately they should be trained and competed by really good riders."
With the 2020 Olympic Games in neighbouring country Japan rapidly approaching, Eurodressage asked if Kim has plans on qualifying for the Games as he purchased Danish WEG Team Grand Prix horse Belstaff last autumn as a successor for his 2016 Rio Olympic mount Bukowski. 
"I am not trying for Tokyo. Olympics is something I want to do when I have trained my own horse and I feel it is really good," said Kim. "I dont want to stay in Europe and compete anymore, so i think it's best to sell him."
The 29-year old "Peter" Kim is the youngest of three sons of Kim Seung-youn, the chairman of Hanwha, one of South Korea's biggest business conglomerates with diversified holdings stretching from explosives, their original business, to retail to financial services. 
Photo © Astrid Appels
Related Links
Danish 2018 WEG Team Horse Belstaff Sold to Korea
Fürstenfee Sold to Dong Seon Kim
Gestut St. Ludwig Sold to Dong Seon Kim
Polish Team Horse Ganda Sold to Korean Dong Seon Kim
Anders Dahl's Bukowski Sold to Korea