2019 Hungarian Young Horse Championships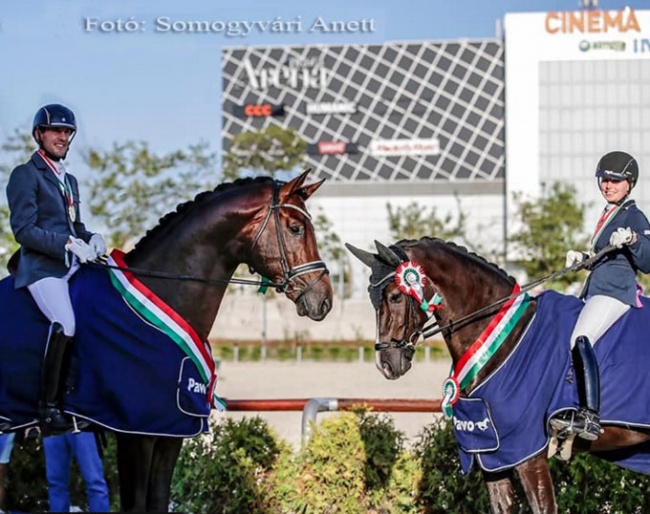 The 4-year old First Look, the 5-year old Francois, the 6-year old For Joy and the 7-year old Vivaldo's Sun became the winners of the 2019 Hungarian Young Horse Championships held during the National Dressage Championships at the national equestrian centre in Budapest, Hungary on 12 - 15 September 2019. 
Nine 4-year olds gathered in Budapest to compete for the title and both rounds counted towards the medals. Csaba Szokola wielded the axe of power taking gold and silver on First Look (by Fursten-Look x Sandro Hit) and the remarkably named Parkertech Gardenart (by Governor x Sandro Hit). First Look scored 80.0% twice for gold and Gardenart posted 75.6% and 79.4% for silver. Julia Nagyhazi and Beatrix bagged the bronze after posting 74.8% and 77.6%
Szokola also dominated the 5-year old division, which featured 12 combinations. He won the gold medal on his 2019 World Young Horse Championship ride Francois (by Franziskus x Brentano II), posting 84.2% and 84.0%. With Arie Yom-Tov's KWPN gelding Jonker (by Zack x Furst Heinrich) he got bronze after achieving 81.6% and 80.6%. The silver medal went to Hungarian young rider Gabriella Erdi on Arie Tom-Tov's KWPN mare Jemima (by  Everdale x Don Gregory), who also competed at the WCYH in Ermelo last August. They scored 81.0 and 81.6 for silver at the Nationals.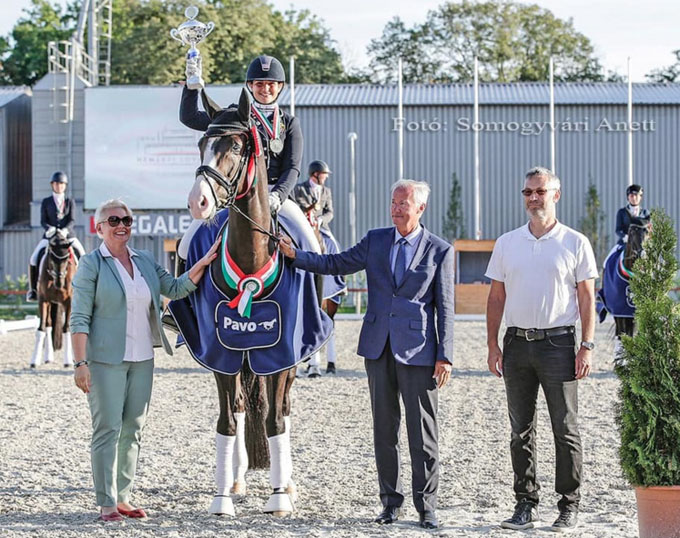 Seven 6-year olds competed in Budapest and Under 25 rider Jazmin Yom-Tov won the division aboard the Westfalian bred For Joy (by Feedback x Donnerbube). After representing Hungary at the 2019 World YH Championships in Ermelo, the pair successfully grabbed the national title in Budapest with 82.0 and 82.8 winning scores. Former Hungarian Grand Prix champion Nikolett Szalai and Gyula Zsolt Hoffer's German Sport Horse Bentley (by Bordeaux x Quaterman) became the reserve champions with two second places on 78.6%. Zsofia Samoly and Christo slotted in third with 73.4% and 77.6%. 
Seven 7-year olds concluded the Young Horse competition at developing Prix St Georges horse level. Nikolett Szalai and Jozef Acs' Dutch warmblood Vivaldo's Sun (by Vivaldo x Olivi) finally got their gold medal. In 2017 they had bronze and last year they were not at the Championships, but this year they struck gold with a winning 79.2 and 78.8% in both rounds. Robert Acs and the Hanoverian bred Die Oder Keine (by Don Index x Hochadel) finished in silver medal position. They were golden in 2017 and got silver in 2018 and now it was another silver after posting 76.8% and 78.4%. Csaba Szokola completed his medal cabinet this year with another bronze, this time about the 7-year old  Don Deveraux (by Deveraux x Lauries Crusador xx). He scored 76.8% and 76.8% for a third place finish.
Photos © Anett Somogyvari
Results - 2019 Hungarian Young Horse Championships
4-year olds
1. Szokola Csaba - First Look -  80,0% 80,0% --- 160,0%
2. Szokola Csaba - Parkertech Gardenart - 75,6% 79,4% --- 155,0%
3. Nagyházi Júlia - Beatrix -  74,8% 77,6% --- 152,4%
4. Sedlmayer Eszter - Ciacon - 75,6% 74,6% --- 150,2%
5. Bálint Tamás - Bordure - 73,4% 72,8% --- 146,2%
6. Kiss Imre Ferenc - Keep Cool Go Fast - 71,8% 70,8% --- 142,6%
7. Szeredy Patrícia - Roven Remix - 64,4% 74,6% --- 139,0%
8. Marschall István - Siglavy Capr XVI - 66,8% 71,0% --- 137,8%
9. Dobrádi Zsuzsanna - Sundance Kid - 65,2% 68,8% --- 134,0%
5-year olds
1. Szokola Csaba - Francois -  84,2% 84,0% --- 168,2%
2. Érdi Gabriella  - Jemima - 81,0% 81,6% --- 162,6%
3. Szokola Csaba - Jonker -  81,6% 80,6% --- 162,2%
4. Yom Tov Jazmin - Jollydale - 82,8% 79,4% --- 162,2%
5. Bálint Tamás - De Prince - 77,6% 79,6% --- 157,2%
6. Érdi Gabriella - Demon - 72,4% 72,6% ---  145,0%
6. Zsiday-Galgóczy Nikolett - Armany - 76,2% 68,8% --- 145,0%
8. Plutzer Zsófia  - Sherlock -  67,6% 69,2% --- 136,8%
9. Németh Enikő - Innuendo - 68,2% 64,6% --- 132,8%
10. Vámosi Lilla - Fortunate Romance - 65,6% 66,8% --- 132,4%
11. Oláh Krisztina - Santis - 68,2% 64,0% --- 132,2%
12. Gálfi Antónia - Brillant Mokka Sahne - 73,8% - DNS --- 73,8%
6-year olds
1. Jazmin Yom Tov - For Joy - 82.0 - 82.8 --- 164.8
2. Nikolett Szalai - Bentley - 78.6 - 78.6 --- 157.2
3. Zsofia Samoly - Christo - 73.4 - 77.6 --- 151.0
4. Tamas Balint - Corvinus - 70.2 - 76.8 --- 147.0
5. Istvan Marschall - Conversano XXCIII 2 Konyak - 70.8 - 74.0 --- 144.8
6. Szilvia Veres - Contessa - 66.4 - 61.2 --- 127.6
7. Eszter Begidsan - Big Red - 56.2 - 56.6 - 112.8
7-year olds
1. Nikolett Szalai - Vivaldo's Sun - 79.2 - 78.8 --- 158.0
2. Robert Acs - Die Oder Keine - 76.8 - 78.4 --- 155.2
3. Csaba Szokola - Don Deveraux  - 76.8 - 76.8 --- 153.6
4. Adrienn Kardos - London - 75.0 - 74.6 --- 149.6
5. Gabriella Erdi - Hazelwood - 67.0 - 73.0 - 140.0
6. Tamas Miko - MAestoso XXIII 31 - 70.6 - 67.6 --- 138.2
7. Gabor Nemeth - Don Thatch - 67.0 - 68.6 --- 135.6
Related Links
Francois, For Joy, Jamiroquai Win 2018 Hungarian Young Horse Championships
Stiffelio, Die Oder Keine, Kitti Win 2017 Hungarian Young Horse Championships
Jamiroquai, Kitti, Fly With Me Win 2016 Hungarian Young Horse Championships