Austrian Warmblood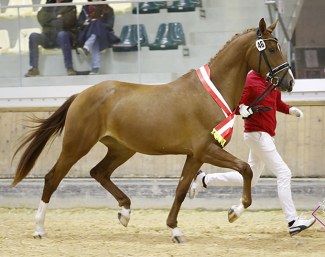 The 3-year old Broadmoars Leonora and the 4-year old Florina MBH became the winners of the 2019 Austrian Warmblood Mare Championship held in Stadl Paura, Austria, on Saturday 21 September. 
Six dressage bred 3-year old mares were invited to compete in the Champion's ring. Broadmoars Leonora, who is by KWPN stallion Eye Catcher and bred and owned by Broadmoar, scored 9.0 in both rounds and claimed the title. 
"This mare is a true eye catcher. She was able to impress from the first moment. She is nicely built uphill ticking all riding horse boxes that we wish to see," said judge Hans Heinrich Brüning. 
The reserve champion was Fenomenal (by Van Vivaldi), who is bred by Franz Hummer-Niedermayr. She scored 9.5 for type and was praised by the judges for her substantial body that was elegant and long-lined. This mare went on to win the 2019 Austrian Warmblood 3-year old riding horse championship on Sunday.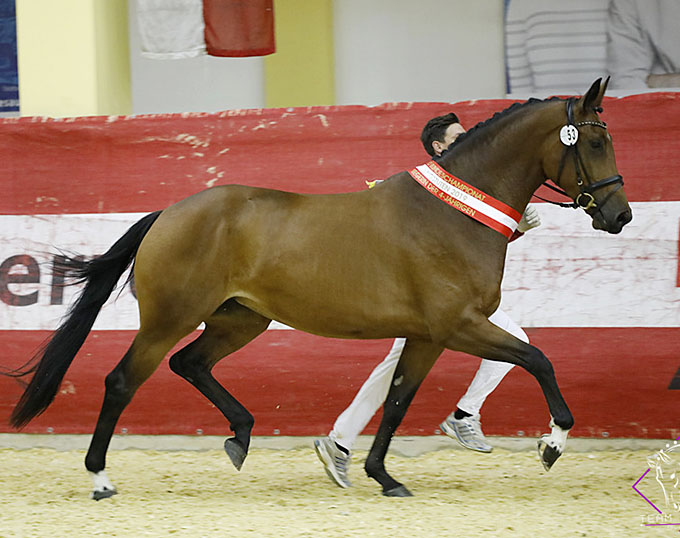 In the 4-year old dressage mare division, six mares qualified for the champion's ring. The winner was Florina MBH (by Antango), bred and owned by Moosbachhof. She scored a total of 8.60 points. 
"A big, strong and substantially built mare," said judge Florian Solle. "Her hindquarters are well built, which shows in her movements. On all levels and appealing mare."
The 4-year old reserve champion is Cascara L (by Ramiro's Bube), bred by Liebscher. She scored 9 for type and movement. She totaled 8.40 points for second place. 
Photos © Team Myrtill
Results - 2019 Austrian Warmblood Mare Championship
3-year olds
1. Broadmoars Leonora - by Eye Catcher (Breeder & Owner: Broadmoar KG) (8,60)
2. Fenomenal - by Van Vivaldi (B&O:  Franz Hummer-Niedermayr) (8,50)
3. Broadmoars Wahre Treue - by For Romance I (B&O: Broadmoar KG) (8,20)
4. Bella Rose DK - by Fürstenball (B&O: Daniela Kienzl) (8,10)
4. Justice M - by First Choice (B&O: Franz Maier) (8,10)
4. Davina STH - by Smeraldo-STH (B&O: Claudia Wuggenig) (8,10)
4-year olds
1. Florina MBH - by Antango (B: Petra u. Stefan Wiesenberger, O: Birgit Trunkenpolz) (8,60)
2. Cascara L - by Ramiro's Bube (B: Alexander Liebscher, O: Pferdezucht Liebscher (8,40)
3. Claudine L - by Finest (B: Alexander Liebscher, O: Sandra Fischer) (8,20
4. Elviana EM - by Zirkon (B&O: Ernst Mayr) (8,10)
4. Black Magic- by Florenz (B&O: Cornelia Schmitt) (8,10)
4. Giuliette - by Millenium (B: Alfred Leser, O: Isabella Piatek) (8,10)
Related Links
Championess K and Geraldine Chaplin, 2018 Austrian Warmblood Mare Champions
Corazon Named 2017 Austrian Warmblood Elite Mare Champion
Fraulein Smilla Named Champion of the 2016 Austrian Warmblood Elite Mare Show 
Wonderfull Named Champion of the 2015 Austrian Warmblood Elite Mare Show
Larissa, Cassandra L, Maurizio, Giulietta Win 2013 Austrian Warmblood Mare and Foal Championship