FEI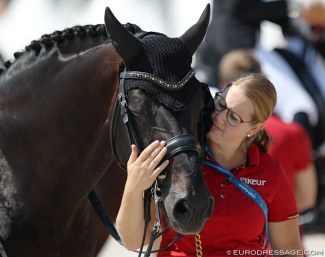 Swiss Jumping stars Steve Guerdat and Martin Fuchs will see their long-standing sporting rivalry play out in the polls as the public vote for the FEI Awards 2019 opens on 25 September 2019.
An impressive billing of equestrian athletes, individuals and projects have been shortlisted across five Awards categories following the FEI's call to action for nominations from the global equestrian community.
Flying the flag for 15 nations on five continents, the 22 shortlisted nominees have been selected for their outstanding achievements on the field of play, inspirational outlook and unparalleled dedication.
World number one Guerdat (37) and his great friend and rival Fuchs (27), who was crowned FEI European Jumping champion last month, are amongst the five nominees in the running for the FEI Best Athlete Award 2019, along with Eventing legend Ingrid Klimke (GER), this year's FEI Driving World Cup™ winner Bram Chardon (NED) and Dutch Paralympian and triple European gold medallist Sanne Voets.
Check out the amazing back stories of all the nominees in the five categories: Best Athlete, Rising Star, Best Groom, Against All Odds and Solidarity.
The 2019 Awards winners will be celebrated at a star studded ceremony at the State Kremlin Palace in Moscow (RUS) on 19 November.
The public now has 12 days (25 September to 7 October) to cast votes for their heroes. Make sure you have your say and vote here!
Shortlisted nominees for the FEI Awards 2019 are:
Best Athlete - paying tribute to the athlete who over the past year has demonstrated exceptional skill and taken the sport to a new level.
Steve Guerdat (SUI), Jumping
Martin Fuchs (SUI), Jumping
Ingrid Klimke (GER), Eventing
Bram Chardon (NED), Driving
Sanne Voets (NED), Para Dressage
Best Groom - for the behind-the-scenes hero who ensures the horses they look after are given the best possible care.
Tim Varlec (SLO), groom for Irish Para Dressage athlete Tamsin Addison
Madeleine Broek (NED), groom for Dutch Jumping star Marc Houtzager
Yann Devanne (FRA), groom for French Olympic Eventing team gold medallist Thibaut Vallette
Ann-Christin De Boer (GER), groom for Olympic Dressage golden girl Helen Langehanenberg
Rising Star – for the youth athlete aged 14 to 21 who demonstrates outstanding sporting talent and commitment.
Max Wachman (IRL), 16, Jumping
Juan Martin Clavijo (COL), 19, Vaulting
Semmieke Rothenberger (GER), 20, Dressage
Costanza Laliscia (ITA), 20, Endurance
Against All Odds - for an inspiring individual who has pursued their equestrian ambitions and overcome challenges and obstacles along the way.
Marie Vonderheyden (USA), Para Dressage
Eric Lamaze (CAN), Jumping
Tobias Thorning Jørgensen (DEN), Para Dressage
Zhenqiang Li (CHN), Jumping
Solidarity - for an FEI Solidarity or equestrian development project, an individual or organisation that has used skill, dedication and energy to expand the sport.
DSA LEAD Programme (RSA)
Uno Yxklinten (SWE), farriery training programme in Zambia
The Wheatland Farm Equestrian Center, Virginia (USA)
The Jack Dodd Foundation (IRL)
The Urban Equestrian Academy (GBR)
The winners will be decided through a system in which 50% of the public's vote and 50% of the judges' vote will be combined to give the final result. The nine expert judges are as follows:
Ingmar De Vos (BEL), FEI President
Matthieu Baumgartner (SUI), Longines Vice President of Marketing
Marina Sechina (RUS), President Russian Equestrian Federation and member FEI Solidarity Committee
Simone Blum (GER), Jumping athlete and winner of the FEI Best Athlete Award 2018
Peter Bollen (BEL), Founder and chief nutritionist of Cavalor
Martin Atock (IRL), Managing Director of Peden Bloodstock
Robin Parsky (USA), Vice Chairman of the Jumping Owners Club (JOC)
Harald Link (THA), President Thailand Equestrian Federation
Eve Van Den Bol (CAY), President Cayman Islands Equestrian Federation (CIEF) and member FEI Solidarity Committee.
Photo © Astrid Appels
Related Links
Gigantic medal haul for Germany at 2019 European Youth Riders Championship in San Giovanni
Rothenberger Leads Germany to Team Gold at 2019 European Youth Riders Championships
Semmieke Rothenberger: "When Horses Love You Unconditionally"