Austrian Warmblood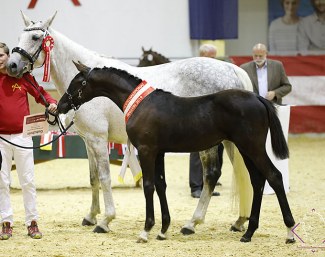 Filly Nassera MB and colt Sensation became the winners of the 2019 Austrian Warmblood Foal Championship held in Stadl Paura, Austria, on Saturday 21 September 2019. 
Nine fillies out of a group of 30 were selected for the championship ring by judges Florian Solle and Hans Heinrich Brüning. The winner was Nassera MB (by Zenon VDL), bred by Barbara and Michael Hager. She scored the highest day total of 9.17 points. The runner up in the filly division was Moarhof's San Franziska (by Bon Coeur). She scored a total of 9.0. She is bred by Nadja Pollhammer.
"Wonderful in expression, in type she couldn't be prettier and extremely ground covering in her movements, always in balance," said the judges about champion Nassera MB. Referring to San Franziska, the judges commented that "she is truly one of the strongest foals of the days, very strong in her type and movement mechanics."
In the colt division six out of the 20 participating colts moved to the Champion's ring. Bred by Johannes Schwaiger, Sensation (by Secret) was named the champion with 9.0. Camino Royal (by Cadeau Noir) was named reserve champion. This colt is by Sport Horse Breeding Leser and scored 8.83 points.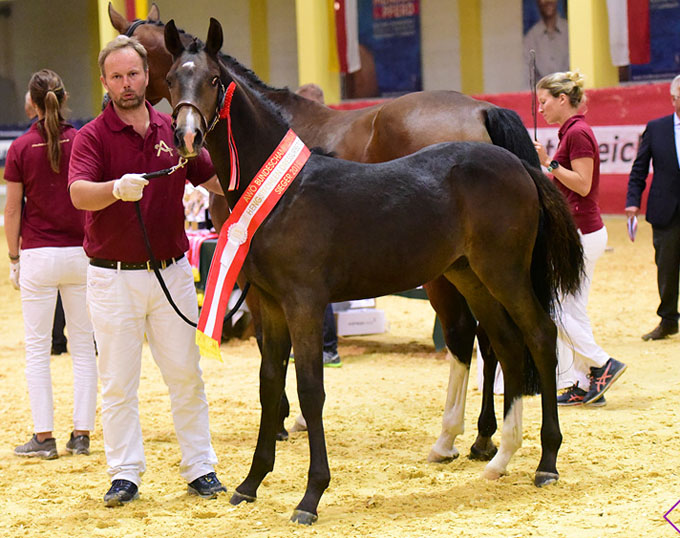 "Also in the background he stood like a statue. He is a large framed foal with great ground cover but always loose and swinging," said judge Brüning about the colt champion. "(Camino Royal) appealed to us in all fields. He's built uphill, with a correct conformation and with a sensational movement mechanism in trot."
Six pony foals made it to Stadl Paura and 3 were selected for the champion's ring. Bergerhof's Dreitakt (by Dreiklang AT) was named the winner. Bred by Doppler-Frank, the colt was praised for his type, expression and gaits. The runner up was filly Nairobi PZM (by FS Numero Uno), bred by Margret Mondschein.
Photos © Team Myrtill
Results - 2019 Austrian Warmblood Foal Championship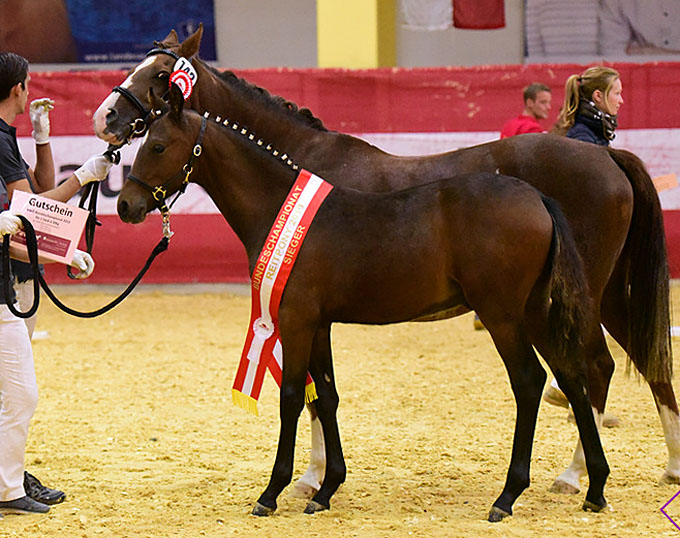 Fillies
1. Nassera MB - by Zenon VDL (Breeder & Owner: Barbara & Michael Hager) (9,17)
2. Moarhof's San Franziska - by Bon Coeur PrH (B & O: Nadja Pollhammer) (9,0)
3. Geyer's Melrose - by Sir Donnerhall I (B & O: Gestüt Geyer) (8,83)
3. Arnante- by Fürst Wilhelm (B & O: Wolfgang Wörgötter) (8,83)
5. Feine Edoste - by Benicio (B: Jürgen Wunsch, O: Anna & Walter Seidl) (8,67)
5. Stellas Highlight-MFG - by Fürst Wilhelm (B & O: Franz Karl u. Maria Gutschy) (8,67)
5. Moarhof's Cosma - by Vitalis (B & O: Nadja Pollhammer) (8,67)
5. Comtesse-K - by Toto Jr. (B & O: Wolfgang Kromoser) (8,67)
5. Dornröschen - by Don Martillo (B & O: Christian Rainer) (8,67)
Colts
1. Sensation - by Secret (B & O: Johannes Schwaiger) (9,0)
2. Camino Royal - by Cadeau Noir (B: Sportpferdezucht Leser, O: Melanie Wagner) (8,83)
3. Esposito - by Escamillo PrH (B & O: Christian Großholzner) (8,50)
3. Zar Cyrill - by Zoom (B & O: Pferdezucht Liebscher) (8,50)
3. Mr. Magoo - by Marc Cain (B & O: Ewald Hörmann) (8,50)
Ponies
1. Bergerhof's Dreitakt- by Dreiklang AT (B & O: Zuchtgemeinschaft Doppler-Frank) (8,67)
2. Nairobi PZM - by FS Numero Uno (B & O: Margret Monschein) (8,50)
3. Primus - by Steendieks Perfect Mind (B & O: ZG Rainer und Hartl) (8,0)
Related Links
Contenance S and Basilius MBH Named 2018 Austrian Warmblood Foal Champions
La Finessa and Dancing Devil RK Win 2017 Austrian Warmblood Foal Championships
Braveheart and Broadmoar Leonora Win 2016 Austrian Warmblood Foal Championship
Quality W and Giuliette win 2015 Austrian Warmblood Foal Championship
Viva Austria and First Romance Win the 2014 Austrian Warmblood Foal Championships
Feine Lady, David, Furst Silvano, Faustus MBH Winners of 2014 Austrian Young Horse Championships
Larissa, Cassandra L, Maurizio, Giulietta Win 2013 Austrian Warmblood Mare and Foal Championship
Uphill and Chopin Sire 2011 Austrian Foal Champions