Swedish Warmblood Elite Foal Auction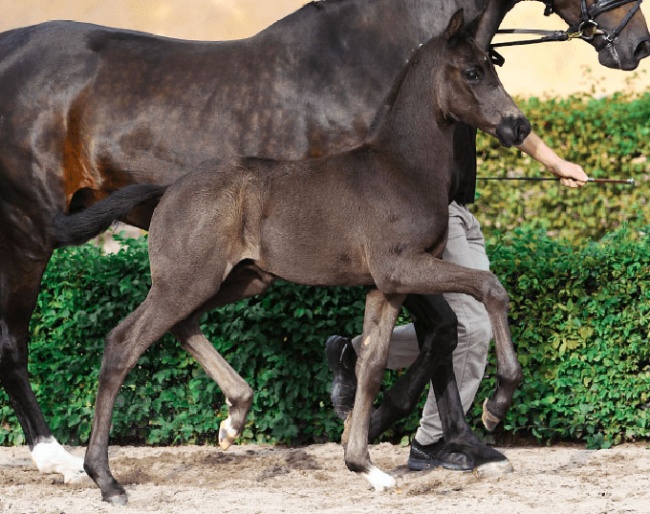 The black colt Faitfhul YL (by Franklin x Sandro Hit) became the top selling foal of the 2019 Swedish Warmblood Elite Foal Auction in Flyinge, Sweden, on Friday 27 September 2019.
Faithful YL sold for 340,000 SEK (31,395 euro).
The second most expensive foal was Optimal CML (by Total Hope x Ampere) which fetched 25,850 euro. 
Filly Livia (by Vivaldon x Londonderry) found new owners for 24,000 euro, while the 2-year old black colt BE Allex (by Ampere x Dalwhinnie) sold for 20,300 euro 
Bali (by Ferdades x Figaro R) was knocked down for 18,460 euro, while Cinder CML (by Franklin x Don Primero) moved into a new barn for 17,500 euro. Danlin (by Franklin x De Niro) sold for 14,775 euro. 
Three foals sold for 13,850 euro : Dux Carneo F  (by governor x San Amour), Jihous (by Jovian x Johnson) and Yellow Rose (by Springbank II x Florencio). 
The collection included 28 foals and one 2-year old. The average price for a horse in this auction was 138,000 SKK (12,740 euro)
Related Links
Prelude CML, Top Seller at 2018 Swedish Warmblood Elite Foal Auction
Radius, Best Seller at the 2017 Swedish Warmblood Elite Foal Auction
Fabulous M, Top Seller at the 2016 Swedish Warmblood Elite Foal Auction
Deorro Magi, Price Highlight of the 2015 Swedish Warmblood Elite Foal Auction
Kordoba For U, Price Highlight of the 2014 Swedish Elite Foal Auction
Donna Antique, Price Highlight of the 2013 Swedish Warmblood Elite Foal Auction