2019 French Young Horse Championships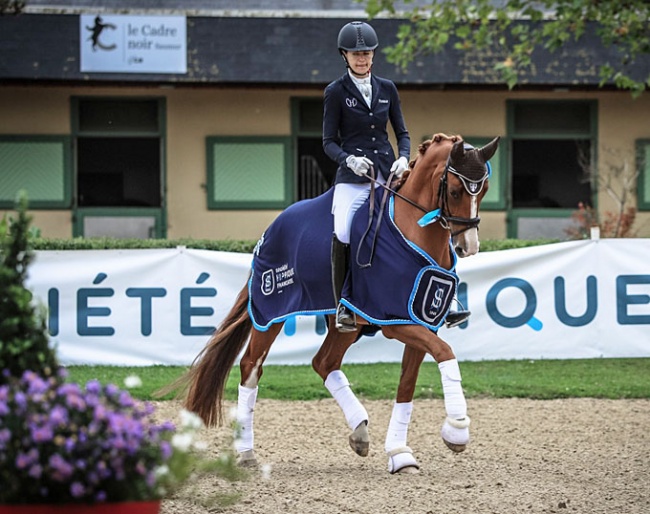 The 4-year old Djembe de Hus, the 5-year old Don Vito de Hus, and the 6-year old Dorian Grey de Hus became the winners of the 2019 French Young Horse Championships held at the national equestrian centre in Saumur, France, on 26 - 28 September 2019. 
The 2019 French Nationals were a massive sweep for Jessica Michel-Botton, who has been head rider at Xavier Marie's breeding and stallion farm Haras de Hus in Le Petit Mars, France. She won gold in all three young horse divisions. In addition to three gold medals, she also won two bronze. 
Djembé de Hus Got Moves
Jessica Michel-Botton collected her first gold medal of the week on the 4-year old Oldenburg bred Djembe de Hus (by Damon Hill x Argentinus) with an 89.098 total score. Home bred at Haras de Hus, the chestnut was second in the first round with 84.417 points and won the finals on 89.900 points. Jessica has been riding the horse since he was three and last year the chestnut already secured the national title in the 3-year old riding horse class. Pauline Guillem and the Hanoverian bred Magic Moment (by Millennium x Don Bosco) earned silver with 82.946 points. The pair was fifth in the first round with 82.583 points and moved to second place in the finals with 83.000 points. Magic Moment was acquired by Guillaume Trubuil at the 2019 Hanoverian spring elite auction for 100,000 euro. The bronze medal went to Michel-Botton aboard the Belgian company BD Horse's KWPN bred Kayden (by Desperado x Uphill) with 81.413 points. The stallion was fourth in the first round with 82.833 points and third in the finals with 81.200 points.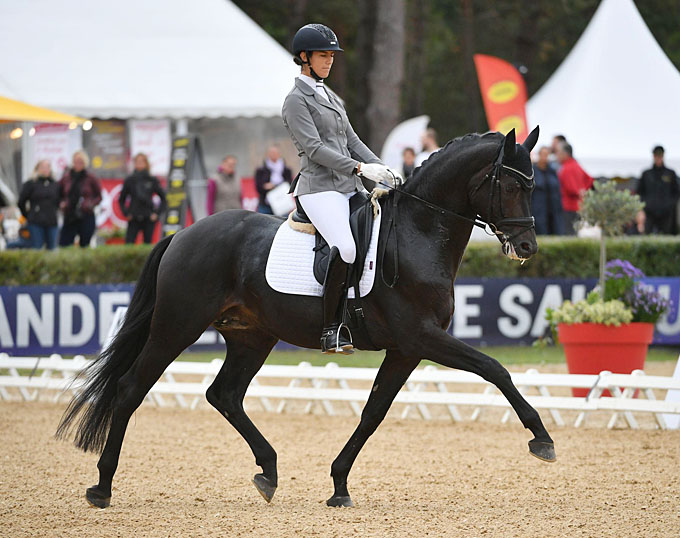 "I follow all the foals born at the stud, but this one caught my attention from the start because he had something extra. He was an outstanding foal," said Jessica. "Djembe is not a horse with extraordinary gaits like Don Juan, but a horse with all the natural qualities that we look for. He's very collected, he has very nice engagement from behind, and real freedom in the shoulder, a good cadence, a very good walk and an excellent canter."  
Guillem was also thrilled with her Magic Moment which she describes as being "a lion in the box. He has a very stalliony character but under saddle he's always very easy, even though we still have much work to do in hand. For example, since he got here, he refuses to lift his feet so I can pick his hooves." Guillem has only ridden two shows with him necessary for the qualification.  "It's Guillaume's philosophy who wants me to prepare him for the future and economize so that he's fresh for the highest level."
About bronze medal winning Kayden, Jessica said that she first saw him on photo two years ago and fell in love. After seeing a video, Jessica went to try him out in Germany and convinced a Belgian syndicate to purchase him. "He did his first shows towards the end of the season and he handled the new environment with brio, even though he's a bit timid. He developed well and in Saumur he was totally in his element." Kayden sold to a new owner right before the Championship and Christelle Marie  will now take over the reins. 
Don Vito de Hus in Charge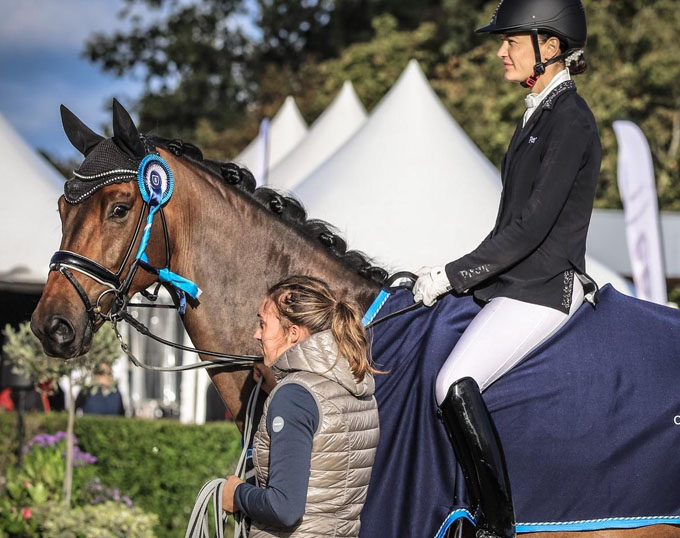 The late KWPN stallion Don Juan de Hus made his mark in the 5-year old division with no less than five offspring in the top 10. Jessica Michel-Botton won the division with his Ermelo WCYH finalist Don Vito de Hus (by Don Juan de Hus x De Niro), who is bred in Germany by Elisabeth Rütz and bought by Haras de Hus when the bay was two years old. The pair was fourth in the first round with 82.583 points and won the finals with 87.600 to end on a winning total of 87.144 points. Arnaud Serre and Françoise Niclaus' Portuguese sport horse bred James Bond de Masa (by Bon Bravour x Xaquiro) were good for silver with 86.189 points. The bay was fifth in the first round with 82.083 points and second in the finals with 86.600 points. Jessica Michel Botton and the home bred Oldenburg mare Diva Star de Hus (by Don Juan de Hus x Rubin Royal) earned bronze with 83.977 points. This bay mare won the first round on 83.750 points and was third in the finals with 84.000 points. 
"He's quite classical, and not extravagant but he underwent an enormous development since he was three," said Jessica about the Champion. "I've always said, the more we advance in the levels, more he stands out from others. Don Vito de Hus was a reserve champion as a 3- and 4-year old. At age five he shows his potential much more. He can be quite affected by the presence of other horses but in Ermelo he really made a leap. He has matured enormously since then."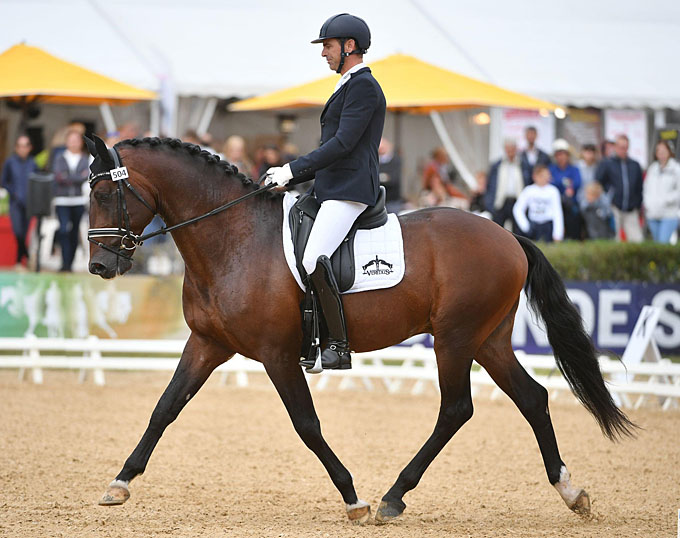 James Bond de Massa won five out of six starts leading up to the Championships. "As a 4-year old  he had a good year but he needed time to find his balance in trot. He trotted well in freedom but there were some difficulties under saddle, while the walk and canter have always been incredible," said Serre. "Last winter he gained much in strength and had a very successful show season, never scoring below 80%." James Bond is bred by Sylvain Massa and was purchased by Niclaus as a 2-year old.
Michel described Diva Star as "very sensitive, but also explosive. She reacts quickly without  me having seen it come. That's what happened last year in the Finals. She won the preliminary test but panicked in the warm up before the finals and became very tense. She was third and was a bit of a disappointment. This year we are third again but I'm very happy because we never went to that point. She had a difficult winter after reacting badly to a vaccination. She was brought to the clinic for emergency treatment. One moment I was thinking of presenting her for the World Championships, the next I was praying for her life." In the summer the mare had recovered fully and Jessica only took her to Saumur if she felt in top shape. "Everything went well and it was a nice surprise to see her here," she added.
Dorian Grey Takes Revenge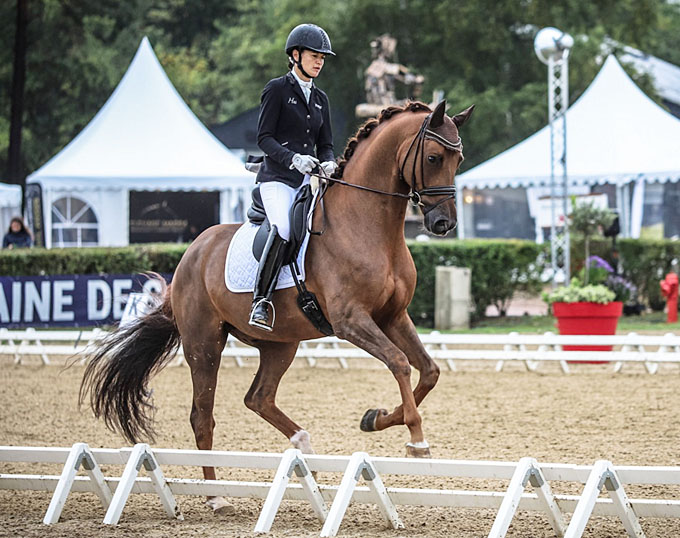 Jessica Michel-Botton and Dorian Grey de Hus (by Don Juan de Hus x Sandro Hit) took revenge for missing out on the 2019 World Young Horse Championships due to a minor injury by sweeping the board in the 6-year old division. The Championship was ridden over the Finals test, while the preliminary was a warm up round. The pair won the Finals with 86 points after earning 7.8 for walk, 9 for trot, 8.8 for canter, 8.6 for submission and 8.3 for general impression. Flore Valarin and Brenda Brenckle's Hanoverian mare Furstina (by Furstenball x Ferro) earned silver with 77.40 points. The mare got 7.5 for walk, 8 for trot and canter, 7.3 for submission and 7.9 for general impression. Pauline Guillem and Vladimir Vinchon's Oldenburg gelding Fidertanz For Rosi (by Fidertanz x Depardieu) scored bronze with 76.80 points. The gelding got 7.7 for walk, 8.2 for trot, 7.3 for canter, 7.5 for submission and 7.7 for general impression. 
Dorian Grey captured his third, consecutive French Young Horse title this year, while for Michel it was the second time in her career that she took all three gold medals in the same Championship. She did it the first time in 2007. Dorian Grey is by Don Juan de Hus out of a Poetin clone (by Sandro Hit x Brentano II). "Our goal this year was the World Championship but he injured himself on transport, scraping some skin off the fetlock, so he couldn't participate. He had a little break  and we picked up work again at the end of August. He wasn't as ready going to Saumur as he was for Ermelo, but nonetheless Saumur went really well."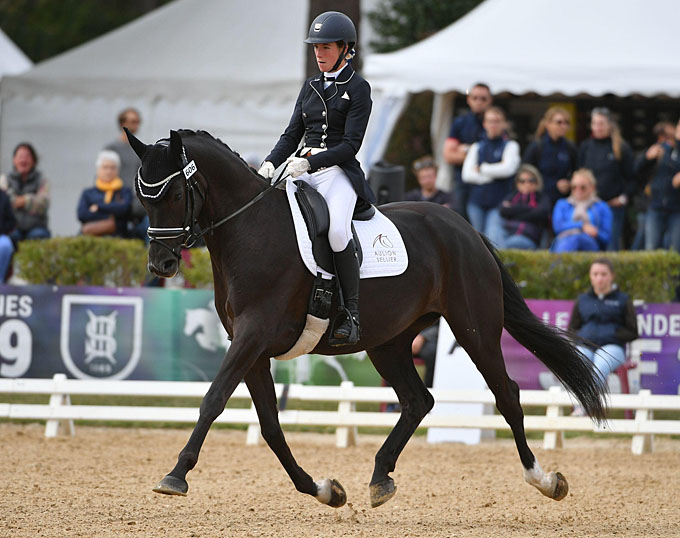 Valarin was thrilled with the silver she won on mare Furstina. "This year Furstina immediately felt at easy in the difficult movements, but we still have some road to cover with the flying changes. We had some difficulties teaching them and it's still our black point. A few weeks ago she picked them up and the last few days we struggled a bit again," said Flore whose coach discovered the mare at a brood farm in the Alsace.
Bronze medal winner Fidertanz for Rosi belongs to para dressage rider Vladimir Vinchon, who bought the Oldenburg six months ago after Guillem spotted him in Germany through a video. "We went to try him during a shopping tript and I was seduced by his three exceptional gaits, but also because he was the only one that accepted my handicap during the try-out," said Vinchon who is based near Le Lion d'Angers. "He immediately adapted to the fact that I rode with only one leg and he executed the movements easily with me. Because of my handicap an able bodied rider needs to train my horse and I have known Pauline a long time and I asked her to take him into training for three months. We didn't want to do  the full young horse circuit but  just a few to test his development. He responded well to it so we took Saumur as goal."
Text by Astrid Appels - Quotes and Photos © Societé Hippique Française
Results - 2019 French Young Horse Championships - Saumur
4-year olds (top 10 only)
Rider - Horse - round 1 - round 2 ---- total 
1. Jessica Michel Botton  - Djembe de Hus (by Damon Hill x Argentinus) - 84.417 - 89,800 --- 89.098
2. Pauline Guillem - Magic Moment (by Millennium x  Don Bosco) - 82,583 - 83,000 ----82.946
3. Jessica Michel Botton - Kayden (by Desperado - Uphill) - 82,833 - 81,200 ---- 81.414
4. Jessica Michel Botton - Golden Romance (by Governor x Sir Donnerhall) - 86,000  - 79.800 --- 79.772
5. Julien Vincent - Kir Royal (by Herzensdieb x His Highness) - 78,250  - 80,000 --- 79.772
6. Clemence Cathala Trevidic - Kiandro (by Chagall x Sir Sinclair) - 76,500  79,200 --- 78.848
7. Victor Brua - Kin Xin du Montroyer (by Belantis x Weltmeyer) - 77.222 - 79.000 --- 78.783
8. Guillaume Recoing - Shaman Kur (by Sezuan x Solos Landtinus) - 79.500 - 78.600 --- 78.717
9. Jessica Michel Botton - Fortune Carree de Hus (by Don Juan de Hus x Rubin Royal) - 80.583 - 78.200 --- 78.511
10. Julien Vincent - Kir Royal (by Governor x Royal Dance) - 77.333 - 76.600 ---- 76.696
5-year olds (top 10 only)
1. Jessica Michel Botton - Don Vito de Hus (by Don Juan de Hus x De Niro) - 82.583 - 87.600 --- 87.144
2. Arnaud Serre - James Bond de Massa (by Bon Bravour x Xaquiro) - 82.083 - 86.600 --- 86.189
3. Jessica Michel Botton - Diva Star de Hus (by Don Juan de Hus x Rubin Royal) - 83.750 - 84.000 --- 83.977
4. Antonin Schuchard - Ninjago (by Negro x San Remo) - 79.583 - 81.800 --- 81.598
5. Laetita Isselin - Darling Flower (by Don Juan de Hux x Rotspon) - 81.000 - 77.200 --- 77.545
6. Larissa Pauluis - Jordy HBC (by Lord Leatherdale x Metall) - 78.333 - 76.400 --- 76.576
7. Alizee Roussel - Atlanta de Hus (by Amopere x Wanderbusch II) - 76.333 - 75.800 --- 75.848
8. Marine Subileau - Johnny Walker (by Everdale x Orm) - 76.000 -) 74.400 --- 74.545
9. Mathieu Berville - Einstein du Parc (by Don Juan de Hus x Sandro Hit) - 82.750 - 72.400 --- 73.341
10. Giraud Dhennin - Escortgirl Maupertuis (by Don Juan de Hus x Rieto) - 78.000 - 72.200 --- 72.727
6-year olds 
Rider - Horse - trot walk canter submission general impression ---- total
1. Jessica Michel - Dorian Grey de Hus (by Don Juan de Hus x Sandro Hit) - 9,00 7,80 8,80 8,60 8,80 --- 86,00
2. Flore Valarin - Furstina (by Furstenball x Ferro) -  8,00 7,50 8,00 7,30 7,90 --- 77,40
3. Pauline Guillem - Fidertanz for Rosi (by Fidertanz x Depardieu) - 8,20 7,70 7,30 7,50 7,70 --- 76,80
4. Marine Subileau - Deauville de Hus (by Don Juan de Hus x Don Frederico) - 7,60 7,90 7,80 6,80 7,60 --- 75,40
5. Jessica Michel Botton - Filarmonie de Malleret (by Furstenball x De Niro) - 9,20 7,30 6,80 6,50 7,80 --- 75,20
6. Clementine Dhennin Giraud - Dior de Grez Neuville (by Don Juan de Hus) - 8,00 7,70 7,80 6,60 7,50 --- 75,20
7. Wiedeke Zijp - Dayskeeper (by Dream Boy x Don Schufro) - 7,60 7,70 7,50 7,20 7,40 --- 74,80
8. David Deschler - Alcatraz (by Astrix x Fidertanz) - 7,40 7,40 7,50 7,40 7,50 0,0 74,40
9. Damien Dumoulin - Furst Fahrenheit (by Furstenball x Rohdiamant) - 7,70 7,50 7,50 6,80 7,30 --- 73,60
10. Rbecca Rooke - Lady Chanel (by Hancock x Goodwood) - 7,10 7,30 7,30 7,20 7,20 ---- 72,20
11. Christophe Dixmier - Daltonn Mouche (by Quartz du Chanu) - 6,70 7,30 6,80 6,60 6,80 --- 68,40
12. Laetita Gourdain - Sinclair de Hus (by Soliman x Furst Heinrich) - 7,30 3,00 7,10 6,50 6,20 --- 60,20
Related Links
Join Me de Massa, Dorian Grey de Hus, First Step Valentin Win 2018 French Young Horse Championships
Dorian Grey de Hus, First Step Valentin, Flair Royal Win 2017 French Young Horse Championships
Valentin, Diamondgio, Barroso Win 2016 French Young Horse Championships 
Flair Royal, Quaterdance, Quaterbold du Payrol Win 2015 French Young Horse Championships
Quaterdance, Kojak, Hermes de Hus Win 2014 French Young Horse Championships
Kojak, Hermes de Hus, Django de Charry Win 2013 French Young Horse Championships
Don Juan de Hus, Danciero de Hus, Dona Primera Win 2012 French Young Horse Championships
Blacktime, Grand Passion, Socrate de Hus Win 2010 French Young Horse Championships
Rock N Roll Star, Socrate de Hus and Wodan are 2009 French Young Horse Champions
Jessica Michel, Triple French Champion with Prime Time, Noble Dream, Riwera at 2007 French Young Horse Championships