2019 CDI-W Devon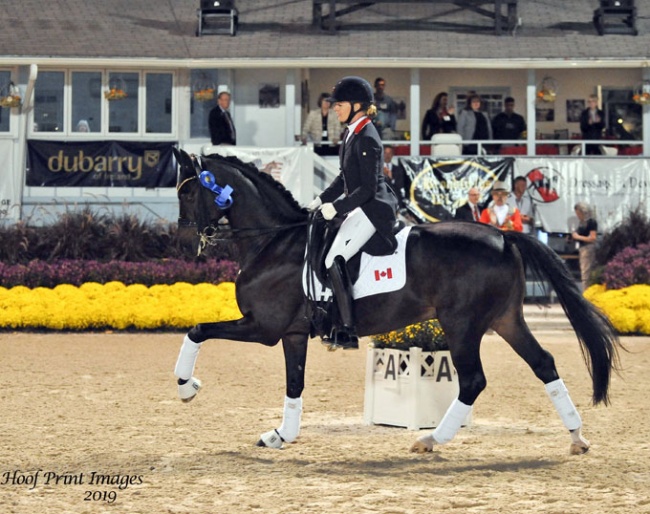 Just a few weeks after winning the Saugerties World Cup Freestyle in only their second Big Tour competition, Canadian Lindsay Kellock and her mount Sebastien took home the blue ribbon in the Grand Prix Freestyle at the 2019 CDI-W Devon on 27 October 2019.
Eleven combinations contested the Kur tour at the 2019 edition Dressage at Devon, three were Canadian, the others American. Canada pushed for power as both Lindsay Kellock and Britney Fraser-Beaulieau, both trained by Olympian Ashley Holzer, did a double one-two. 
Coming fresh off a World Cup victory at the 2019 CDI-W Saugerties the week before, Kellock and the 13 year-old Rhinelander Sebastien (by Sandro Hit x Fidermark) scored 71.587% for the victory in the Grand Prix and the pair posted a personal best of 75.870% to move into the winner's circle of the Dixon Oval in the World Cup qualifier kur. 
"Sebastien went really well at Devon," Kellock told Eurodressage. "I had some incredible feelings in the ring especially in the passage and trot work. Devon was our third CDI competition together and I'm learning that he really loves to compete in the bigger venues where there is a lot of energy from the crowd. He is a very relaxed horse so the more atmosphere the better he is. Devon has great energy and the crowd is so enthusiastic Sebastien's feels that and wants to show off even more. I'm lucky to have a horse that enjoys competing as much as him."
Owned by Enterprise Farm, Sebastien has little show experience, as he made his debut at his first CDI at the 2019 CDI-W Wellington seven months ago in March. Kellock then took him to Saugerties in September after focusing on riding her small tour horse Floratina at the 2019 Pan American Games in Lima, Peru, this summer. 
At the CDI-W Saugerties, Kellock and Sebastien took an edgy start with a 63.304% in the Grand Prix, but recovered in the freestyle to win with 71.600%. At Devon they found their stride with two seventy plus scores. 
"Saugerties was our first completion back in seven months," said Kellock. "I honestly think we were both just green to the Grand Prix ring and had to work out some rusty moments. It was freezing cold at that show and he doesn't do so well with that. But in the end the tough rides are what help to  motivate you to be a better and take a different approach which is what we did going into the freestyle."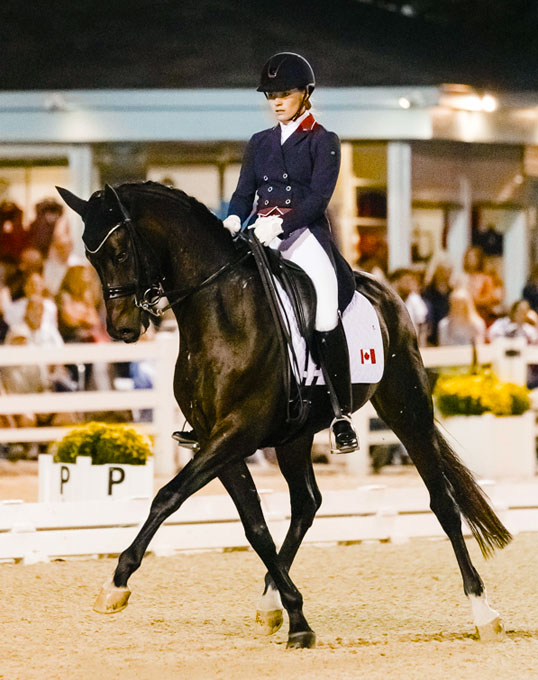 Lindsay has been working on strength training and getting Sebastien as fit as possible leading into the autumn. 
"We have been working on his technique and basics. He knows how to do everything now, but to practice my preparation and thoroughness before each movement really helped him," she explained. "I am leaving for Wellington middle of November to go and be in a full training program with Ashley and then of course in January we will start the qualification process for Tokyo. I have a few good young horses coming up as well so I'm exciting to start competing them."
Canada made an impressive stand at Dressage at Devon this year. Canadian Brittany Fraser-Beaulieu and her 14-year old Dutch warmblood gelding All In (by Tango) were back in the arena after Fraser gave birth to her first child this spring.  In Devon the pair captured second place in the Grand Prix with 71.304% and a second in the freestyle with 74.945%.
James Koford and his equine partner Adiah (by Nico out of Marije Ant), a 12 year-old Friesian cross mare, danced into third place in the freestyle with a score of 72.855. 
Related Links
Lindsay Kellock Aims for 2019 Pan Ams in Peru and Dreams of Tokyo