France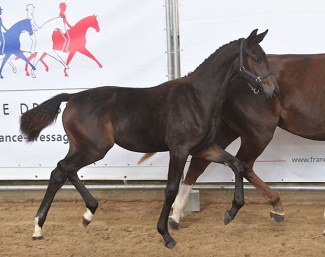 The filly Gucci de Hus and the colt Donathello de Hus became the winners of the 2019 French Foal Championship held in Saumur, France, during the National Young Horse Championships on 26 - 28 September 2019. 
Judging the young horse breed show classes in Saumur were Jens Meyer, Marian Dorresteyn, and Ibn Stroem.
Xavier Marie's filly Gucci de Hus (by Governor out of Byzance de Hus (by Belissimo M)) topped the leader board and scored the national Foal Champion's title with 90.643 points. Fleur Maugars' Selle Francais bred filly Jilie Vita de Fascyne (by Vitalis out of Shakira des Blancs (by Sir Donnerhall)) became the reserve champion with 85.167 points.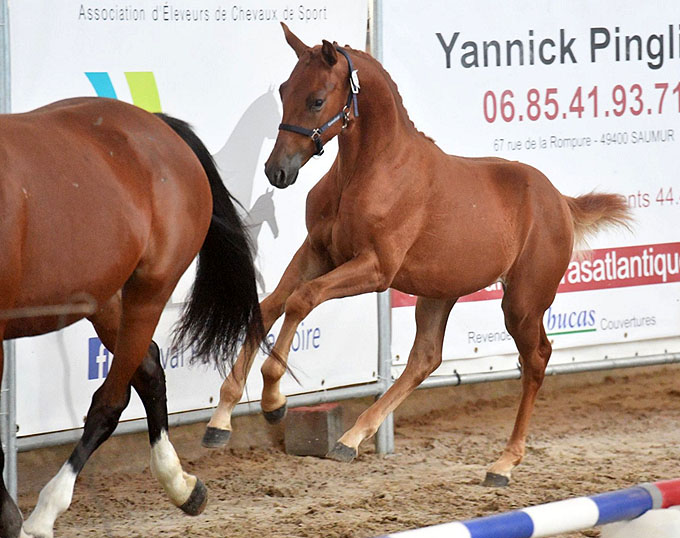 In the colt division Xavier Marie's Donathello de Hus (by Don Juan de Hus out of Linda (by Londonderry)) that topped the board and claimed the national title. He scored 87.667 points for the victory. Donathello de Hus is a full brother to World Young Horse Champion D'Avie. Haras de Malleret's Faust (by Flinstone out of Farouche de Malleret (by Furstenball)) was the reserve champion with 86.417 points. The bronze medal went to Xavier Marie's nameless colt D... de Hus (by Don Juan de Hus out of Carmina Burana (by Rubin Royal) on a score of 86.00 points. 
In the smaller pony foal division Ambre Reau's Welsh pony filly Just Perfect du Krystal (by Keizerskroon Edison x Orchard Boginov) became the national champion with a score of 86.625 points. Claude Maupetit's Joy K du Breuil (by Mad du Bosc x Flatteur) was the runner up with 81.125 points.  In the male pony foal division it was Fabienne Vandroux' colt Joyau d'Or dune Gosse (by Déclic de Bannes x Doppelspiel) that earned the title with 79.750 points. Jazz Magic (by Dyfrig Galicias x Douthwaite Signwriter), bred and owned by Aurelie Chollin, was the reserve champion with 79.667 points. 
Photos © Les Garennes
Results - 2019 French Foal Championships
Fillies (top 10 only)
1. Gucci de Hus (by Governor x Belissimo M) - Breeder and Owner: Xavier Marie - 90.643
2. Jolie Vita de Fascyne (by Vitalis x Sir Donnerhall) - Breeder and Owner: Fleur Maugars - 85.167
3. Jewell du Prieure (by Secret x Soliman de Hus) -  Breeder and Owner: Sylvain Laurentain-  83.833
4. Dedicace de Malleret (by Danciano x Sir Donnerhall) -  Breeder and Owner: Haras de Malleret -  83.667
5. Joy de l'Orcheraie (by Famous Grez Neuville x Worldly) -  Breeder and Owner: Veronique Brehier - 82.917
6. Jade'Or de Saint Val (by Diamond de Saint Val x Fidertanz)  Breeder and Owner: Ecuries de Saint Val - 82.333
7. Jolana de Valdi (by Quaterbold du Payrol x Romancero H) -  Breeder and Owner:  Celine Faure Curt -  80.500
8. Scarlett (by Secret x Foundation) -  Breeder and Owner: Veronique Letrange -  80.000
9. Jalibela de Gros Bois (by Danciano x Don Romantic) -  Breeder and Owner: Sandy Salmon -  79.697
10. Ode Secrete de la Baronnie (by Secret x Florett As) -  Breeder and Owner: Victor van Cauwberghe - 79.667
Colts (top 10 only)
1. Donathello de Hus (by Don Juan de Hus x Londonderry) - Breeder and Owner: Xavier Marie - 87.667
2. Faust de Malleret (by  Flinstone de Malleret x Furstenball) - Breeder and Owner: Haras de Malleret - 86.417
3. D de Hus (by Don Juan de Hus x Rubin Royal) -  Breeder and Owner: Xavier Marie -   86.000
4. Just Perfect du Parc (by Diamond de Saint Val x Sandro hit) -  Breeder and Owner: Philippe Ferrand - 84.750
5. Jaguar du Vana (by Quaterbold du Payrol x Saros van het Gestelhof )  Breeder and Owner: Caroline Guillemont - 83.250
6. Jerry du Prieure (by Secret x Don Bosco) -  Breeder and Owner:: Sylvain Laurantin - 81.667
7. Malleret Lord Bohemian TS (by Libertad x Lauries Crusador xx) -  Breeder and Owner: Haras de Malleret - 81.333
8. Just for You Fleuri (by For You Only du Riwan x Sandro Hit) -  Breeder and Owner:Laurence Albert - 80.167
9. Jocker du Soret (by Furstenball x Ramonus) -  Breeder and Owner: Agata Pruzychocki - 79.250
10. Jackman du Presard (by Don Martillo x Furstenreich) -  Breeder and Owner: Nathalia Vilain - 79.083
Related Links
Qir Royal du Payrol and Briseis D'Arion Win 2015 French Foal Championships
Sinatra de Hus and Nacre des Pres Win 2013 French Foal Championships
Soleio d'Arion and Atomic Kitten LH Win 2011 French Foal Championships
Erasme de Voulx and Fantasy Boderes Win 2010 French Foal Championship
Shenandoah and Sambejah Win 2006 French Foal Championship