2019 Italian Dressage Championships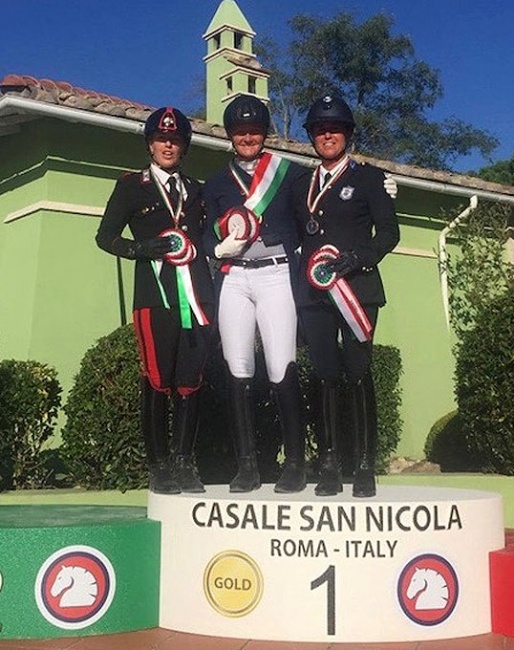 Children rider Riccardo Spagni, junior Beatrice Arturi, young riders Filippo Di Marco and Ginevra Coperchio, Under 25 rider Francesca Rapazzoli, and senior Grand Prix riders Valentina Truppa and Nausicaa Maroni Win the 2019 Italian Dressage Championships held in Casale San Nicola near Rome, Italy, on 26 - 29 September 2019.
The Italian Dressage Championships allocate two sets of medals per age division. There are medalists for the technical championship (first two tests) and there is a second set of medals for the freestyle. 
Three combinations competed in the Children division so there was a podium place for each. Riccardo Spagni and the Holsteiner bred Cesan (by Cesano II x Capone II) took a firm lead in the first round with 70.897% but was beating in round two after scoring 68.333%. Still his total of 139.230 points was good for gold. The silver medal went to Anna Tarabella on the Dutch bred May with 68.846% and 69.524%. Cecilia Rufini and her KWPN bred Bailando Cobra (by Obelisk x Junior) got bronze with 67.308 and 67.798%.
The junior division was the biggest with 11 combinations at the starting line. Beatrice Arturi, Italy's best scoring rider at the 2019 European Youth Riders Championships in San Giovanni in Marignano last July, was a league of her own at the Nationals. Aboard the  16-year old Trakehner Donaudistel (by Distelzar x Herzzauber) she posted bold scored of 73.576% and 74.265% to finish on the highest step of the podium with 147.841 points. Alessia Volpini and her 10-year old KWPN bred Easy Deasy (by Vivaldi x Houston) were second convincingly with 70.788% and 71.422%. Valentina Merli and the 12-year old Westfalian Le Bom (by Louis Le Bon x Pit) got bronze with two solid scores of 69.636% and 69.118%. 
Also in the junior freestyle championships there was little change on the podium with Arturi getting gold on 75.700% and Volpini silver with 73.625%, but Ginevra Bianco pushed Valentina Merli off the podium and grabbed bronze aboard the 10-year old Hanoverian Dali Salvador (by Dancier x Londonderry) with 71.150%. 
At Young Riders level there were only three pairs that made the effort to travel to San Nicolo for the Nationals and it became a neck-to-neck finish for all three of them. Team rider Filippo di Marco and the 8-year old DSP bred Fidergald (by Fidergold x Rubin Royal) won the Team test with 68.206% but was only third in the Individual with 66.618%. Yet his total of 134.824 points sufficed for the gold. Ginevra Coperchio and the 12-year old PRE Edipo el Bayo (by Albino el Bayo x Solitario VIII) was second in the team test with 66.118% and won the individual (67.157%) to end up with silver on 133.275 points. Francesca Cintia and Moyito ended up with bronze (65.706%, 66.961% on 132.667 points. 
In the Young Rider Freestyle championship, Di Marco and Coperchio swapped places. Coperchio got gold on 71.375%, Di Marco silver on 70.925%. Cintia did not ride the freestyle, but a new pair Ludovica Perbellini did. She and her 11-year old Hanoverian Rossariho (by Rotspon x Brentano II) scored bronze with 63.225%.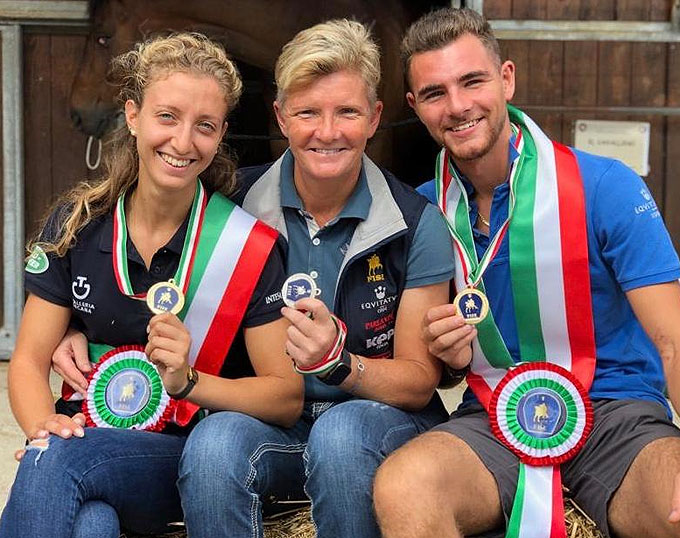 Three Under 25 Grand Prix riders contested the Technical championship, but there was no freestyle championship for them. Francesca Rapazzoli and the 13-year old Westfalian Rhadamanthus (by Real Diamond) was unbeatable scoring 68.235% in the Intermediaire II and 68.419% in the Short Grand Prix for the title. Margherita Josi and the 12-year old Le Contendro (by Le Primeur x Contendro) finished second and got silver with 64.382% and 63.291% (total 127.673 points) but she had Francesco Sangiorgi on the 10-year old Hanoverian Sorrento (by Sandro hit x Lanciano) on her heels with a total of 127.563 points. Sangiorgi received 64.059% and 63.504%. 
At senior Grand Prix level, seven combinations rallied at the Nationals. All but one of the riders who were in contention for a team spot for the 2019 European Championships felt the urge to compete in the Nationals after being greatly disappointed by their federation for not sending anyone to Rotterdam. Pierluigi Sangiorgi, Francesco Zaza, Silvia Rizzo, and Roberto Brenna said no thanks, the Italian based Nausicaa Maroni gave it a go and took sweet revenge. Italy's best scoring rider at international Grand Prix level, Tatiana Miloserdova, was a no-show withdrawing her entry after the CDI Ornago the week before.
The technical Grand Prix Championship was won by Valentina Truppa on the 14-year old Danish warmblood Ranieri (by Romanov x Leandro). The pair withdrew from team contention for Rotterdam due to an injury, but were back for the Nationals a month later. They scored a winning 69.935% in the first round and 69.979% in the second round to finish with gold on 139.914 points. Maroni and her 12-year old PRE bred Embajador SG (by Reclamo VI x Deco) scored silver with 136.118 points after earning 67.565% and 68.553%. Roberta Ciampa and her 16-year old Ukrainian bred Flirt (by Robinzon), previously competed by Ukrainian Maksim Kovshov, finished with the bronze medal on 130.650 points. She scored 64.565% and 66.085%.
In the freestyle Championship Maroni surfaced at the top with Embajador SG grabbing a gold medal on a 71.650% earning freestyle. Valentina Truppa got silver aboard her second ride, the 10-year old Hanoverian Sauvignon (by Scolari x Wolkenstein II), with 71.350%. The bronze went to Ester Soldi on the 11-year old show jumping bred Italian warmblood Annarella di Villagana (by Calido x Ramiro Z) with 67.125%.
Results - 2019 Italian Dressage Championships - San Nicolo
Children - Technical
1.  Riccardo Spagni - Cesan -  70,897 68,333 --- 139,230
2. Anna Tarabella - May -  68,846 69,524 --- 138,370
3. Cecilia Ruffini - Bailando Cobra -  67,308 67,798 --- 135,106
Junior Riders - Technical
1. Beatrice Arturi - Donaudistel - 73,576 - 74,265 --- 147,841
1. Alessia Volpini - Easy Deasy - 70,788 - 71,422 --- 142,210
3. Valentina Merli - Le Bom - 69,636-  69,118 --- 138,754
4. Maria Vittoria Duranti - Bionika di Fonte Abeti 68,000 - 67,549 --- 135,549
5. Caterina Neri  - Stella Pack Roxana - 67,485 - 67,451 --- 134,936
6. Bernadette Rizzuto - Cover Girl - 65,606 - 66,716 --- 132,322
7. Ginevra Bianco - Dali Salvador - 65,636 - 66,176 --- 131,812
8. Andrea Neri - Freestyler - 67,242- 64,167 --- 131,409
9. Sofia Mariani - Dovizioso - 66,576 - 64,461 --- 131,037
10. Carlotta Vismara - Helios - 63,515 - 64,902 --- 128,417
11. Silvia Valentini - Untouchable - 59,848 - 59,608 --- 119,456
Junior Riders - Freestyle
1. Beatrice Arturi - Donaudistel - 75.700%
2. Alessia Volpini - Easy Deasy -  73.625%
3. Ginevra Bianco - Dali Salvador - 71.50%
4. Valentina Merli - Le Bom - 70.550%
5. Bernadette Rizzuto - Cover Girl - 70.075%
6. Carlotta Vismara - Helios - 69.650%
7. Sofia Mariani - Dovizioso - 69,425%
Young Riders - Technical
1. Filippo di Marco - Fidergald -  68,206 - 66,618 --- 134,824
2. Ginevra Copercio - Edipo el Bayo - 66,118 - 67,157 --- 133,275
3. Francesca Cintia - Moyito -   65,706 - 66,961 --- 132,667
Young Riders - Freestyle
1. Ginevra Coperchio - Edipo el Bayo -  71.375
2. Filippo di Marco - Fidergald -  70.925
3. Ludovica Perbellini - Rossariho - 63.225
Under 25 - Technical
1. Francesca Rapazzoli - Rhadamanthus -   68,235 - 68,419 --- 136,654
2. Margherita Josi - Le Contendro - 64,382 - 63,291 --- 127,673
3. Francesco Sangiorgi - Sorrento - 64,059 - 63,504 --- 127,563
Senior Grand Prix - Technical
1. Valentina Truppa - Ranieri -   69,935 - 69,979 --- 139,914
2. Nausicaa Maroni  - Embajador SG - 67,565 - 68,553 --- 136,118
3. Roberto Ciampa - Flirt - 64,565 - 66,085 --- 130,650
4. Leonardo Tiozzo - Karina -   64,370 - 64,851 --- 129,221
5. Monica Iemi - Luminosa - 63,348 - 60,426 --- 123,774
6. Mattia Maruffi - Hyperion - 61,022 - 61,340   --- 122.362
7. Ester Soldi - Annarella di Villagana - 63,739 58,447 --- 122,186
Senior Grand Prix - Freestyle
1. Nausicaa Maroni - Embajador SG -  71.650 
2. Valentina Truppa - Sauvignon -  71.350
3. Ester Soldi - Annarella di Villagana -  67.125
4. Norma Paoli - Dea del Bedesco - 66,825%
5. Angela Ruggiero - Wietse - 57.325
Related Links
Nucci, Merli, Arturi, Remold, Paoli Win 2018 Italian Dressage Championships
Zamperetti, Volpini, Arturi, Alghisi, Remold, Truppa Win 2017 Italian Dressage Championships
Zamperetti, Duranti, Berni, Remold, Campanella, Rustignoli Win 2016 Italian Dressage Championships
Mother and Daughter Campanella Get Silver and Gold at 2016 Italian Dressage Championships
Zennaro, Remold, Menin, Rapazzoli, Rustignoli Win 2015 Italian Dressage Championships
Berni, Remold, Menin, Redaelli, Truppa Win 2014 Italian Dressage Championships
Berni, Mauro, Citelli, Truppa Win 2013 Italian Dressage Championships
Valentina Truppa Sweeps the 2011 Italian Dressage Championships
Pierluigi Sangiorgi Wins 2008 Italian Dressage Championships