2019 French Young Horse Championships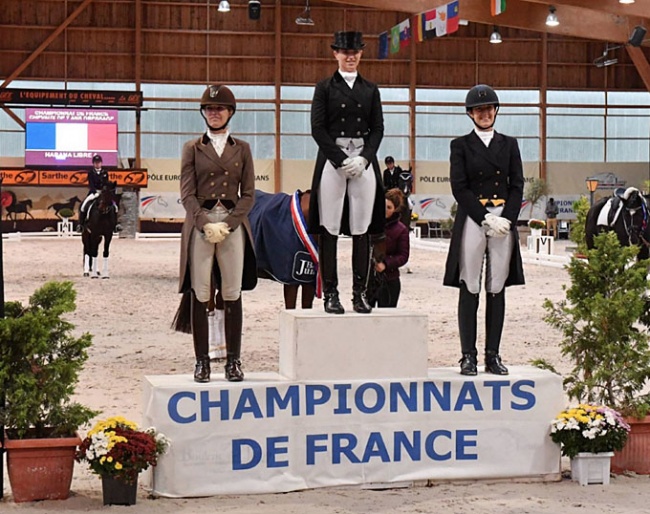 Morgan Barbançon Mestre and Habana Libre A became the winners of the 2019 French Championships for 7-year olds held in Le Mans, France, on 17 - 20 October 2019.
For the fourth year in a row, Le Mans hosted these Championships for Developing Prix St Georges horses during its autumn CDI dressage competition. 
The Geneva based Barbançon and her Dutch warmblood gelding Habana Libre A (by Zizi Top x United) reigned supreme throughout the weekend in the two rounds of the Championship. The pair won the preliminary round with 79.333% and the Finals with 80.691% to finish on a total average of 80.012%. 
"Le Mans was great with Habana," Morgan told Eurodressage. "He is such a great kiddo! He's grown up so much and is an absolute pleasure to ride. The first test I rode very safely and fault free, so we finished second. It was very tight. On the second day he felt very good and wanting to go so I pushed a little bit more because I knew we had to give our all to win the championship. Habana is a real fighter in the ring and loves to show himself which makes it very fun to ride."
The Barbançon family has owned Habana Libre for the past two years. Last year the liver chestnut gelding was competed by her coach at the time, Dutch Diederik van Silfhout, at the 2018 World Championships for Young Dressage Horses in Ermelo, where he finished 14th in the Finals for 5-year olds.  Morgan is now preparing him for the small tour.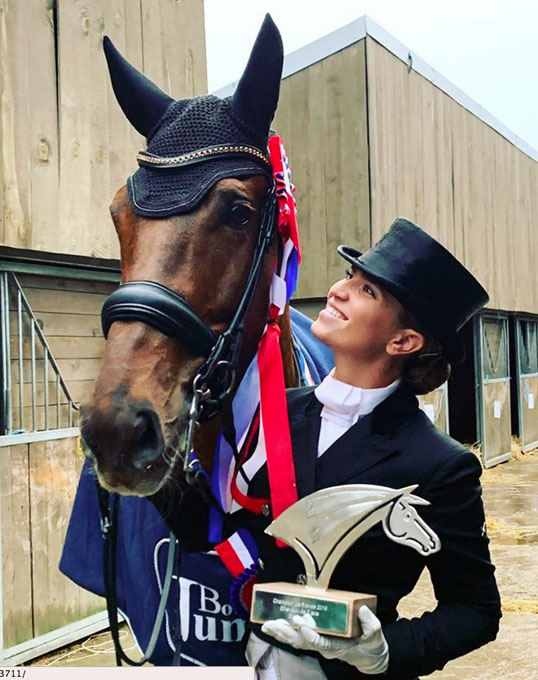 "My plans are to take him in small tour," said Morgan. "I want to take my time with him, I don't want to push him to do anything. He will tell me when he is ready, he has so much talent and I'm really excited about the future with him. He is the best horse I have ever ridden, he has no weak points."
Belgian Larissa Pauluis and her Westfalian stallion First Step Valentin (by Vitalis x Fidermark) became the reserve champions. They were closely on the heels of the winner's duo with each time just a fraction of a percentage behind. Pauluis, who has been systematically competed her young horses in French Championships over the years, scored 79.714% in the preliminary round and 80.153% in the Finals to finish second on 79.934%.
Stephanie Collomb and the Hanoverian bred Stormy River (by San Amour x Weltmeyer) scored the bronze with two consistent rides that placed them third twice. In the preliminary round they posted 76.539% and in the Finals they earned 76.756% to total 76.648% for third place. 
Results - 2019 French Championships for 7-year olds - Le Mans
1. Morgan Barbançon - Habana Libre A (KWPN, by Zizi Top x United) -   79,333 80,691 ---- 80,012
2. Larissa Pauluis - First Step Valentin (WESTF, by Vitalis x Fidermark) - 79,714 80,153 ---- 79,934
3. Stephanie Collomb - Stormy River (HANN, by San Amour x Weltmeyer) -   76,539 76,756 ---- 76,648
4. Mathilde Bayor - Full Monty LH (HANN, by Fidertanz x Donnerhall) -  75,704 75,824 ---- 75,764
5. Alexiia Stullein - Bella Jose L (BAWUE, by Johnson x Belissimo M) - 74,561 76,298 ---- 75,430
6. Sara Magnusson Lostria - Bon Romantic (OLD, by Bordeaux x Don Romantic) -   74,803 75,689 ---- 75,246
7. Magalie Ledouc - Da Vinci (RHLD, by Don Juan de Hus x Don Bedo) -  73,024 74,287 ---- 73,656
8. Alizee Roussel - Bel Amour (OLD, by Bretton Woods x Donnerhall) -   69,964 73,163 ---- 71,564
9. Rebecca Rooke - C'Shanel Florentin (SF, by Sandreo x Ferro) -  70,250 72,114 ---- 71,182
10. Livia Gallego - Calypso de Massa (LUS, by Rieto x Fuzilador Oco) -  66,766 73,466 ---- 70,116
11. Ombeline Grosse - Sir Magnus Mandacou Z (?, by Sir Donnerhall x Wolkentanz II) - 68,783 66,658 ---- 67,721
12. Maeva Morlet - Figaro (HANN, by Floratio x Fabriano) - 67,292 63,682 ---- 65,487
Related Links
Pottier and Gotilas du Feuillard Win 2018 French 7-year old Championship
Vanlandeghem and Sertorius de Rima Win 2017 French Championships for 7-year Olds
Issartel and Evita Win 2016 French Championships for 7-Year Olds