Ekestrian Online Auction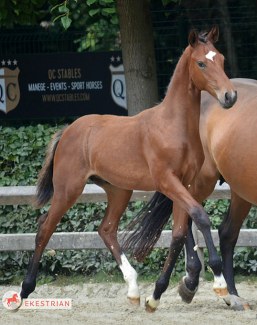 After three years of success in online auctions with jumping horses, the French company Ekestrian offered its first dressage foal, broodmare and embryo auction on 15 - 16 October 2019. 
"The Ekestrian team is very satisfied with this first dressage edition, with almost half of the lots sold to France, Germany and the Netherlands," said Ekestrian's press officer Caroline Dufil. 
With a collection of 19 foals, embryos and brood mares selected under the super vision of French Olympian Jessica Michel-Botton, Ekestrian offered a unique lot of foals hand picked in France, Belgium, The Netherlands, Germany, and Great Britain. 
Ekestrian works with a format where sellers can set a reserve price, as well as an after-care system where it will mediate in the sale of the lots after the auction in case the reserve hasn't been met. 
A striking Oldenburg bred colt by Vitalis out of Wugranta (by Carabas x Vincent), owned by a Belgian breeder,  was the top seller of the lot, selling for 15,000 euro in the online auction. The same breeder also had the second most expensive foal of the auction, a talented bay filly by Secret, also out of Wugranta (by Carabas), which achieved a price of 13,000 euro, but both foals were not sold as the owner has set a higher reserve price. 
However, bidders from across Europe were successful in buying top bred dressage foals in the Ekestrian collection. 
The Scottish bred filly by Fidertanz out of Jazz fetched 8,500 euro and will move to a professional French stud farm.
A strapping Danish bred colt by Don Nobless out of Blue Hors Doolittle from the Danish Lipas stud was purchased by a French buyer for 8,000 euro. 
A filly by Painted Black x Okeanos sold to German buyers. 
The auction included broodmares and embryos. A broodmare by Spielberg x Amati and in foal to Ferdeaux will leave Belgium for France for a new breeding career!
 The best selling embryo was one by Zonik out of the full sister of international Grand Prix stallion Johnson (by Jazz). Dutch buyers secured this embryo. 
"Ekestrian is very grateful to the breeders and buyers for their trust in this first edition and is looking forward to the next auction before the end of the year," Dufil added. 
Related Links
2019 Ekestrian Elite Dressage Auction Starts Tomorrow: Check Out the Unique Collection
Collection Posted for 2019 Ekestrian Elite Online Dressage Auction - Foals, Embryos and Broodmares Just a Click Away!
Ekestrian Elite Online Auction 15-16 October 2019: Exceptional Foals, Broodmares & Embryos a click away!