2019 Italian Young Horse Championships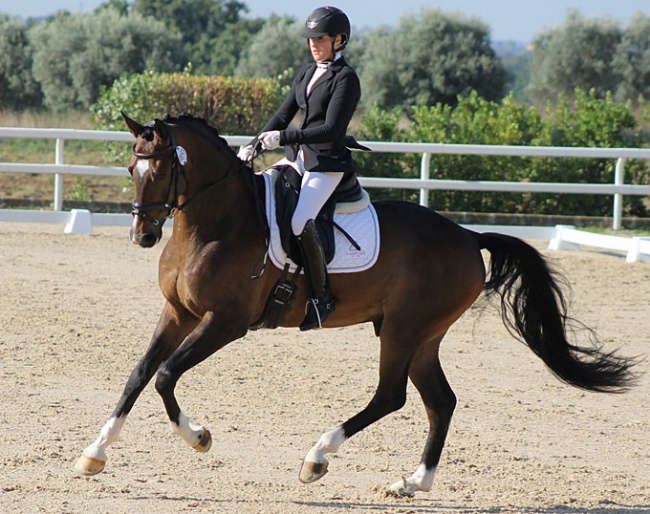 Italian dressage breeding farm Fonte Abeti celebrated much success with their 4-year old Estroso, 5-year old Dorado and 7-year old Smile di Fonte Abeti, alongside the 6-year old Feliana, taking the national titles at the 2019 Italian Young Horse Championships in San Nicola near Rome on 26 - 28 September 2019. 
The Italian Young Horse Championships took place at the same time and venue as the 2019 Italian Dressage Championships. With Italian dressage horse breeding being in its infancy and only a handful of breeders dedicating themselves to dressage over the more lucrative show jumping breeding in Italy, it is little surprise that the professional breeding yard Fonte Abeti took top honour at the event. 
Spanish young rider Alba Abolla Fontela dominated the 4-year old division on her employer Fonte Abeti's Italian bred Rhinelander Estroso (by Everdale x Don Primus). The pair won both rounds with 87.800 and 89.200 points and reigned supreme on 177 points. The silver medal went to young rider Lucia Berni on Massimo Silingardi's Hanoverian bred Evelyn di Fonte Abeti (by Furstenball x Sir Donnerhall) after placing second twice on 83.60 and 85.60 points to finish second on 169.20 points. Spanish Victor Alfonso Pomares, who just like Abollo Fonetal moved from Spain to Sansepolcro Italia to work at Fonte Abeti, scored bronze aboard the Rhinelander bred Elektra di Fonte Abeti (by Franklin x De Niri). Owned by Luisz Antonelli, the horse scored 80.00 and 80.60 to finish third overall with 160.600 points. 
Seven combinations competed in the 5-year old division which was won by Abollo Fontela on Luisa Antonelli's Hanoverian bred Dorado di Fonte Abeti (by Negro x De Niro). They were unbeatable in both rounds, scoring 83.60 and 85.40 points to finish first on 169 points. Laura Pedrina and the Italian warmblood bred Crisanna (by Cristo x Calido) scored silver with 81.40 and 81.60 points (total of 163 points), while Valentina Truppa and her own Dorotea di Fonte Abeti (by Wynton x De Niro) ended up with bronze on 157.40 points, after placing third twice with 78.40 and 79.00 points.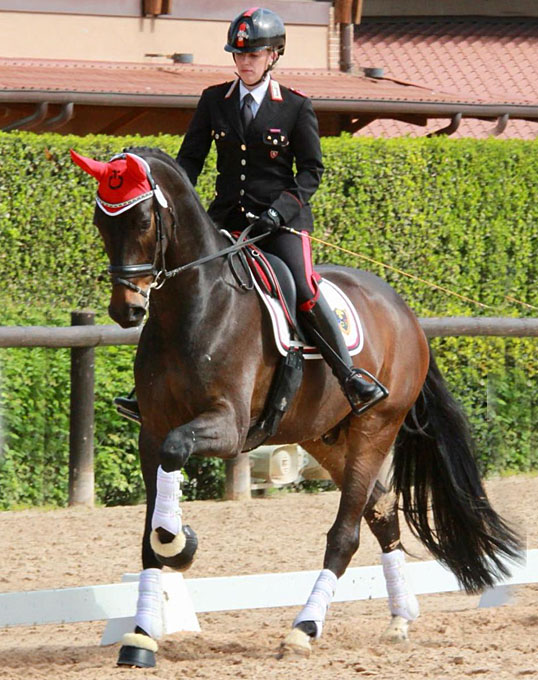 Six pairs appeared at the starting line in the 6-year old division and this time it was not Fonte Abeti dictating the podium placed. Former Italian youth team rider Alice Redaelli and her own Westfalian bred Feliana (by Franziskus x Belissimo M) worked their way up to the highest step on the podium. They placed second in the warm-up round with 77.60 points but convincingly won the final round with 88.000 to place first overall with 165.600 points. Alba Abollo Fontela collected yet another medal, this time silver, aboard Claudia di Fonte Abeti (by Apache x Donnerhall) after posting 69.60 and 82.60 points (total 162.20 points). Giulia Eva di Mauro and Babrara Kronn's Hanoverian bred San Antonio ARS (by San Amour x Rosenrot) fetched bronze with 72.00 and 79.00 points (total 151 pts).
Five pair were to be found in the final ranking of the 7-year old division. 2019 Italian Grand Prix Champion Valentina Truppa won the gold aboard her own Smile di Fonte Abeti (by Sandro Hit x Donnerhall) after earning 76.875% and 77.600%. Following in a distance was Victor Alfonso Pomares on the Hanoverian registered Bartabas di Fonte Abeti (by Romanov x De Niro) with 74.30% and 76.271%. Nelson Ramos Aleluia and Valentina Truppa's Hanoverian bred Dolcetto (by Diamond Hit x Calypso II) landed the bronze medal on 69.407% and 71.900% 
Related Links
Related Links