Hanoverian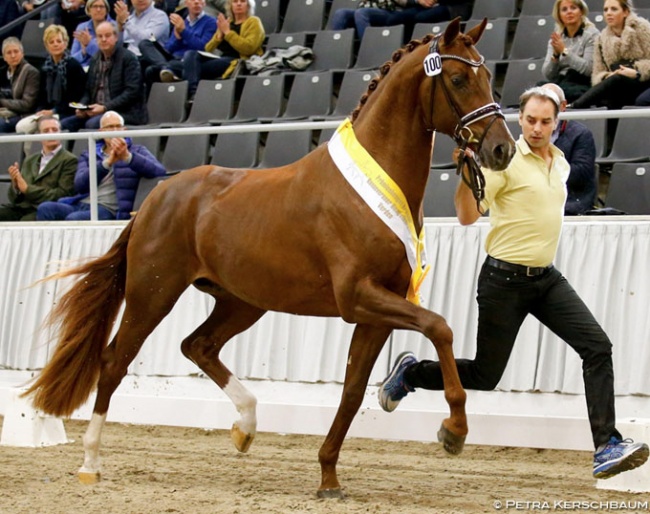 Von und Zu (by Vitalis x Floriscount) became the crowd favourite of the 2019 Hanoverian Stallion Licensing in Verden, Germany, on 24 - 26 October 2019, but it was the premium licensed Confess Color that caused a sensation by selling for the second highest record price of 1,890,000 euro. 
And no, the horse did not sell to Andreas Helgstrand!
Berlin entrepreneur Rebecca Gutmann of Gestut Bonhomme in Werder (GER) delved very deep into her pockets to secure the 2.5 year old colt for her stud farm, which also stands sire Cadeau Noir.
The business woman-with-balls beat Helgstrand and Paul Schockemöhle in a very confusing bidding duel between herself and Paul Schockemöhle live in Verden and Helgstrand on the phone. The auctioneer knocked down the hammer at 1.79 M, although Schockemöhle had the 1.8M bid, which led to confusion. Then the bidding was re-opened and Gutmann went higher to 1.89M and had the final bid again. According to Dutch equestrian site Horses.nl, the "Shockstrand" delegation that was present in Verden left the auction hall demonstratively after losing the bidding duel and there were no more phone bids from Vodskov (DEN). 
Helgstrand set the auction record at 2,010,000 euro when he bought Vivino at the 2018 Hanoverian licensing last year. The previous licensing auction record was 1.2 million euro which Helgstrand paid for Revolution three years ago. The most expensive horse ever sold at a warmblood auction, whoever,  is still set by SPH Dante, which sold to Russia at the 2014 PSI Auction for 2.8 million euro.
The 2019 Hanoverian Stallion Licensing produced 41 licensed dressage colts and 21 show jumping colts. Ten dressage colts received the premium label after three days of assessment. 
The Hanoverian society does not proclaim a champion stallion, but the favourite of the crowds was Von und Zo (by Vitalis x Floriscount), bred by Christa and Ludwig Welling. The short-backed liver chestnut was praised for his spectacular gaits. He is co-owned by  Thomas Berger and Celle state stud.
The premium stallions are:
Cat.nr. 44 by Benicio x Lauries Crusador xx - bred by Thomas Wendelken - 34,000 euro
Cat.nr. 48 by Bon Coeur x Licosto - bred by Julia and Tim Karrasch - 50,000 euro
Confess Color (by Cadeau Noir x Licosto) - bred by Walter Wöhlke  - owner: Hans-Henning von der Decken - 1,890,000 euro
Cat.nr. 73 by For Romance II x Davignon - bred by Wilfried Grabow - 240,000 euro
Cat.nr. 82 by Fürstenball x Weltmeyer - bred by Elke and Claudia Tegtmeyer - 160,000 euro
Cat.nr. 84 by Londontime x De Niro - bred by Thorsten Hogrefe - 55,000 euro
Cat.nr. 92 by. Quantensprung x Sandro Hit - bred by Elke and Klaus Hermann - owned by Eugene Reesink - 44,000 euro
Cat.nr. 94 by Schwarzgold x Don Frederico - bred by Carla Beckmann-Ihnen - 160,000 euro
Victoria (by Vitalis x Bon Bravour) - bred by Katrin Lüder-Kratzberg - 720,000 euro
Von und Zo (by Vitalis x Floriscount) - bred by Christa and Ludwig Welling - co-owned by Celle state stud - not for sale
The KWPN stallion Vitalis had 6 sons selected for the licensing and five were licensed, although the 6th one was good enough as well but had a problem with the testicles. This colt was also the youngest of the lot, just 27 months old as he was born on 13 July 2017 !! In the future German law will prohibit the training and preparation of young animals before they are 30 months old. The 2017 colts are Vitalis' first crop since he sold to Lone Boehg Henriksen and Paul Schockemohle and relocated from the U.S.A. to Germany.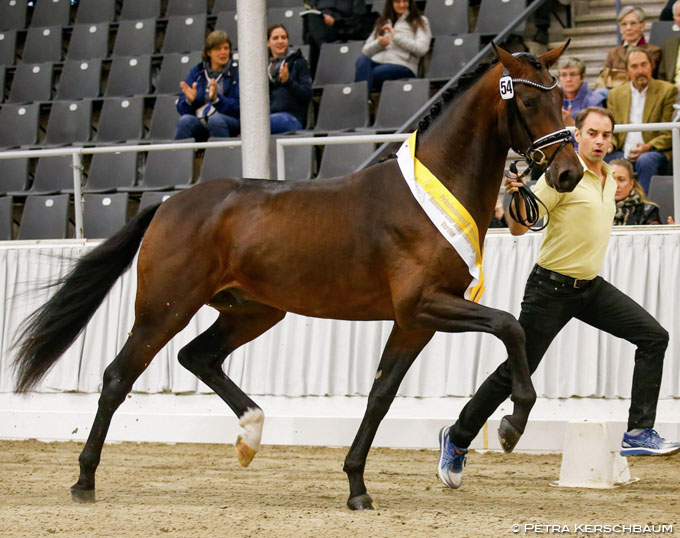 At the auction following the licensing the strong moving Cadeau Noir x Licosto x Damsey sold for the auction record price of 1,890,000 euro to Gestut Bonhomme. The Hanoverian board of directors had an annus horribilis with the turmoil following the firing of ceo Werner Schade, but the chair of the board, hans-Henning von der Decken grinned from ear to ear at the licensing as he was the owner of the Cadeau Noir. 
The second most expensive horse was Victorio (by Vitalis out of the Hanoverian Mare Champion  Black Baccara (by Bon Bravour)), which fetched 720,000 euro for his breeder/owner. He sold to Austrian Gaston Glock as a future ride for Edward Gal or Hans Peter Minderhoud.
The For Romance II x Davignon premium stallion sold to Celle for 240,000 euro, while the Schwarzgold x Don Frederico found a new home in Holland with Theo Driessen for 160,000 euro. The Furstenball x Weltmeyer sold for 160,000 euro.  The premium stallion by Londontime x De Niro moves to Norway for 55,000 euro.
Photos © Petra Kerschbaum
Related Links
Vivino Sets New Auction Record at 2018 Hanoverian Stallion Licensing
Reflections on the 2018 Hanoverian Stallion Licensing
Christmas Came Early at the 2017 Hanoverian Stallion Licensing, So Unique Top Seller
Quantensprung Stamps the 2016 Hanoverian Stallion Licensing
Rocky Lee Son Claims the Spotlight at 2015 Hanoverian Stallion Licensing
D'Avie Dominates Premium Ring and Auction at 2014 Hanoverian Stallion Licensing
Strong Crop and Big Prices at 2013 Hanoverian Stallion Licensing
Form or Function at the 2012 Hanoverian Stallion Licensing
Dancier x Rotspon Stands Out at 2011 Hanoverian Stallion Licensing
Ten Premium Dressage Stallions at 2010 Hanoverian Stallion Licensing
No Top Collection at 2009 Hanoverian Stallion Licensing but Super Price Highlights
Belissimo M x Weltmeyer Colt Impresses at 2008 Hanoverian Stallion Licensing
Hanoverian Verband Abolishes "Licensing Champion" Title
Soliman de Hus, 2007 Hanoverian Licensing Champion
Lauries Crusador xx x Raphael Son, 2006 Hanoverian Licensing Champion
Hotline, 2005 Hanoverian Stallion Licensing Champion 
Dancier, 2004 Hanoverian Licensing Champion
Liberty Gold, 2003 Hanoverian Licensing Champion
His Highness, 2002 Hanoverian Licensing Champion, Sold to the United States
Nobleman, Champion of the 2001 Hanoverian Stallion Licensing
Don Crusador, Champion of the 2000 Hanoverian Stallion Licensing