Oldenburg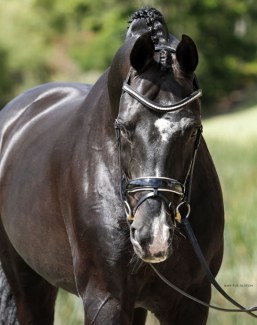 Globally heralded dressage super-sire 'Stedinger (imp)' is now standing at stud at Springside Warmbloods in Victoria's Yarra Valley.
After victories in many dressage tests at medium (M) level, he was trained by Dieter Weichert for the next level in dressage. In spite of a heavy breeding load, Stedinger did an outstanding job at his 70-days test in Neustadt/Dosse. He finished the performance test with a total index of 131 (dressage 130.72 / jumping 121.92). In 2005 he was qualified for the "Bundeschampionat" of dressage horses in Warendorf.
Stedinger Moves to Australia
Imported from Hof Sosath in 2013 by Dr Amanda Shoobridge of Revelwood Stud, Stedinger was campaigned by Grand Prix rider Gina Montgomery, achieving immediate success, within 3 months becoming Small Tour Champions at the 2014 Brisbane CDI and NSW Small Tour Champions, Victorian Reserve Champions and taking out the Small Tour Award at the Nationals.
2015 saw them step up to Medium Tour placing at Orange and Sydney CDI's and becoming Medium Tour Champions at the Canberra Classic. Unfortunately, the recurrence of an old injury prevented them continuing onto Grand Prix but Stedinger had shown in training that he had the mental capability to go all the way to the top of the sport. It was his undeniable ride- ability and willingness to please his rider that allowed for such success with Gina onboard.
"Stedinger is the most generous horse I have ever ridden. Of course, by the time we met he had benefitted greatly from his upbringing in one of the best German barns, Hof Sosath, his manners were impeccable, and he was a delight in every way but I think this is the case because it is in his nature to be so."
"From the first time I sat on him he was so in tune with me and never once refused to try anything I asked. Even being the prolific breeder, he was never affected his daily training or competition – he simply knew he was a riding horse at that time and he got on with the task. You only get that from a truly willing horse, one whose temperament is without question," said Montgomery.
New Home at Springside Warmbloods in the Yarra Valley
His new home is a boutique operation in the Yarra Valley – a small scale, premium, dressage focussed stud founded by acclaimed equine architect Daniel Ash.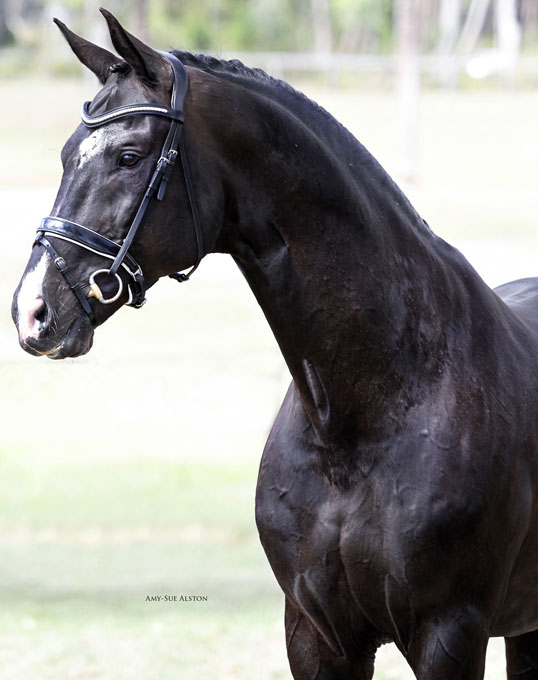 Ash has curated an elite band of broodmares including the former Revelwood-owned Samsara Hit (Imp) (Sandro Hit X Godehard) and her 2018 Rosengold (imp) foal Revelwood Rosenhit, the imported State Premium mare Finesse (Argentinus X Sandro Hit), the imported St. Pr. A. S1 Estrada (Zack X DeNiro), Bloomfield Verily (Versace X Archimedes), and Hollingrove Quartza (Quarterback X Don Ramiro).
In the first year of breeding, Springside's three foals all achieved top honours, with Springside Fiasco sashed the ACE Victorian Champion and Australian Reserve Champion for 2019 and Springside Zumthor awarded Premium status at the 2019 ACE presentations.
2019 has some exciting foals due, with the mares in foal to stallions including
"We are excited to contribute to the Australian Dressage industry in a small way by attempting to produce progeny that will stand up to international competition"
"We have selected to work with some very special mares, and scale with ET, instead of purchasing sub-standard mares in the hope that we can produce modern horses with great confirmation and temperament, great movement and true trainability."
"Stedinger is a great asset to us, he is consistently producing horses that are performing and succeeding overseas and in Australia, he is a delight to have around, and we can't wait to see what he produces with us," said Ash.
Book Your Breedings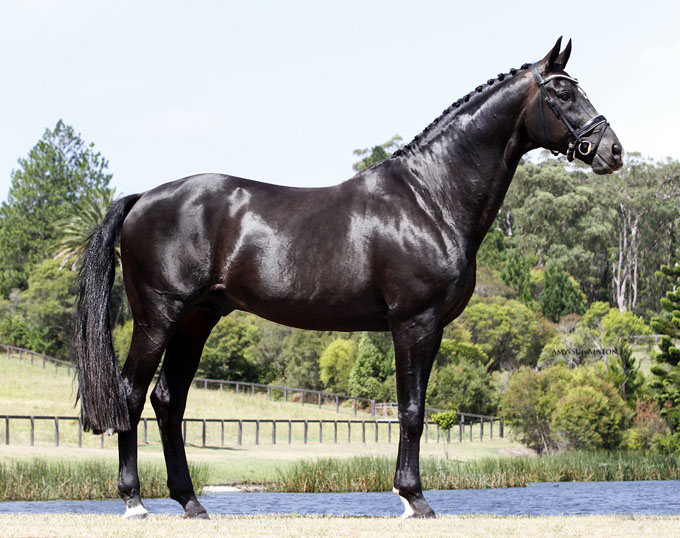 Ash has limited services to just 70 doses of Fresh and Chilled Semen for Stedinger (imp), with an additional 35 Frozen straws available for the 2019-2020 season in order to ensure the longevity and health of the stallion.
If you are interested in breeding to this beautiful stallion ranked 10th on the WBFSH list of dressage sires for 2018 (8th in 2017), he is the sire of countless Licensed Stallions & State Premium Mares, top auction horses, champion foals, & International Grand Prix horses around the world, please visit the website at springsidewarmbloods.com or see @springsidewarmbloods on Facebook or Instagram.
Sign up to the e-newsletter for all the information on how to register your expressions of interest.
Related Links
Sosath's Hit "Stedinger" Champion of the 2002 Oldenburg Stallion Licensing
Stedinger to Stand at Stud in Sweden for One Season
Stedinger to Move to Australia