India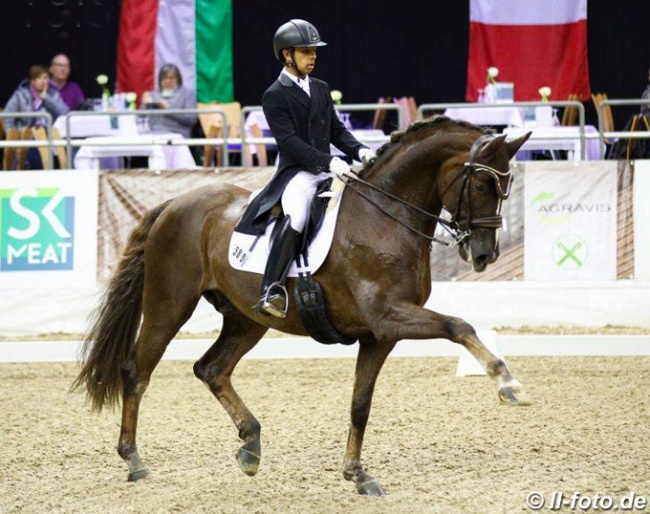 Indian Grand Prix rider Anush Agarwalla has secured the Oldenburg gelding Sir Caremello as his second iron in the fire in his quest to qualify for the 2020 Olympic Games in Tokyo, Japan. 
The 29-year old Anush has been on a mission to become India's first dressage rider to compete at the Olympics. Currently there are three Indians competing in Europe at Grand Prix level: Shruti Vora, Jitendarjit Singh Ahlwalia and Anush Agarwalla. 
International Show Debut
Agarwalla made his international show debut at the 2018 CDI Hagen just a year and a half ago with the 12-year old Hanoverian Loro Piano (by Lord Loxley x Rohdiamant), which Amit and Gautam Agarwalla acquired at Hof Kasselmann. 
Trained by Hubertus Schmidt, Anush made his international Grand Prix debut exactly one year later at the 2019 CDI Hagen aboard the 13-year old Westfalian gelding Flovinos Feiner Kerl (by Flovino x Weinberg), which was previously owned by Marcus Pott.
For a rider who was only riding at A-level three years ago, Anush has produced more than respectables scores in the mid sixties at CDI's in Exloo, Verden and Waregem the past few months. 
From New Delhi to Borchen, Germany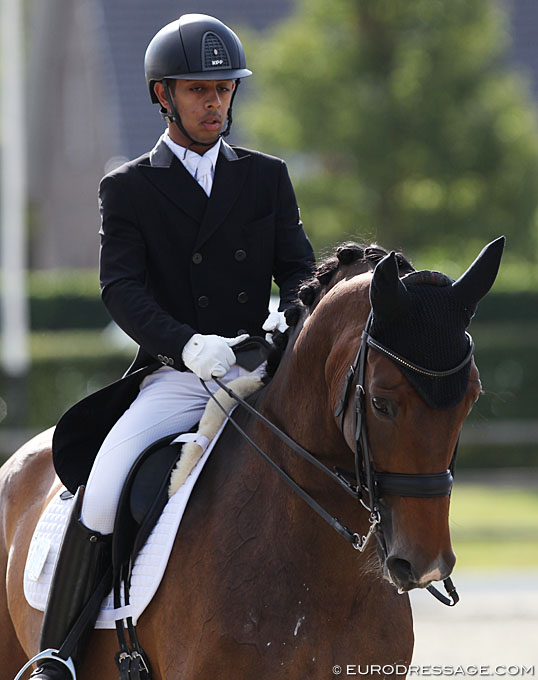 In 2015 Anush competed in the International Dressage Development League (IDDL) at junior level. Initially from Kolkata, Anush has been trained in New Delhi at the OREA stables with coach Kapil Modi. It whetted his appetite and the Indian decided to go to Germany if he wanted to make a serious move in the sport. 
Anush arrived in Germany in May 2017 and has been training with Hubertus schmidt ever since.
"Normally I go back and forth, but this year I wasn't at home the whole year because of training and the trials," Agarwalla told Eurodressage. 
Sir Caramello
Anush has added Sir Caramello (by Sir Donnerhall x Feiner Stern) to his string of horses. The horse sold in September.
"We were looking for a horse for really long and found him quite late relatively to the Tokyo qualification time period," said Anush. "Last year in October I bought Flovinos Feiner Kerl and rode at a few national Inter II's with him before we rode out first Grand Prix in Hagen. Then we started looking for a new horse and we found Caramello."
Sir Caramello was first competed in Germany as 3-year old by Oliver Luze. They were 14th at the Bundeschampionate. In 2011 the stallion went into ownership of Hof Kasselmann and qualified for the Bundeschampionate under Eva Möller.  They finished third in the qualifier with 8.50 points, but couldn't ride the finals because she had fallen off a pony and injured her leg.
Sir Caramello then sold for 500,000 euro at the 2011 PSI Auction to Andreas Helgstrand, who qualified him for the 2012 Danish Young Horse Championships, but got eliminated for blood on the spur.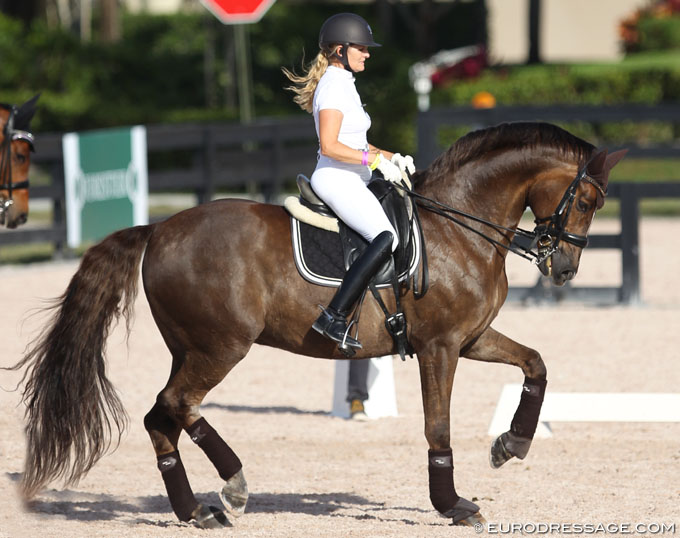 Sir Caramello sold to Russian Oleg Efremov and was briefly competed in 2012 by Sergey Puzko. The horse then disappeared from the scene for several years to resurface in the U.S.A., owned by American amateur Grand Prix rider P.J. Rizvi, who trains with Canadian-American Olympian Ashley Holzer. The chestnut was gelded. 
Holzer competed the horse for 1.5 years - between April 2017 and July 2018 - at CDi's in Tryon, Wellington, and Hickstead. He was then sent to a sales barn in Germany to be sold. 
The new partnership between Anush and Sir Caramello is still developing. The pair made its CDI debut in Oldenburg last weekend, but they took a hesitant start as the horse was highly impressed by the electric atmosphere of the tiny indoor arena in Oldenburg. 
"It was not really our day," said Anush frankly. "It was our first ever test together only after around 10 weeks of riding him and we had many big mistakes."
Nonetheless Anush now has two horses in the running for Tokyo and with still some qualification time ahead of him.
Photos © LL-foto - Astrid Appels
Related Links
Holzer and Sir Caramello Score First CDI Win at 2018 Palm Beach Derby
Ashley Holzer Back at Grand Prix with New Ride, Sir Caramello
Wilson Pickett Sold to P.J. Rizvi
Scores: 2012 Danish Young Horse Championships
Der Designer Breaks One Million Euro Barrier at 2011 PSI Auction
Oldenburger Riding Horses Selected for 2011 Bundeschampionate