2019 CDI Oldenburg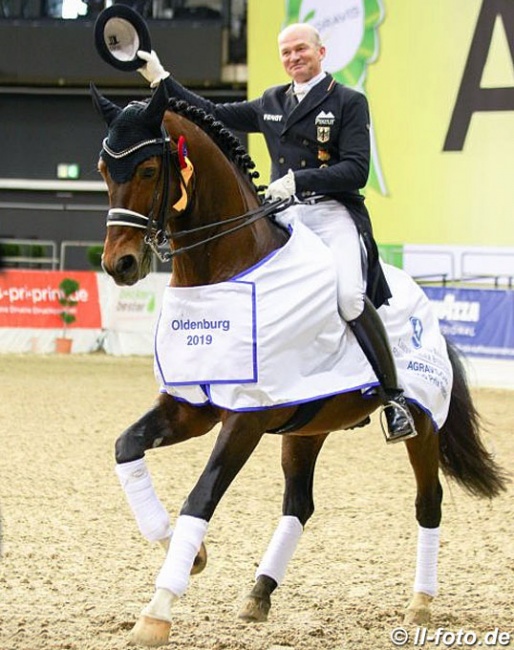 Hubertus Schmidt and Escolar wielded the axe of power at the international indoor competition in Oldenburg, Germany, on 1 - 3 November 2019.
The Paderborn based Hubertus Schmidt and Equus Invest's 10-year old Westfalian licensed stallion Escolar (by Estobar x Furst Piccolo) were unbeatable and stayed far ahead of all the competition. They won the Grand Prix in a field of 22 international riders with 74.935% while the second placed pair, British Lara Butler on Kristjan, was second with 72.457%. Matthias Bouten and Toni and Marina Meggle's Boston were third with 72.326%. 
In the Special, Schmidt and Escolar upped the ante and topped the board with 75.511%, well ahead of Anabel Balkenhol on her father Klaus' Hanoverian mare Davinia la Douce (by Don Frederico x A Jungle Prince), who finished second with 71.596%.
"Escolar was truly switched on. It was fun," said Schmidt after his double victory. "He has become so lightfooted and gained so much strength. It is easier now for me to have to push the brake a little instead of carrying him through the test."
British Olympian Laura Tomlinson  made her CDI debut aboard the recently acquired 9-year old Bavarian mare Rose of Bavaria (by Bordeaux x Florestan) and finished fifth in the Grand Prix (70.891%) and third in the Special (71.404%). 
"She is sometimes a bit too eager and still lacks a bit of strength. It was her first international Grand Prix here," said Tomlinson. "We did only one show in the U.K. before this competition and then came here." Laura also coached her assistant trainer, Lara Butler (née Griffith), on her parents' 14-year old Oldenburg Kirstjan (by Polarion x Napolein Quatre). "My mom grew an inch when Lara and Kirstjan became second," Laura smiled as Kristjan has been home bred in the U.K. by her parents Ursula and Wilfried Bechtolsheimer.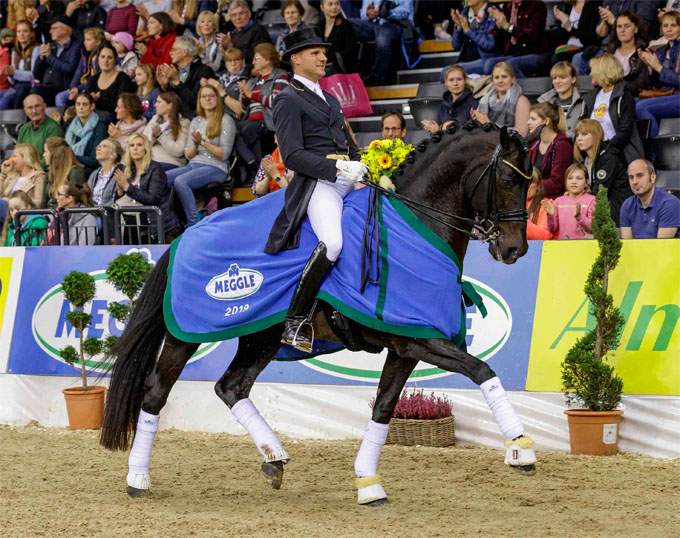 Matthias Bouten and the 13-year old KWPN stallion Boston (by Johnson x Partout) aced the kur to music with 77.840% and left the Hagen based Christoph Koschel in his wake. Koschel and  the 11-year old Hanoverian gelding Ballentines (by Belissimo M x Weltmeyer) were seventh in the Grand Prix (69.870%) and moved into second place in the freestyle with 75.610%. Lara Butler and Kristjan were third with 74.315%. 
"He became more athletic, more mature technically, simply better," said Bouten after his freestyle win. Coached by Wolfram Wittig and employed at the Meggle's Georgihof for the past year and a half, Bouten confessed that his trainer is "never content" but he appreciates the coach's commitment to improve.
Christoph Koschel was pleased with his freestyle round, of which the music is the same as for his 2010 WEG team horse Donnperignon. "We still have to channel the energy in the right way," said Christoph about Ballentines. 
Butler was thrilled with Kristjan's kur. "He surprises us time and time again. He really gives us that "wow effect," Butler smiled. 
Photos © LL-foto
Related Links
Scores: 2019 CDI Oldenburg
Photo Report: Imperio, Abegglen, San Royal Win 2018 CDI Oldenburg
Von Bredow-Werndl and Carrascosa Collect the Trophies at 2017 CDI Oldenburg
Photo Report: Merkulova and Tomlinson Sweep 2016 CDI Oldenburg
Photo Report: Buchwald and Bouten Take the Blue at 2015 CDI Oldenburg
Danielle Heijkoop Returns to Sweep 2013 CDI Oldenburg
Photo Report: Grand Prix Day at the 2012 CDI Oldenburg