WBFSH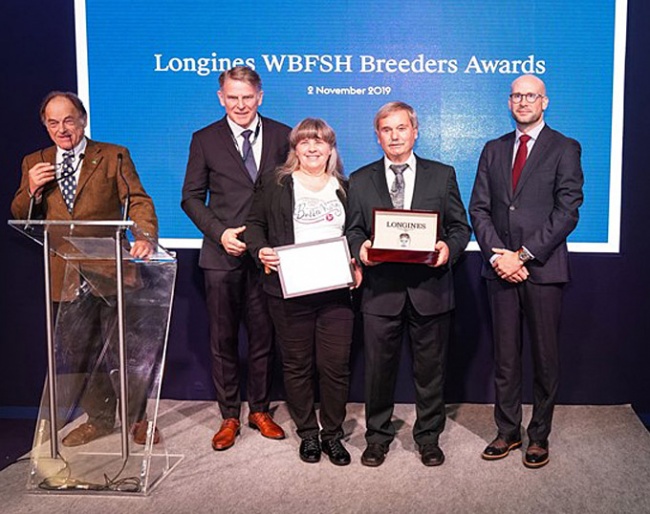 On Saturday 2 November 2019 the World Breeding Federation for Sport Horses celebrated the 2019 WBFSH Breeders Award for the FEI ranking winners during the 2019 CDI-W Lyon in France. 
The world's leading breeders were invited to come to Equita Lyon on Saturday to be honored for their extraordinary breeding products. The winners of the WBFSH  Breeder Rankings in dressage, show jumping, and eventing received their WBFSH certificates and an exquisite Longines watch presented by Matthieu Baumgartner (Longines) and Jan Pedersen (president of the WBFSH).
Germans Heinrich, Wilhelm and Heike Strunk were recognized for having bred Bella Rosa (by Belissimo M  x Cacir AA), who won the 2019 WBFSH Dressage Ranking with 2904 points. 
Love At First Sight with Belissimo M
Heinrich, Wilhelm and Heike Strunk are based in Westfalia, Germany.  The founding mare of the Strunk brothers' successful line is Pik Dame (Pilatus - Astrid x Allerhand), and Wilhelm and his wife, Heike, will be delighted to receive the breeding award in Lyon for Bella Rose. Certainly, the mare is one of a kind, but also only one of an amazing group of successful horses bred by the Strunk brothers. 
Heike Strunk remembers the choice of stallion Bellissimo NRW (Beltain x Romadour II) very well.
"The moment I saw him as a young stallion at an auction, it was love at first sight. An amazing stallion who combines all the desired qualities you can think of, so we paired our best mares with him. And believe it or not, in the year Belissimo's offspring became three, we celebrated two of his approved sons: Bravissimo (out of Lady Sinclair x Lord Sinclair I x Davignon I), and Belamour (out of La Rose x Lord Sinclair I x Pit I), alongside Bella Rose – a great-granddaughter of Frühlingsball. She became a state premium mare – you hardly dare to dream about success like this. Because of our ages, we slew down our breeding activities, in 2011. However, it's strange to say our successes are difficult to count. It's too much."
Heike Strunk explained that she has been occupied with breeding for over 30 years, while her husband and brother-in-law, Heinrich, have been breeding for 51 years already. "And, still, watching the horses yourself and estimating their quality is the most important part of the process," she said by telephone during the Hanoverian stallion show.
Systematic performance breeding 
Looking at the pedigree of Bella Rose, her look behind the pedigree of Bella Rose, her sire is the result of systematic performance breeding. His sire, Beltain (Bolero) comes from one of the most successful mare families in Hannover. Beltain's mother, meanwhile, is a full sister to the Celle State Stud sires Garibaldi I and II (1971. 1974: Grande - Marbel x Marcio xx), and is the grandmother of Wolkenstein I, II, and III (1989, 1990, 1995: Weltmeyer - Wolke x Wendekreis), as well as Grand Prix dressage horse Little Big Man (Lauries Crusador xx). The Celle State Stud sires Brentano I and II (1980, 1983: Bolero - Glocke x Grande) also belong to this highly successful mare line. 
Damsire Romadour II (1969: Romulus I - Gunda x   Grünfink) brought the unforgettable Rembrandt under the saddle of Nicole Uphoff (the most successful dressage horse of his time), but also grounded the 'R' line with Rosenkavalier and Rubinstein – one of the most valuable bloodlines in global dressage horse breeding. 
No Flash in the Pan 
Heike Strunk counts no fewer than 16 approved stallions born at their place in Bochum, Germany, all grounded on Pik Dame, bought by the Strunk brothers in the early 1970s from Heinrich Schulte from Dortmund. In 1974 Pik Dame became a state premium mare, and from 'States premium mare". She produced the Frühlingsball son Feiner Kerl, who became an international top-class showjumper with both Austrian Thomas Frühmann and Britain's Nick Skelton.
Nowadays Heike Strunk is unable to count all the state premium mares and international show jumpers that came from their breeding. They are, of course, delighted with the skill and patience of Isabell Werth who is showing the qualities of Bella Rose like no other. 
Related Links
Three Feat for Isabell Werth with Kur Gold at 2019 European Dressage Championships
Werth Proves Battle Leadership and Wins Grand Prix Special Gold at 2019 European Dressage Championships
Gold for Germany in Dramatic Denouement of Team Competition at 2019 European Dressage Championships
Werth and Bella Rose Win 2019 CDIO Aachen Grand Prix, Showtime Steals the Show
Werth and Bella Rose Shine in 2019 CDI Fritzens Grand Prix for Special