F.O.C.U.S.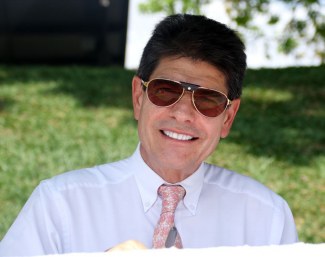 Colombian Cesar Torrente is making his name heard of as a dressage judge and member of the FEI Tribunal, gaining international recognition with his dedication to the sport, hard work, and clever personality. He has put his career as a lawyer in Bogota on the back burner in order to dedicate himself fully to dressage. 
Aboard Royal Copenhagen, Torrente competed at the 2010 South American Games in Medellin and 2010 Central American and Caribbean Games in Mayagez, an experience that whetted his appetite for the sport even more. 
In 2011 he became a 2* FEI judge and has been consistently educating himself and putting in the work, which has boosted him to 3* status in 2013 and 4* status in 2017. He also holds 4* status as an FEI Young Horse judge and recently got appointed him on the ground jury for the 2020 World Championships for young dressage horses in Verden, Germany. 
"Everybody in the sport knows that together with the Olympics and World Equestrian Games, these World Championships are the top of our sport, because the best dressage young horses from around the world will get together to be judged by top judges from around the world," Cesar confirmed. "Being appointed to judge there by the International Equestrian Federation (FEI) is a great international recognition from the sport's top Body and by the sport in general. This is a great honor and the peak of any judge´s career."
Effort, Study and Sacrifices 
The 59-year old Cesar has been flying across the globe to get training and experience as a dressage judge. 
"Many people do not realize all the effort, study and sacrifices you have to do to become a FEI judge, especially when you come from a distant country in South America," Cesar explained. "Most of the courses, seminars and testings are in Europe and North America. Therefore, from the beginning I realized that I had to invest a lot of time and actually sacrifice a lot of time from my profession as a lawyer and of my personal life, in order to be able to stay active in my learning process and attend shows and judging."
His hard work has paid off as he has been invited to officiate at some of the most prestigious shows in North America, Europe, Australia and New Zealand.
"I am very grateful to all the organizers that believed in me at the beginning," said Cesar. "To be honest, I understand that it is not easy for an organizer to pay an expensive ticket to bring a judge from so far away. Without knowing how he would judge."
There is no rest for the weary and and being a good judge is a incessant learning process. 
"Continuing education is very important like in any other career and the FEI Educational System is very good on this regard. However, I have decided to mix it with the USEF Dressage Seminar that are also of the highest level and this keeps me as sharp as possible," said Cesar
From Wellington to Hagen
Cesar has been spending more time in the U.S.A. and particularly in Florida, the hub of North American dressage sport.
"My favorite shows is the Global Dressage Festival in Wellington that I have judge consistently for the past years. It's a wonderful show and atmosphere that attracts riders from all over around the world," said Cesar. "The full season is a great opportunity for learning, practicing and networking. It has become so important that I even bought a property there and my plan is to spend all winter seasons in Wellington, because obviously from there I can do a lot of national and international shows in North America. Other important shows in North America that I really enjoyed are in California, Texas, Bromont. Calgary, Saugerties and of course Devon, just to mention some."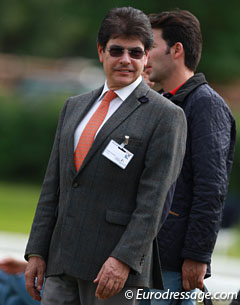 Upcoming judges need to be given an opportunity to judge and get experience and their fate often lies in the hand of show organizers willing to invite them to their international competitions. Ullrich Kasselmann, the organizer of the CDI Hagen "Horses & Dreams" and CDIO-PJYR Hagen "Future Champions", was one of the first to give Cesar the platform to officiate as a judge. 
"I have been really blessed to judge the Kasselman shows. Both are just amazing not only due to the quality of horses and riding but due to the fact that you can see how the stars of the future are training and the quality that they are already showing," said Cesar. "I also loved Cappeln, Athens and of course Portugal where I was really impressed with the quality of what I would call "the new Lusitanos" and the quality of new and very correct training that I have seen there."
Icing on the Cake: Member of the FEI Tribunal
Torrente's career as an FEI judge has taken flight.  As an added bonus in 2017 the Colombian lawyer with a Masters Degree from University of Texas and many years of international practice was elected member of the FEI Tribunal
"In order to become a member of the FEI Tribunal, you must be a lawyer from your jurisdiction, you must have international law studies, demonstrate expertise in international practice and obviously knowledge of equestrian sports. Such a combination is not easy to find," said Cesar. 
"Being a lawyer with more than 35 years of experience that has committed his entire life to equestrian sports, this appointment is comparable to become a member of the Supreme Court of Justice with worldwide scope for all FEI disciplines," said Cesar proudly. "You cannot get higher than this and of course I am very honored. This is a crucial one time achievement in the sport, because it comes from an election from Presidents of all Federations from around the world, that are present at the FEI General Assembly and it is obviously a major recognition in the field because all Federation form the world appoint a 6 members "Supreme Court" that they trust to resolve all cases of the sport in all disciplines due to a dedicated life to the law, the equestrian sports by recognizing and honoring your knowledge ethics and professionalism."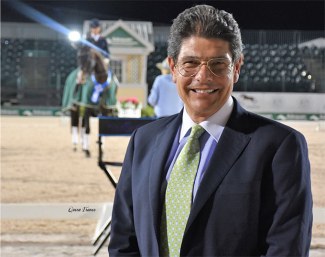 The Tribunal is independent from the FEI and decides on cases concerning any breach of rules by federations, officials, staff, riders, trainers, support personnel, as well as horse and human doping cases in all disciplines, jumping, dressage, eventing, para, reining, driving, vaulting, endurance. It decides on all cases submitted by or through the Secretary General.
"These cases may be appeals or matters that are not otherwise under the jurisdiction of the Ground Jury or the Appeal Committee," Cesar added. "Sometimes decisions are very difficult and of great impact for the sport and for the athletes/horses involved. All member have the highest standards as lawyers and great knowledge of equestrian sports and to interact with such prominent lawyers from around the Globe (USA, Canada, France, Hungary, New Zealand) and to produce so many important decisions, regarding very key issued like doping and horse abuse, are in my opinion of the utmost importance for the sport."
Committed to Dressage
Although fully invested in his job as an FEI Tribunal member, Cesar has decided to limit his activities as a lawyer in Colombia to commit himself fully to dressage.
"When I started taking courses, I remember a very important judge telling me that one month without judging would make her feel a bit rusty. At that time, I could not believe that, specially coming from one of the best. Now I feel that continuous judging is very important. As is practice in every sport," Cesar stated.  "Therefore, I have decided to commit my life mainly to what I like the most: dressage. I will spend more and more time in the US and will keep my law practice, but I have been downsizing and I try to work as much as I can on the internet and from planes. Of course, when my presence is required, I will go to Bogota, It's only a 3 hours flight from Fort Lauderdale."
The Olympic year 2020 will be a thrilling one and Torrente looks forward to working even harder.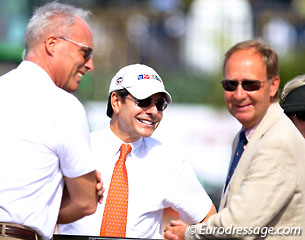 "I am very excited about 2020. The highlight has been my appointment as a member of the panel for the 2020 World Championships for Young Horses. Besides, I will be judging Wellington, Portugal, Germany, and Austria as well as many national shows in North, Central and South America," said Cesar.
Cesar will also continue his Webinars about judging for national level judges, which have been of great success.
"The idea is to expand them worldwide, because with a high-speed internet there are no boundaries for sharing knowledge," he said. 
Photos © Astrid Appels - private
Related Links
Internationally Acclaimed Judge Cesar Torrente Selected to Ground Jury for 2020 World Young Horse Championships
Cesar Torrente Receives S-Judge Status and Plans Move to the U.S.A.
Cesar Torrente Elected a Member of the FEI Tribunal
Continued Success for Cesar Torrente's Dressage Webinars for Latin American Countries