FEI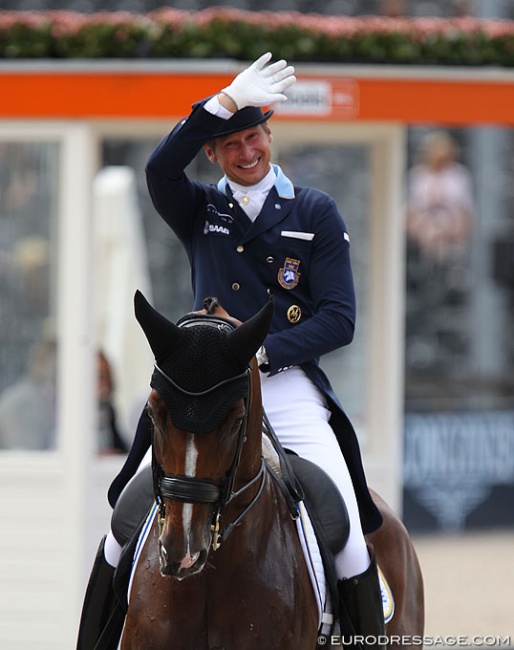 Swedish Grand Prix rider and trainer Patrik Kittel has been appointed member of the FEI Dressage Committee at the in-person FEI Board meeting held at the 2019 FEI General Assembly in Moscow (RUS) on 16 November 2018.
Kittel has been elected for the four-year term 2019-2023. 
He is replacing outgoing member and former Deputy Chair Klaus Roeser (GER) as the show organizers representative on the Committee. 
Patrik Kittel has been trying to get a seat on the FEI Dressage Committee since 2018. That year he ran against Beatriz Ferrer-Salat to become the rider representative on the FEI Dressage Committee by the Spanish Olympian Ferrer-Salat was voted in by her peers through an online vote.
This year Kittel took the Show Organizers route as consultant of the Saab Top 10 Dressage competition CDI in Stockholm.
Normally the Association of International Dressage Event Organizers (AIDEO) puts forward a candidate for the show organizers position on the FEI Dressage committee. Their candidate - Christof Umbach (show director CDI Leudelange and 5* dressage judge) - was rejected by the FEI Dressage Committee led by Frank Kemperman in favour of Patrik Kittel.  
The FEI Dressage Committee will now be made up of Chair Frank Kemperman, NF representatives Irina Maknami (RUS), George Williams (USA) and Andrew Gardner (GBR), rider representative Beatriz Ferrer-Salat (ESP) and show organizer representative Patrik Kittel (SWE).
Photo © Astrid Appels
Related Links
Irina Maknami Appointed on FEI Dressage Committee for 2018-2022
Beatriz Ferrer-Salat Elected Athlete Representative on FEI Dressage Committee
Six Candidates for Seat on FEI Dressage Committee 2018-2022