Russia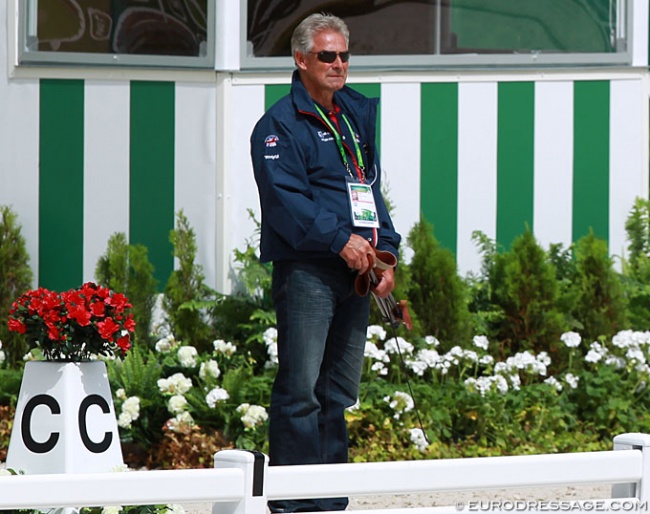 The Russian Equestrian Federation has appointed Ferdi Eilberg as their new Grand Prix dressage team trainer to lead team Russia to the 2020 Olympic Games in Tokyo, Japan. 
The 66-year old German born and British based Eilberg has agreed to the position and signed a contract that will run until 30 September 2020.
Eilberg succeeds Inessa Merkulova, who remarkably was not only an actual Russian team rider but also the national team trainer most recent years.
Ferdi's main task will be selecting the three riders and an alternate that will represent Russia as a team at the Olympics for the first time in 18 years. Russia last had a team at the 1992 Barcelona Olympics. 
Further duties include "the development of general recommendations and principles for the training of Russian riders based on advanced techniques used in top-level dressage teams; work with Russian trainers (seminars, master classes) to exchange experience and improve the skills of domestic specialists; and establish a close interaction with the reserve of the national dressage team and youth team," the Russian equestrian federation told Eurodressage. 
Eilberg was a team silver medalist at the 1993 European Dressage Championships in Lipica. He has previously been the team trainer of Ireland. He is also a former World Class Performance Director of Coaching to the British Dressage team and was dressage trainer to the British Three Day Event team. He accompanied them to three Olympic Games.
Ferdi's first assignment in Russia will be attending the competition at Maxima Park at the end of November. There he will "analyze the training level of riders who are part of the primary and reserved members for the team, and will adjust the plan for preparing the national team for the Olympic Games in Tokyo," the federation told Eurodressage.
Ferdi has coached two of his children - Maria and Michael - onto the British team that competed at the 2009, 2013, and 2015 European Dressage Championships and 2010 and 2014 World Equestrian Games.
Eilberg's candidature for the position of team trainer was backed up by the Dressage Committee of the Russian Equestrian Federation, which includes Anatoly Balykin (chair), Inessa Merkulova, Olga Soboleva (Russian youth team trainer), Yuri Romanov, Marina Rusakova, Yulia Printzeva, Alexandra Korelova, Anna Egorova, and Sergey Spleptsov. 
Photo © Astrid Appels
Related Links
Russia takes Tokyo 2020 Ticket at Exciting Olympic Qualifier in Moscow
Ferdi Eilberg: Meet the Eilbergs
Dressage Ireland Assessment Days with Ferdi Eilberg
Top Combinations Turn Out for Irish Assessment Day with Dressage Supremo Ferdi Eilberg