2019 German Developing Pony Rider Championship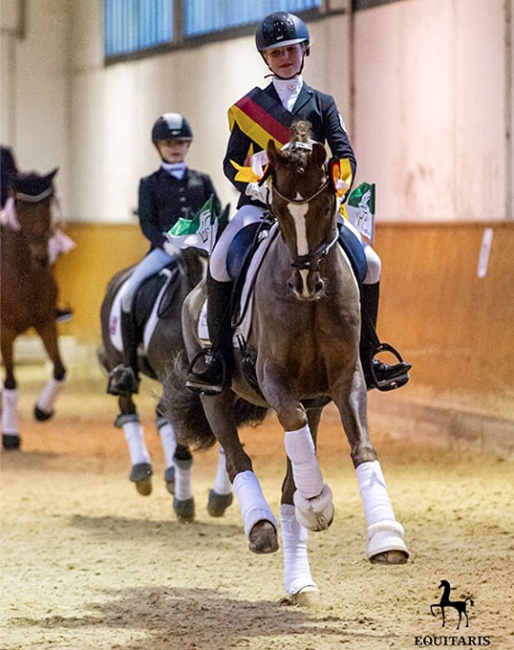 Julie Sofie Schmitz-Heinen became the winner of the 2019 German Developing Pony Rider Championships held at the indoor competition in Verden, Germany, on 15-16 November 2018. Aboard the 11-year old German riding pony stallion Carlos WE, she scored the highest overall total of 17.9 points.
A total of 20 pairs were selected to compete in the Developing Pony Rider Championships, which are the stepping stone for young pony riders to FEI level pony sport. The combinations have to contest two L-level tests and the results are totaled for the final ranking.
Heike Kemmer provided the public commentary on Sunday, the final day of competition. 
Julie Sofie Schmitz-Heinen Champion
The 12-year old Schmitz-Heinen, daughter of well known German dressage trainers Elke and Wolfgang Schmitz-Heinen, steered the Carlos (by Constantin x Donnerhall) to victory in both rounds. She got 8.2 from the judges in the first round and created an even further lead in the second round with her winning 8.6. Her pony Carlos was previously competed at international FEI pony level by Nele Löbbert, who also won the German Developing Pony Rider Championship back in 2015. 
"You have a very impressive pony, who makes much happen. We very much liked your overall control over riding the test. Because your pony has so much neck, it is not always easy to keep the nose in front of the vertical and without leaning back with your seat. You made it work very well and showed a very good canter tour with clear medium canters. The seat was always on point," said Kemmer about the Schmitz-Heinen's winning round. 
Julie took the ride on Carlos at the beginning of 2019 alongside her second pony Design du Jade. "In Ankum we already scored 8.8. in the L-dressage test but I didn't expect to win here," said Julie Sofie. "His trot is the most fun to ride. We connect well. He is very sweet but sometimes also a rascal and can be a menace in the barn once in a while."
Finke and Lindhorst Are Second and Third
Mya Leni Finke and her elegant 16-year old Welsh B mare Moelview Charm (by Eyarth Tomahawk x Hafodyresgob Buzby) finished as runner-up in second place. She scored 7.8 and 8.0 receiving praise for her medium trot and fine aids. 
Nele Sophie Lindhorst  and Lilly Marie Collin both tied in third place with exactly the same scores: 7.5 and 8.0.  Lindhorst and the internationally competed Grenzhoehes Olivier K (by Ombri B x Champion de Luxe) were praised for their good bending and medium walk as well as giving the rein in trot. She also received the fairplay price for the best warm-up, most correctly ridden according to the principles of classical dressage.  Oliver K was shown at CDI's in Europe with Tessa Bartels in 2018 after which Lindhorst took over the ride. 
Collin saddled the internationally competed Orchid's Syria, an 11-year old New Forest Pony mare by Kanshebber x Watershof Pretendent previously shown at CDI's by Johanna Kullmann. Collin was praised for her elastic seat, especially in the simple changes. 
Photo © Equitaris
Results - 2019 German Developing Pony Rider Championship - Verden
1 Julie Sofie Schmitz­Heinen - Carlos (by Constantin / Donnerhall ) -  8.2 (1) --  8.600 (1) ----- 16.8
2 Mya Leni Finke -  Moelview Charm (by Eyarth Tomahawk / Hafodyresgob Bubzy) - 7.8 (2) --   8 (2) ) ----- 15.8
3 Lilly Marie Collin - Orchid's Syria (by Kanshebber / Watershof Pretendent) - . 7.5 (5) --  8 (2)) ----- 15.5
3 Nele Sophie Lindhorst - Grenzhoehes Olivier K (by Ombri B / FS Champion de Luxe) - 7.5 (5) --   8 (2) ) ----- 15.5
5 Philine Feldmann -  Zazouela (by Top Zento / Going Top) - 7.6 (4) --  7.600 (7) ) ----- 15.2
5 Pauline Victoria Hecker - Douy la Ramee (by Dein Freund / Domingo) - 7.3 (9) --   7.900 (5)) ----- 15.2
7 Hanna de la Fontaine - Higgens (by Honeymoon Star / Laudatio) - 7.7 (3) --  7.400 (8) ) ----- 15.1
8 Ariane Gröning - Wilky May FH (by White Gold B / FS Giacomo) - 7.2 (10) --   7.800 (6)) ----- 15
9 Jette Katharina Brünjes - Nanchos Naseweis (by Heidbergs Nancho Nova / Brillant) - 7.4 (7) --  7.300 (9) ) ----- 14.7
10 Emma Wagner -  Top Christiano (by Top Carlos Cassini / Marsvogel xx) - 7.4 (7) --  7 (12)) ----- 14.4
11 Emily Rother - Oktay (by Orlando / Mambo Moscan) - 7.2 (10) --  6.800 (15) ) ----- 14
12 Charlotte Rebien - Holsteins Colonell (by Cinzano's Ginger / Waldemar) - 7.1 (12) --  6.700 (16) ) ----- 13.8
13 Emilia Gutsche - Reitland's Don Totilas (by Diamond / Nixen) - 6.6 (17) --   7.100 (11) ) ----- 13.7
14 Janika Baatz - Double O Seven B (by Dornik B / Dressman) - 6.7 (16) --  6.900 (13) ) ----- 13.6
15 Joschua Dietze -  Monte (by Can Dance / Day of Whisper) - 6.9 (13) --  6.600 (18)) ----- 13.5
15 Marlene Breuer - Cosmo de Luxe (by Champion de Luxe / Mac Genius) - 6.8 (14) --  6.700 (16)) ----- 13.5
17 Katharina Dülffer - Prince Dumas (by Prince Charming / Dumas) - 6.2 (19) --  7.200 (10) ) ----- 13.4
17 Trudy Rochel - Schierensees Midnight Blue (by Schierensees Marillion / Highway) - 6.5 (18) --  6.900 (13) ) ----- 13.4
19 Anna Klotz -  Night Magic (by Night­Dream / Trajan) - 6.8 (14) --  6.500 (19) ) ----- 13.3
20 Fabienne Göthling- Nelsons King (by Wengelo's Nelson / Heitrak's Marvin) - 5.4 (20) --  6.200 (20) ) ----- 11.6
Related Links
Finalists Announced for 2019 German Developing Pony Rider Championship
Alegra Schmitz-Morkramer Wins 2018 German Developing Pony Rider Championship
Johanna Kullmann Wins 2017 German Developing Pony Rider Championship
Elisa Mae Deilmann-Walsh Wins 2016 German Developing Pony Rider Championships
Nele Lobbert Wins 2015 German Developing Pony Rider Championship
Jule Marie Schönfeldt Wins 2014 German Developing Pony Rider Championship