Switzerland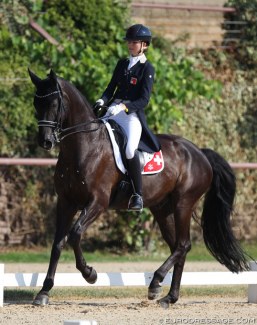 The dressage selection committee Swiss Equestrian Federation has announced the youth dressage squads for the 2020 show season. 
Each year the level of competition and the size of the entry fields gets bigger. Swiss Youth Team Trainer Heidi Bemelmans is optimistic about the future. 
The goal for 2020 will be like before, finding connection with the high international level and send promising combinations to the Youth Championships for Children, Pony, Junior and Young Riders, ideally each time with a team of four combinations," Bemelmans commented. "It will certainly be a challenge to achieve this."
In 2019 Switzerland was only able to send one team, a junior riders' team, to the 2019 European Youth Riders Championships, but this team achieved a wonderful fourth place. "This was a great achievement of which we can be proud," Bemelmans stated. 
The Swiss Youth Squads for 2020 include:
Pony Riders - A-team
Valentina Bona
Robynne Graf
Layla Schmid
Junior Riders - A-team
Tallulah Lynn Nater
Renée Stadler
Noemi Zindel
Junior Riders - B-team
Valentina Bona
Lucie Moreillon
Meilin Ngovan
Young Riders - A-team
Lars Bürgler
Carl-Lennart Korsch
Young Riders - B-team
Laura Maria Grunder
Ramona Schmid
Related Links
Swiss Combinations Selected for 2019 European Youth Riders Championships
Swiss Team Selected for the 2019 European Pony Championships
Graf, Nater, Ngovan, Wientzek-Pläge Win 2019 Swiss Dressage Championships
Will Swiss Dressage Disappear into Insignificance? A Podium Discussion on the Future of the Sport
Pierre-Eric Jacquerod: "Swiss Dressage Has Not Woken Up in Time for Transition"