U.S.A.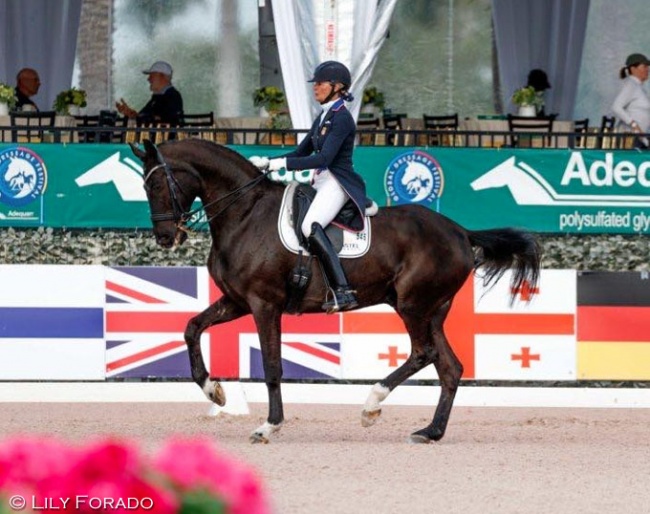 Charlotte Jorst, the 2018 U.S. Grand Prix dressage champion, is ready for her 2020 Olympic campaign in Florida with a trio of horses to compete: her number one Nintendo, new comer Quarton and new Florida arrival, Grand Galaxy Win. Her third Grand Prix horse Deep Impact has been returned to Denmark.
The 55-year old Danish born American Charlotte Jorst lives in Reno, Nevada and trains with Marie Meyers in California. Charlotte began riding late in life, at age 35, but has committed to the sport of dressage with great vigour, dedication and passion. 
Jorst made her international show debut  in 2012 with Asterios and Tristan and gained first international fame when she steered the KWPN stallion Vitalis (by Vivaldi x D-Day) with her signature smile to a 13th place at the 2012 World Young Horse Championships in Verden. 
After selling her Danish watch company Skagen in a multiple million dollar deal to Fossil, Jorst set her mind onto a new dream: competing at the Olympic Games. With the bucks to back it up, Charlotte has invested in world class quality horses. Relying on Andreas Helgstrand for her stock, she buys (and returns) top horses in search of a perfect fit.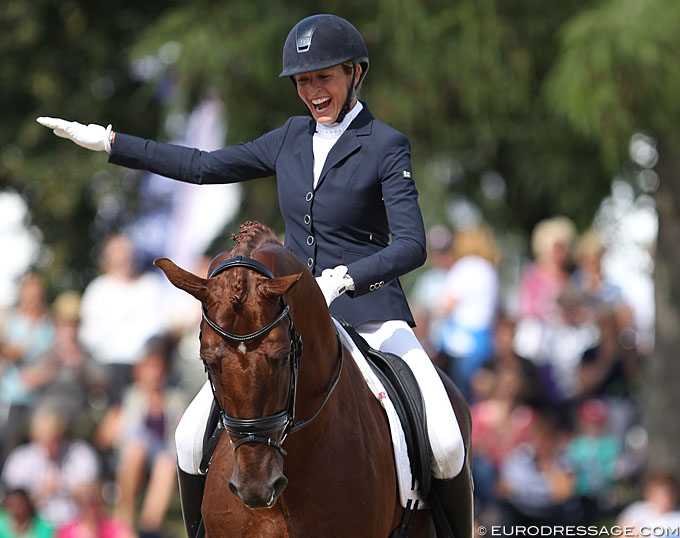 Her first buy in Vodskov was the now 16-year old Dutch stallion Nintendo (by Negro x Monaco) and so far it turned out to be her most successful match. 
Despite purchasing other super stars such as 2013 Danish team horse Akeem Foldager, 2016 Olympian Lorenzo and 2018 Spanish WEG team horse Deep Impact, Nintendo has brought Charlotte the biggest glory. She claimed the U.S. Grand Prix Champion's title in 2018.
In most recent years Charlotte has also shown Fraktura, Adventure, Stanford, and Ray Dance at CDI's, and at national level shooting stars Zhaplin Langholt, Zoega, Wilkins, Boomtown, Livingston, Magic, Kalypso, and Knimbus. She also owns breeding stallions Grand Galaxy Win and (the now gelded) Atterupgaards Botticelli, but the latter has been sent back to Denmark to be sold.
The 2016 Rio Olympic horse Lorenzo never worked for Jorst. He became unsound fairly soon after arriving in America and was sent back to Denmark to recover. He has not returned to the show shape. In November 2018 she purchased Deep Impact, which Severo Jurado Lopez competed at the 2017 European Championships and 2018 World Equestrian Games. Charlotte rode the black De Niro x Rubinstein son in two CDi's in March 2019, but has sent him back to Denmark.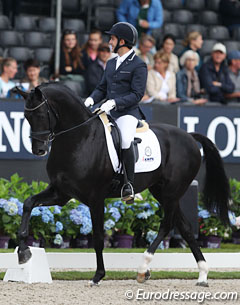 In the spring of 2019 the 10-year old Swedish warmblood Quarton (by Quaterback x Don Schufro) joined the ranks and Charlotte seems to be connecting well with this pocket rocket.
She has decided to focus on a trio of horses for the 2020 competition season in Florida, which will be an Olympic team selection trial for the U.S.A. She will campaign Nintendo and Quarton at Grand Prix level and plans to show Grand Galaxy Win (by Apache) in Wellington as well. 
"I'm looking very much forward to this season. The horses are going super," Charlotte told Eurodressage. "I'm trying for the Olympic spot. It's been my dream for thirty years! I'm continuing to train with Marie Meyers in Florida. She will be going back and forth! Three (horses) is plenty, especially because I want to compete them all a bunch."
Photos © Lily Forado - Astrid Appels
Related Links
Jorst Acquires Zhaplin Langholt, Atterupgaards Botticelli and Grand Galaxy Win
Yang and Jorst Claim Titles on Final Day of 2018 U.S. Dressage Championships
Deep Impact Sold to the U.S.A.
Charlotte Jorst Secures Quarton
Charlotte Jorst's Lorenzo Injured, Six Months Off