Equestrian Retreat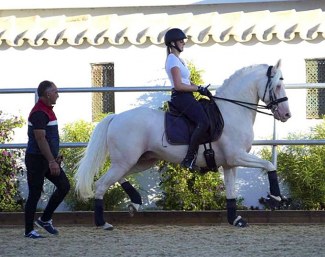 This year an exclusive equestrian facility opened on the stunning coast of Andalucía. Under the motto "Excellence in Riding", ambitious riders – both professional and amateur – can enjoy a unique dressage experience with fine Iberian horses that have been trained up to Grand Prix level.
Equestrian Paradise Yeguada La Pasión
This equestrian paradise was the brainchild of Dagmar Vogt, who wanted to provide riding guests with a place to develop the Classic Art of Equitation with world-class training in total harmony with the horse.
"Our guests are at different stages of their equestrian development, but we look after the recreational rider with the same enthusiasm as our riders who compete at Grand Prix level," said Yeguada La Pasión's owner Dagmar Vogt.
Her journey started when she bought her Lusitano stallion, Ulysses, in 2017 and partnered with maestro instructor, Ismael Romero Arroyo. Today, she successfully manages the dressage stable and her team that consists of more than 30 equestrian professionals.
Her maestro, Ismael Romero Arroyo, has been training horses in the art of dressage for 22 years and is famed for having trained several of the world's most exceptional horses in the show world. He specialises in Alta Escuela and Liberty Dressage, meaning he is an expert in training both in the saddle and from the ground.
Luxury Dressage Holiday at La Pasión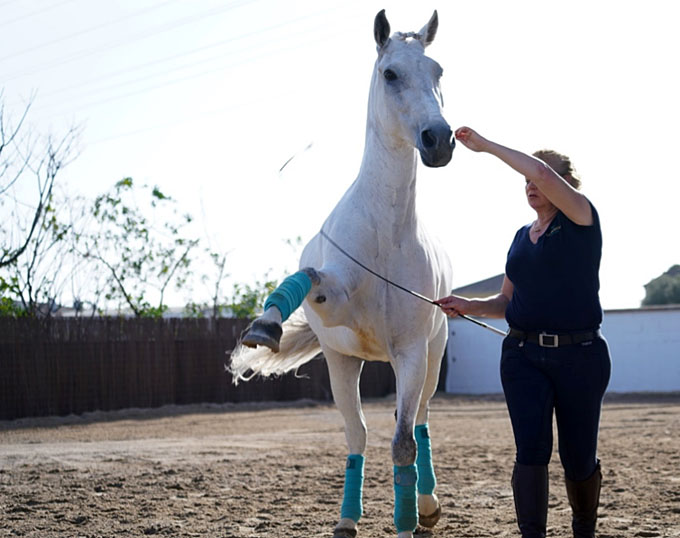 Guests can enjoy elite lessons at Yeguada La Pasión, including Piaffe, Passage, flying change of lead, Spanish Walk, Spanish Trot and Pirouettes, amongst many others – all of which are provided by expert trainers and on highly-trained horses.
"In my horse lessons I worked mainly on improving Piaffe, Passage and Pirouettes, as well as learning the Spanish trot, which was new to me and a lot of fun. I really enjoyed the well trained and friendly horses. This is the perfect place for tournament riders who are looking for really well-ridden horses while on vacation." Nina Luisa Stark, Guest
All classes are tailor-made to the wishes and ambitions of the rider – with the full training program created in tandem with the trainer in order to enable riders reach their individual goals. Lessons are also recorded on video and made available to the guest, so that they can analyse their training in detail afterwards with the trainer, while compilation videos can also be ordered after the trip.
Stunning Iberian Horses to Ride
The horses of Yeguada La Pasión never fail to amaze. Not only are they masters of the high dressage lessons, they are also talented in the art of Liberty Dressage from the ground.
"For me, it's ideal if the horse masters all dressage lessons – both under the saddle and with freedom from the ground." Ismael Romero Arroya, Maestro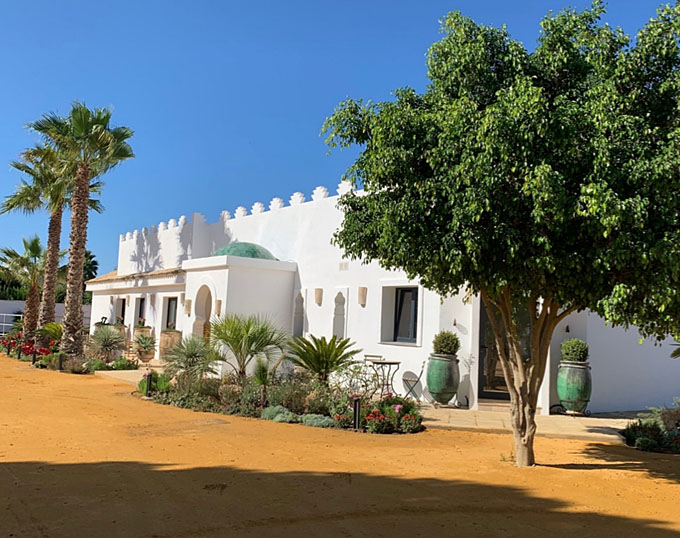 That's exactly why Yeguada La Pasión teaches first-class dressage lessons as well as show-level Liberty Dressage.
And after a day of riding, horse lovers can relax and unwind directly on the facility, in the stylishly furnished apartments provided. The property also includes stunning patio areas in the gardens, as well as a mesmerising roof terrace which overlooks the entire property.
Andalusian Retreat
Yeguada La Pasión is situated just a few minutes' walk from the Atlantic Coast next to the beautiful white town of Conil de la Frontera.
For more information about Yeguada La Pasión, visit www.lapasion.com or their Facebook page.